SHELDON—Two Sheldon entities are banking on a new program to boost the local retail economy after the coronavirus-related hit delivered to it.
The city of Sheldon and the Sheldon Chamber and Development Corporation will each up put $40,000 to launch "Comeback Cash," a still-developing initiative that promises to directly put money back into the community.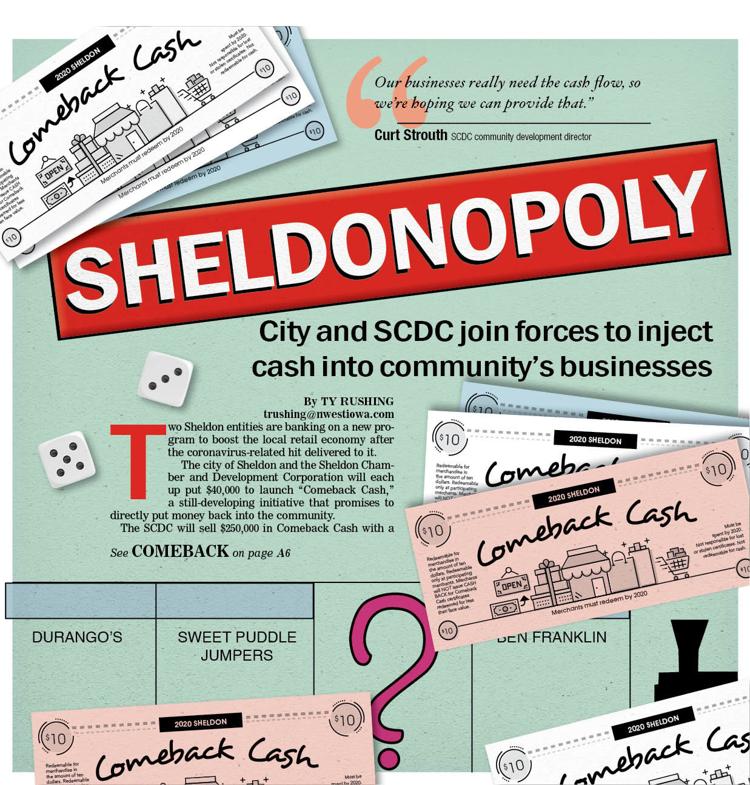 The SCDC will sell $250,000 in Comeback Cash with a limit of $500 per household. Comeback Cash would be sold at a 30 percent discount, so a person could purchase $500 in Comeback Cash for $350.
"This promotion would encourage consumer spending at a very high level and would be a big boost to our local businesses," SCDC chamber director Shantel Oostra told the city council during its meeting on Wednesday, May 20.
"This program is similar in nature to our Merry Money program but on steroids and would be of no cost to participating businesses."
Oostra and Curt Strouth, the SCDC community development director, are still working on finalizing which partner businesses will be included in the promotion although groceries and gas will be exempt.
While Comeback Cash is exclusive to SCDC members, businesses that want in on the promotion can join the organization before it starts.
"Our businesses really need the cash flow, so we're hoping we can provide that," Strouth said.
The Comeback Cash would be sold over a two- to three-day span and people would have a month to spend it.
Dates have not been decided yet as the SCDC waits on Gov. Kim Reynolds to continue lifting restrictions, but Strouth noted a Christmas-in-the summer theme could be possible.
For the financial contributions, the SCDC will use dollars from its revolving loan fund program and the city's portion would come from local options sales tax funds previously set aside for the demolition of multiple dissipated properties.
However, the city no longer needs to use those dollars for those purposes as it is offloaded two of the properties — the former D.J.'s Redemption Center and the Thermo Cel building — to buyers who have agreed to remove the damaged structures.
Considering the annual success of Merry Money, which only offers $125,000 and is sold for a 10 percent discount, Strouth thinks Comeback Cash will be a hit.
"We're confident in it and if it's not just Sheldon people, the other end of this is it brings people to Sheldon to buy it/spend local as well," Strouth said.