SHELDON—One man's long-forgotten childhood pastime can become another man's treasure.
Galen Van Velzen, a 68-year old retired carpenter, started collecting baseball cards as a child.
"I lived here in Sheldon when I was a young kid and they used to have the swimming pool where the park is now," Van Velzen said. "They had a baseball field there and that's where we played baseball. They also had a Cub Scout stand where they sold candy. They had baseball cards there too that you could buy for probably a nickel or a dime a pack in the early 1960s."
That was back when baseball cards came with an extra treat inside.
"They all had gum in them, at that time anyways," Van Velzen said.
Van Velzen collects football and basketball cards too in addition to baseball cards. Although he went through a downsizing recently and does not have as many cards as he used to. Just the ones he really likes.
"I used to have bunches of cards in closets and all over," Van Velzen said. "I just decided it's better for me to get rid of them and just get a few cards that I really like and then just enjoy them."
He could not pick a specific card of his as a favorite.
"One of my favorites is the 1963 Roger Maris card," Van Velzen said. "It's actually autographed by him personally. It's probably one of my best cards and I like it."
Roger Maris broke Babe Ruth's single-season home run record with 61 longs balls in 1961. Maris' record stood until 1998 when Mark McGwire and Sammy Sosa surpassed it with 70 and 66 dingers, respectively.
'The Holy Grail'
Interestingly enough, if Van Velzen could get any card, it would be one of Maris' teammates from his days as a New York Yankee.
"The Holy Grail, of course, is the Mickey Mantle rookie card," Van Velzen said. "That's probably unattainable, especially by me."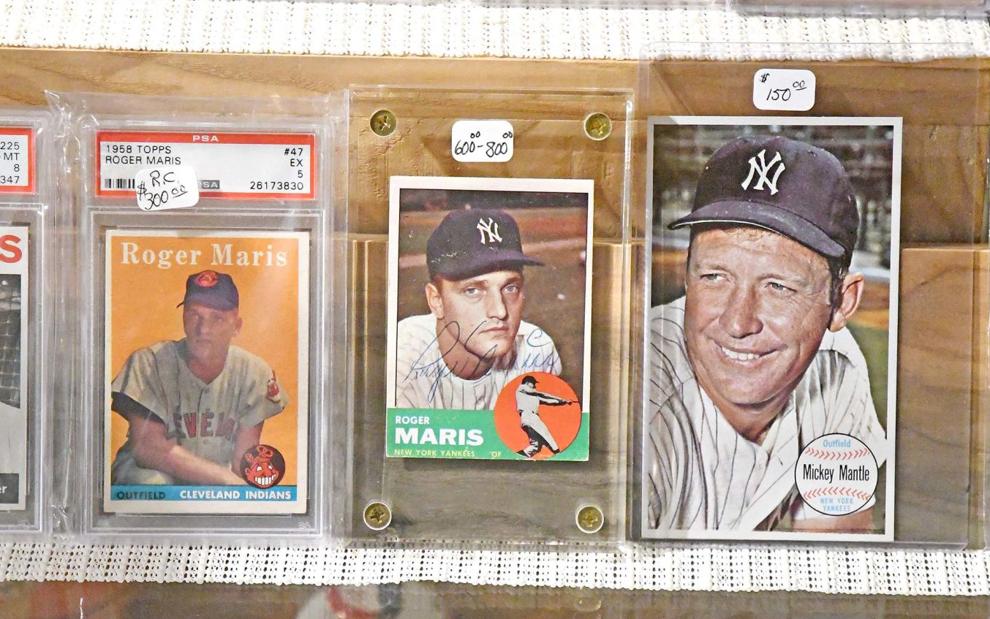 Mantle rookie cards, especially those in good condition, do not come cheap.
"As of this year, his card is from $50,000 to $80,000," Van Velzen said. "Then, if you got it graded, and let's just say they grade it an eight, which isn't the best but it's very high for an old card, that's $500,000. There are stories of like a really high-grade Mickey Mantle going for $1 million that people find in their attics and stuff like that. So that's the Holy Grail, but it's pretty much unattainable."
When Van Velzen said a card has a grade of eight that's on a scale from one to 10. Professional grading companies like Professional Sports Authenticator or Beckett objectively grade cards based on the quality and condition of the cards. A grade of one, the worst grade, is considered poor while a 10 is the best grade and considered gem mint or pristine.
"One thing that you find out when you're grading them is somebody could say, 'Well this corner isn't good,'" Van Velzen said. "Or the edges may be off or it's off center, but when it's graded, you can't debate it because it's priced according to its grade. So that's one thing that's kind of an advantage to getting stuff graded."
'Go to grading'
Since a Mantle rookie card is unlikely to be in Van Velzen's future, he mentioned another card he would like to obtain one day.
"If I really wanted a card that I don't have right now it'd be a Michael Jordan rookie card from Fleer," Van Velzen said. "I do not have that."
While a Jordan rookie card is more obtainable, it does come with a downside.
"One of the most copied or altered cards is a Michael Jordan rookie card from Fleer," Van Velzen said. "They can do a really good job on it, so an amateur like me can't really tell. That's another reason to go to grading, especially on that card because it's already been viewed by a professional and they can tell if it's fake or not because they know what they're looking for. There's something with pixels and different things with that card that if it's not just this way, then it's got to be a fake."
Van Velzen said he has a friend who purchased a Jordan rookie card.
"He sent it in to get graded and it came back that it was a fake," Van Velzen said. "So it just makes you want to say, 'OK. Why do I want it?' Because you could spend $500 to $2,000 or $3,000 for a card that's not graded and then find out it's a fake."
Over the summer, federal authorities issued subpoenas as part of an ongoing fraud investigation involving the altering of cards. It was not the first time there was a scandal in the card collecting industry either.
"I like this as a fun hobby," Van Velzen said. "I'm not in it to make a lot of money or anything like that. I just do it for fun."
'Ready to pay'
One thing Van Velzen recently started doing that he enjoys is looking through other people's card collections and helping them sell their cards. In fact, he looks at it as a service to help people who either do not know anything about cards or stopped collecting years ago.
"I got started last winter with a lady from Orange City and her husband had passed away," Van Velzen said. "He had been a card collector and after five years she just decided, 'I don't know what to do with any of these and I don't know what anything is worth.' She got in touch with me through a mutual friend. I went to her place, I picked up her cards, I kind of organized them, the better ones I put into sleeves and stuff like that."
Van Velzen then took the cards to a card show and sold them.
"She made a good profit just by my going to the right people that will pay," Van Velzen said. "She had Mickey Mantle cards and stuff like that, so she had a good collection. Somebody is ready to pay for stuff like that."
Van Velzen, who takes 10 percent of the total sum of all the cards sold, said looking through other people's boxes of unorganized cards is like a treasure hunt.
"I can go through there and I can find stuff," Van Velzen said. "I've done that before and I found a Michael Jordan card that's worth $300. Now, I can't go and get $300 for it, but I can maybe go and get $150 for it. So then, they're making $135 and I'm making $15. It's more of a service, especially like for this lady that her husband passed away. They were just sitting there and she had no idea what to do with them."
'It's clean fun'
For anyone interested or new to collecting cards, Van Velzen said one of the best entry points is to collect cards of players from their favorite team or just cards of their favorite player.
"For instance, if your favorite player is Michael Jordan, you can spend a lot of money on some of his cards," Van Velzen said. "But he also has cards that are worth $3, $4 or $5 that you can get started on. He has thousands of cards, so they're not all super-high priced."
Cards may be purchased online, although Van Velzen does not like getting cards that way.
"I'm not a techie at all," Van Velzen said. "So I don't do that. I wouldn't want to buy over the internet anyway, because I have to touch and feel something or see something before I buy it. I'm not going to buy it just by looking at it on the screen. That's just me, I'm old fashioned."
In addition to purchasing cards online, newcomers also may attend card show conventions.
"Spencer has a show coming up," Van Velzen said. "It's not a big show but they have a show coming up. Sioux Falls has about one a month. Sioux City has maybe four or five a year. If you go to Minneapolis or Omaha for example, then they have shows maybe once a month and they're bigger shows."
There also is a national show each year.
"That's always on my bucket list is to go to the national show," Van Velzen said. "Usually, it's in Chicago, Atlantic City or Cleveland. They kind of trade between those three cities."
He said collecting cards is a good hobby to have.
"It's clean fun," Van Velzen said. "You can trade, you can buy, you can sell or just be happy with what you have and just be like me. I sit in here in my chair and I watch a baseball or football game and I can look at what I have."