SHELDON—Thanks to the work of the Sheldon School District's three instructional coaches, teachers in the district are prepared for an academic year that may rely on technology more than ever before.
Carla Kleinwolterink, Cindy Prewitt and Stephanie Pritts summarized their work training teachers to use programs such as Seesaw and Google Classroom during the board of education's meeting last Wednesday.
After the 2019-20 academic year ended in May — with the schools having adopted distance learning for the final few months — the coaches spoke with administrators, teachers and parents regarding distance-learning platforms for the following academic year.
"Google Classroom was obvious because our middle school and our high school people had already done a lot with that, so they were pretty proficient," Kleinwolterink said.
"Our elementary people had gone paper and pencil, so that was a little bit tougher decision for them. We decided to go with Seesaw, which is very similar but it's a lot more kid friendly, more icon and picture oriented."
Once those platforms were chosen, the instructional coaches began working with a select group of nine "model teachers" during June and July, who then would go on to train the rest of their peers how to use the platforms during a mini professional-development session Aug. 7.
"We had 81 teachers attend. We had our models and instructional coaches presenting all on technology-focused topics," Prewitt said.
"The format was teachers signed up for three, 50-minute sessions. Then we took like a 20-minute break and then they went into what we call an EdCamp session, which is basically just a flexible learning time for the teachers."
The training was well-received by teachers as evidenced by a survey the faculty filled out afterward which showed about 97 percent of teachers thought the training was beneficial. The one thing teachers said they would have liked to be different is if the training had lasted longer.
"They just said they learned so much in the morning that it would have been nice to continue working on using that with their curriculum even in the afternoon," Pritts said.
After the session on Aug. 7, the model teachers had their own follow-up sessions in their respective buildings later that day. They had an additional training the following week before classes started on Aug. 12.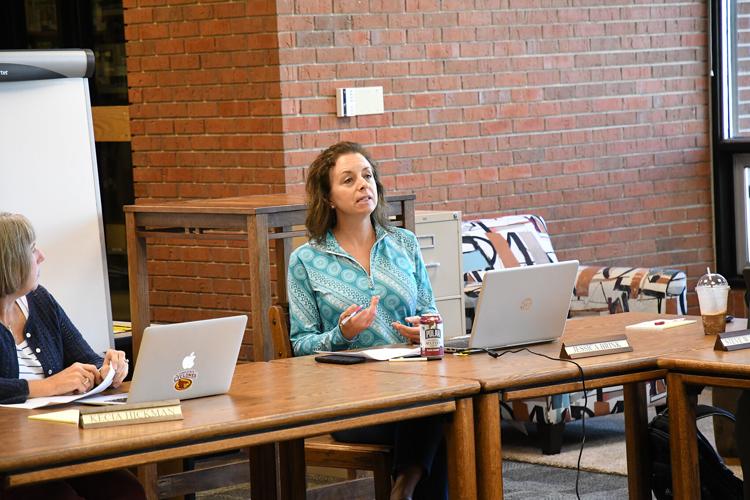 One of the main focuses for East Elementary teachers was establishing classroom procedures during a virtual class, such as raising hands and other learning etiquette. Fourth-grade teacher Bailey Hennings led a training session where her faculty peers logged into a Seesaw classroom as if they were the students.
"They came back together and they discussed, but then their assignment for the week was on Tuesday they had to create a lesson during the week and present it to their teams," Kleinwolterink said. "They learned a ton from there too."
Board member Jessica Brink attended one of the training days and said she was reassured to see the excitement in the teachers when it came to learning the virtual tools.
"The amount of tools that our teachers have to choose from I think is very good," Brink said. "Not too much but definitely gives people the ability to pick and choose based on their own teaching styles and what they're teaching."
Board vice president Susan Rensink also attended the session and said she was glad the instructional coaches listened to the teachers' feedback and motivated the model teachers to do their best while presenting.
"They were so excited sitting in that room," Rensink said. "They were kind of apprehensive like, 'Oh, I'm teaching my peers,' but they were really excited and had some great ideas and presentations."