SHELDON—Nothing about Ramey Grey Culver's arrival in the world was typical.
Born a micro preemie after her mother Samantha's placenta ruptured at 26 weeks, the infant spent the first 108 days of her life living in the newborn intensive care unit, or NICU, at Sanford USD Medical Center in Sioux Falls, SD.
Ramey was born on Dec. 3, weighing in at 1 pound, 14 ounces, and measuring 12¾ inches long.
The infant was so tiny she could fit into a pink Christmas stocking with room to spare.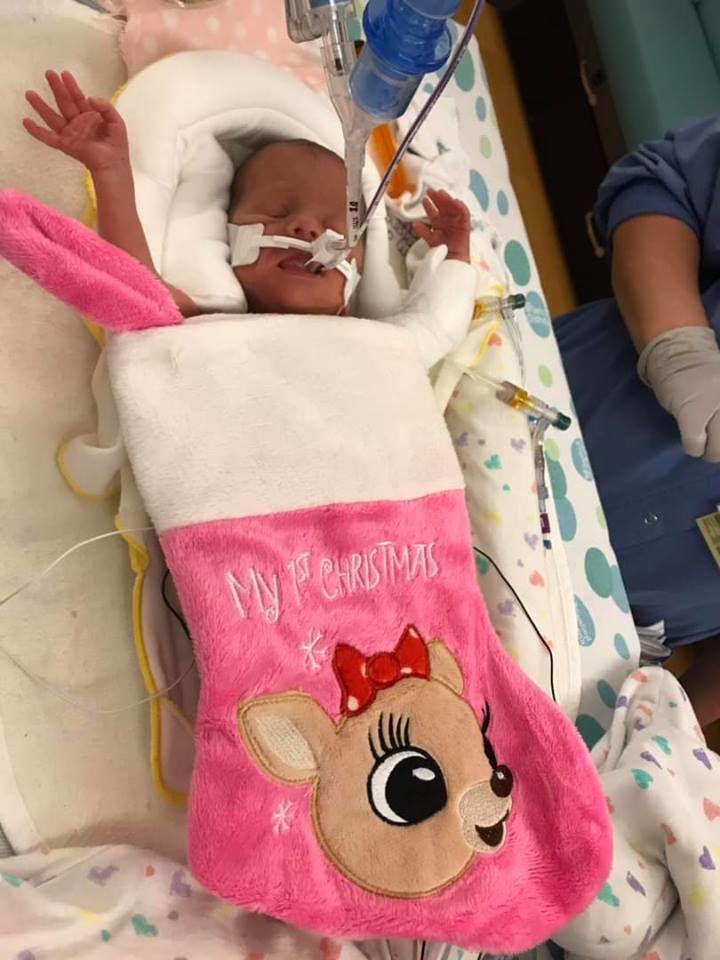 Mother and daughter were finally able to return to their Sheldon home on March 21, but getting there was a process.
"Very scary," said Samantha, who goes by Sam, of the experience.
The 29-year-old found out she was pregnant on July 7 and had issues throughout her entire expedited pregnancy.
"I started cramping — don't know how far along I was then — went to the doctor and then I had a cyst on my right ovary and that was just something that would take care of itself and I would just have to deal with the pain," Sam said. "I got the cold three times."
"She was sick a lot," said Dawn Culver of Matlock, Sam's mother and Ramey's grandmother.
Another issue during the pregnancy included Sam's hips "going out of place," something she and her mother can laugh about these days.
A more serious issue was when Sam started spotting — bleeding vaginally — something not entirely unusual for women in their first trimester. The first time it occurred was in November, just before Thanksgiving.
'Are you OK?'
Sam called her mom, then her Sheldon physician, Dr. Amy Wingert, who said she was unsure of what was going on after an emergency room visit.
Wingert then called Dr. Jeffrey Boyle, a neurologist out of Sioux Falls who specializes in high-risk pregnancy practice.
"She was like, 'I don't know if you are miscarrying; it's 50-50,'" Sam recalled Wingert telling her.
That led to Sam and Dawn taking their first trip to the Sioux Falls hospital via ambulance. While there, Sam passed a "huge" blood clot and stayed at the medical facility for three and a half days before returning to Sheldon.
Sam was placed on bed rest — she works at Taco John's in Sheldon with her mother, who owns the restaurant. She started bleeding again two weeks after she came home.
Dawn and Sam again went to the ER at Sanford Sheldon Medical Center. Since they had gone through this exercise previously, they figured it was another blood clot, which meant another trip to Sioux Falls by ambulance.
"It was right after the big snowstorm, so the ambulance driver wasn't driving very fast," Dawn said.
In the ambulance, Sam was experiencing severe cramps and bleeding more than she did two weeks earlier. The nurse who was riding in the back with Sam was becoming increasingly concerned and had a talk with the driver.
"She was like, 'Ummm, you need to turn the lights on and get this into high gear, her blood pressure is dropping, she's bleeding a lot more and we need to get her there,'" Dawn said recapping the moment.
"I turned around and said, 'Hey, Sam, are you OK?' and she said, 'Just living the dream, Mom.'"
'I was just shocked'
By the time they arrived to Sioux Falls, Dawn said the NICU surgical team was waiting for them.
"It seemed like there was about 20 people," Dawn said.
Sam was ushered into a room and the staff ran into complications trying to get her hooked up to medical equipment due to her various piercings — belly button, lip, tongue.
"So I'm trying to get her piercings out while they are sticking her with everything," Dawn said.
Once Sam was properly hooked up to the equipment, a staff member performed a cervical check on her and delivered some startling news to the Culver women.
"She said, 'We are having a baby right now,'" Dawn said. "As fast as they brought her in, they whooshed her out of there and then I sat in the room by myself."
Dawn, who has seven other grandchildren all of whom had less turbulent births, was dumbfounded as she sat alone in her 26-week pregnant daughter's hospital room; however, she did not have long to contemplate the situation.
"Seriously, it wasn't even five minutes later and the nurse came back and said, 'The baby was born at 1:20 a.m.,'" Dawn said. "She gave me this white jumpsuit type outfit and things to put over my shoes and everything."
After making sure she was covered in sterile material, the nurse asked Dawn if she had a phone with a camera with her because they wanted her to meet Ramey and take photos of her.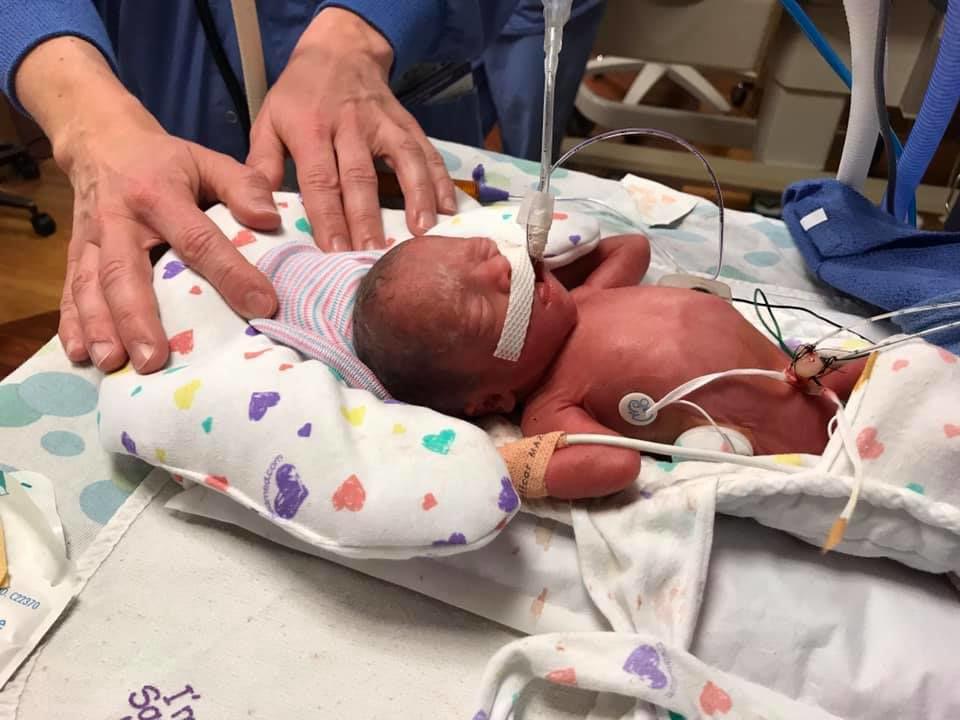 "I was just shocked that I could see the baby," Dawn said. "It didn't even dawn on me until after the fact of why they wanted me to. They wanted me to in case the baby didn't survive so we'd have pictures."
"What?!"
Meanwhile, Sam still was in an operating room undergoing emergency surgery after her emergency cesarean section.
Dawn saw Ramey and she took photos. After some of the shock wore off, Dawn asked a nurse if she should call her husband, Monte. The nurse was flabbergasted she had not already done that yet, so Dawn gave Monte a ring.
Monte's initial reactions was "What?!" when Dawn called to say Sam had the baby, but he made it to Sioux Falls before Sam came out of emergency surgery.
Dawn recalled Sam being woozy from the drugs by the time she was out of surgery and conscious again.
"You could tell she still didn't know quite what was going on," Dawn said. "So then they took her — the whole bed and everything — and went up to the NICU so she could see the baby and I have the picture of her seeing Ramey for the first time."
For the next three months, Sam stayed in Sioux Falls — alternating between sleeping in the hospital and Ronald McDonald House — while Ramey remained in the NICU. Sam, who is raising Ramey alone, said the experience was lonely.
"Without having anybody to understand and know what it's like just every day having to deal with the nurses and the doctors and the alarms on the machine going off," Sam said.
"Most of the time it's just nothing, but it took me a long time to get used to that."
'It's amazing'
During the 108-day period, Sam said she only allowed herself to breakdown emotionally once because she knew she had to be strong for her baby girl who was fighting every day for a chance at survival.
A 2015 research paper published by the Journal of the American Medical Association noted that 10 percent of babies born at 26 weeks do not make it.
Nine days after she gave birth, Sam was finally able to hold Ramey. With seven nieces and nephews, Sam is no stranger to being around babies, but with her own, she noted it was different because Ramey is a micro preemie.
"They had to teach me how to touch her," Sam said. "When you hold a baby you want to go, 'Awwww,' and love on them and stroke on them and whatnot, but with them in a NICU, you just have to literally just touch. No movement."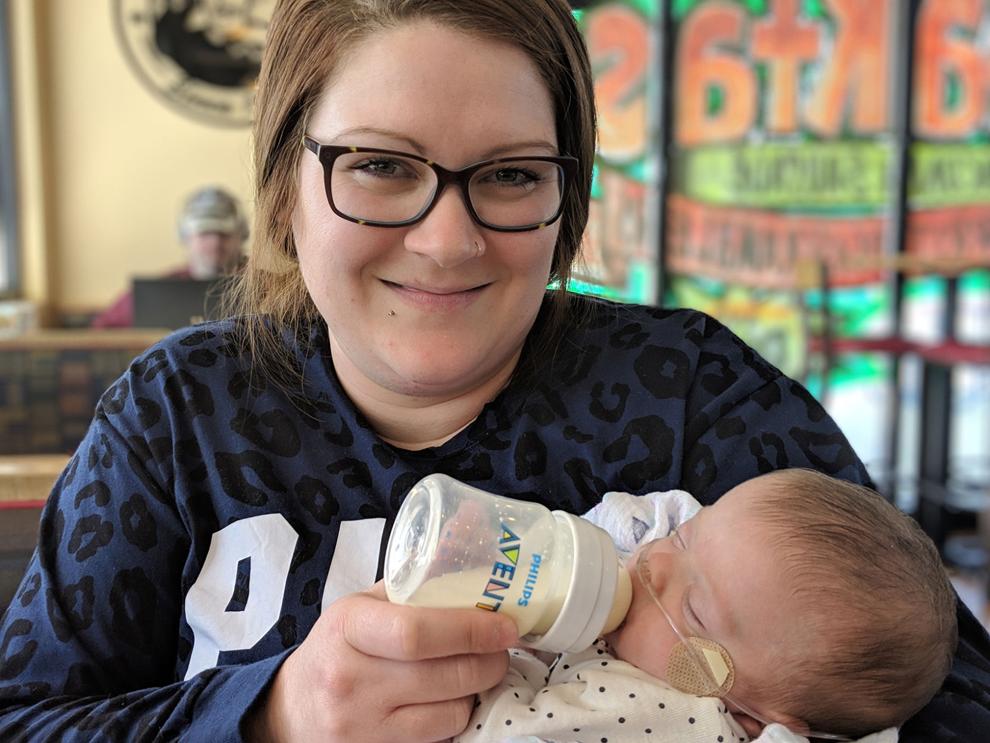 Sam and Dawn noted at that stage, Ramey's skin was not all the way developed and it could not handle the sensation of fluid motion via direct contact.
"As much as you want to stroke her, you can't do that; they haven't formed mentally enough yet to be able to handle that kind of thing," Dawn said. "It was really quite a learning experience up there. It's amazing what they can do."
'She's great'
Ramey had to be fed through various tubes during her stay there. To breast-feed her, Sam had to pump out the milk which was then placed in a syringe which was then pumped through a machine into Ramey's system.
"That's how she would get fed and she would get fed every three hours," Sam said.
"She was basically being continually fed, but it was going at such a slow pace for her to be able to handle," Dawn said. "She was so little."
Sam's original due date was March 11, which would have been the soonest she could have brought Ramey home. Before the long hospital stay started, Dawn said doctors cautioned them they were not in the clear.
"They said there's going to be good days and she's going to have bad days and highs and lows and you need to just be mentally prepared for that," Dawn said. "But, really, quite frankly nothing really bad ever happened with Ramey, thank God.
"She just sailed through things so well. There was no emergencies that happened during that time or anything. Other than her having to come home with oxygen — and that's just because of the development of the vessels in her eyes yet — just no problems, amazingly."
As Dawn noted, Ramey does have to utilize oxygen for the time being as parts of her body continue to develop and she does have a few other conditions, such as patent ductus arteriosus — an opening between two blood vessels leading from the heart — which may have to be corrected with surgery when she is 7 or 8 if it does not close on its own.
Ramey also is more susceptible to illness, something reflected via a sign that dangles from her car seat that reads, "Please wash your hands before touching mine."
"She's here and she's alive and she's great," Dawn said.
Other than that, mother and daughter are doing fine and Sam is getting used to experiencing motherhood outside of a hospital.
The day before Ramey was discharged, Sam wrote a detailed post on her Facebook page that summarized her experience over the last three-plus months.
Sam said she did not write the post hoping to seek sympathy or anything like that, but just to show people a glimpse of what she had been going through and to thank the staff in Sioux Falls for all they had done for her and Ramey.
Her post concludes with this:
"I'm writing this to not only just get what seems like the weight of the world off my chest but to let others know, you're not alone. I've said this many times and I'll say it again, we are not just strong. We are NICU strong."