SHELDON—For the last 16 years, Maria Jilma Granillo has tried to outdo her previous year's effort when it comes to Christmas decorations.
She spends about two or three weeks setting up decorations, which take up her family's entire front yard at 305 W. Seventh St. in Sheldon, and hanging lights, which even illuminate the back of the house.
"She's the one that does everything," said Pedro Granillo, her husband.
"We work, so we don't help her but we just help a little bit. She's the one that does everything. She gets a book and starts writing in there how she's going to do it for this year and all the colors."
Maria doesn't speak English but Pedro Granillo, their oldest son, Alan Granillo, and a family friend helped translate an interview with her The Mail-Sun.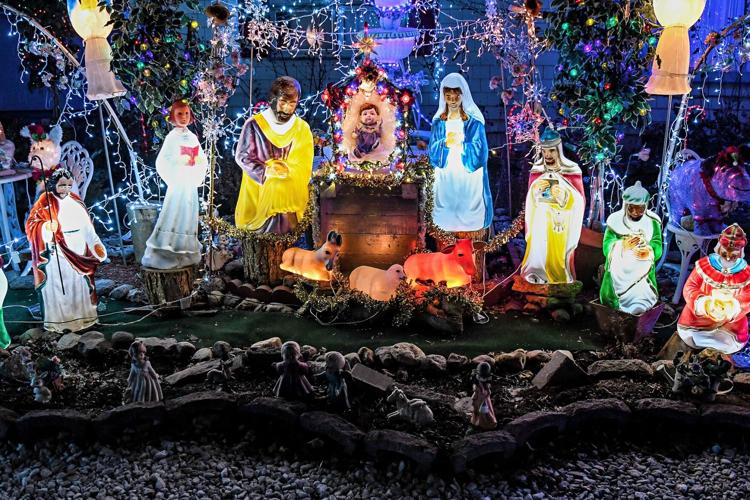 Every year, the first item Maria puts up as part of her Christmas decorations is the Nacimiento de Jesus, a Nativity scene celebrating the birth of Christ.
"That's the reason that we put up the lights and everything because we celebrate when Jesus was born," Pedro said.
Maria views the lights as another way to celebrate Jesus' birthday and said it's a tradition in her family.
"We want to see if they follow in the tradition that we had before with our fathers and grandfathers to celebrate like we do," Pedro said of the couple's three sons.
In addition to Alan, the family is rounded out by 13-year-old Alex and 10-year-old Brian.
Maria said she's passionate about the decorations and wants each year to be different. The family guesses the yard contains about 7,000 lights.
Their across-the-street neighbors, the Jimenez family, also boast an impressive Christmas light display, making West Seventh Street one of the most festive blocks in Sheldon.
Maria noted this year's display took on extra meaning due to the coronavirus pandemic.
She wants people to enjoy the lights as a way to brighten up their day and noted they provide an activity built for social distancing.
The lights will stay up until Wednesday, Jan. 6, which is Reyes Mago, or Three Kings' Day.
"In Mexico and different countries, that's when we give gifts," Pedro said. "So we celebrate January 6 too."