SHELDON—"Did you ever think you'd be this good? Did you ever think you'd have a medal, girl? It has your name on it."
Those were the words Joe Williams shared with his dog, Maggie Williams, in the driveway of their Sheldon home on Saturday morning, June 27, as they celebrated her accomplishments.
The 4-year-old Golden Retriever was officially inducted into the Iowa Veterinary Medical Association's 2020 Hall of Fame class shortly before Joe's pep talk to Maggie.
Maggie originally was supposed to be inducted on April 18 at ceremony in Des Moines; however, that was canceled due to the coronavirus pandemic.
Instead, Maggie and her parents, Joe and Sue, were presented with a plaque, medal and a small check from Sandy Schmith of the Sheldon Veterinary Clinic on behalf of the Iowa Veterinary Medical Association.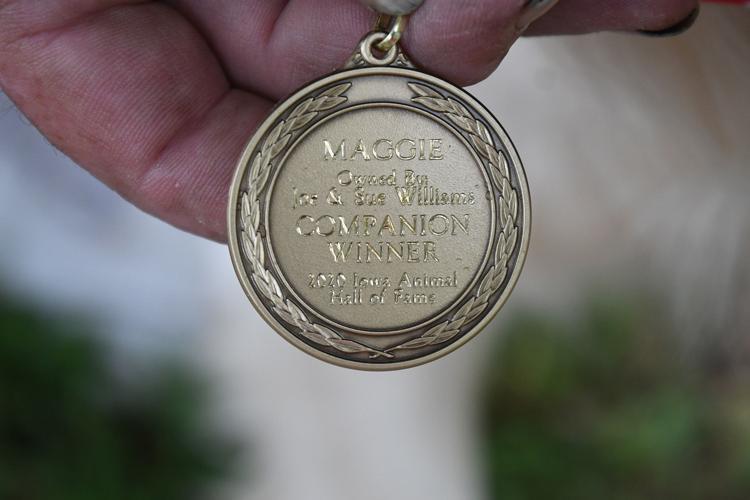 Schmith was one of the people who nominated Maggie for the honor.
"It's fantastic and she is rightfully deserving," Schmith said.
"I was fortunate I got to go with Joe to the nursing home when he first started this with the alliance to get her certified so I got to see what she does at the nursing home and how well she does with the residents."
Maggie is going to the hall of fame as this year's companion recipient. Before the coronavirus prevented visitors, Maggie spent her Saturdays and Sundays visiting the residents at Sanford Sheldon Senior Care.
She is a registered companion animal, which the American Society for the Prevention of Cruelty to Animals defines as "domesticated or domestic-bred animals whose physical, emotional, behavioral and social needs can be readily met as companions in the home, or in close daily relationship with humans."
Maggie's senior visits started on a whim.
Ten days after the Williamses adopted her from a relative of Sue's who did not have time for her, they decided to take Maggie to visit Joe's father, Mark, at the senior care facility. She turned out to be hit.
"The place she really shines is the Alzheimer's unit," Joe said.
"You can't believe the smiles it puts on their faces — and not saying it's not good at the rest of the hospital, but the nursing home is where you get tons of reaction from people that normally just sit there."
Maggie is one of three dogs going into the hall of fame. Joining her in the 2020 class will be Buck, a 5-year-old Border Collie Mix from Winterset, and Lincoln, a 12-year-old Golden Retriever from Oskaloosa.
While the Williamses were disappointed Maggie did not get all the pomp and circumstance she would have rightfully given at a more formal ceremony, Joe told Schmith it was appropriate for her to be part of the event.
"You've been our vet ever since we've had her, you're the one that nominated her, you should be the one that presents it," Joe said.