SHELDON—Dr. Ryan Becker spent Christmas and New Year's away from his family, but for a good reason: He was serving his country.
The family medicine physician at Sanford Sheldon Clinic was deployed to Afghanistan from Dec. 5 to Jan. 22 as part of the Nebraska Air National Guard 155th Air Refueling Wing of Lincoln's first deployment to the country in more than seven years.
Becker, whose military rank is major, joined the Air National Guard almost a decade ago, but this was his first overseas mission. His unit was shipped to south-central Asian country as part of Operation Inherent Resolve.
Stationed out of Camp Lozano in Kandahar, Afghanistan, the 155th ARW's mission was to provide air-to-air refuels for A-10 Warthogs, F-16 fighter jets and B-1 bombers. These refuelings took pace 18,000-22,000 feet in the air.
"We'd fly to a refueling track and the receivers would meet us there and we would catch them on visual and then they would come up underneath us and we'd give them whatever they needed," Becker said.
For the fighters, Becker said they would usually arrive for refuelings in pairs and they'd give them 5,000-7,000 pounds of fuel.
"We'd give them that fuel and they'd break away and do their fighting or whatever they were doing — whether that would be tracking a convoy or blowing up a building or shooting a person — whatever they were doing," he said.
"They would do that and we would just spin circles for an hour, two hours waiting and then once they are done doing all that stuff, they need another top off, so give them another 5,000-7,000 pounds and we'd usually breakaway by then."
The refueling planes Becker was stationed on could carry up to 200,000 pounds of fuel — they typically flew carrying 130,000-150,000 pounds of it — and burned about 10,000 pounds an hour while in flight.
"It was basically like being a gas station in the sky," Becker said.
Manning clinic
His primary orders, however, were to serve as a flight doctor/surgeon and manning a clinic on base when not on a plane.
"It was open seven days a week and we would just take in walk-ins of any of the Air Force personnel that had anything going on in terms of coughs, colds, stomach bugs, vaccines — any sort of vaccine or immunization that they needed — if they got hurt working out or doing any sort of morale stuff," Becker said. "That was my job, which is — in the grand scheme of things — is pretty simple."
As a flight doctor, Becker also had to make sure he logged hours flying with a crew. He noted it does not entail much on his end unless someone were to become ill, but he went on seven flying excursions.
"I would get the intel briefs with the aircrew, I step to the plane the same time they do and just get on," Becker said. "I'm a private pilot on the outside, so they know that so I'll watch some of the gauges or listen to the weather or the wind or whatever it might be, so if they have questions on that, instead of dialing in the frequency on that they'll sometimes turn to me."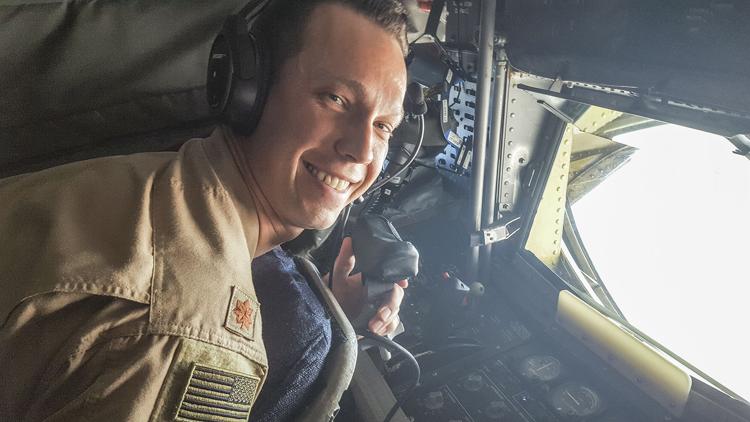 Terrorist threats
American forces have been in Afghanistan since late 2001, which was a response to the 9/11 attacks. Becker noted that while the Islamic State has garnered more headlines as of late, the Taliban remains incredibly active in Afghanistan.
A week after he left, members of the terrorist organization shot rockets into the base; however, no one was injured in the incident.
"It's amazing what is still going on over there," Becker said. "We stayed on base and could never leave other than flying, but everybody has a role."
Becker noted military members representing countries involved in the North Atlantic Treaty Organization were on base and helping provide support on base and around it. There were daily patrol sweeps from bombs outside the station.
"I mean every day there were loudspeaker calls across the base saying, 'OUTGOING, OUTGOING, OUTGOING,'" Becker said. "What that meant, usually, was that one of the patrols outside of base would roll up on a buried bomb and they would control detonate it.
"Usually, within five minutes of that outgoing call, you'd hear a 'BOOM' or feel it. I mean one time I was in clinic with a patient and the whole clinic shook. It must have been close where they set that bomb off because it shook; in fact, I thought we got hit by a rocket."
Kept guard up
American military personnel were required to have a firearm on them at all times on the base. Becker was armed with a 9 mm even while in the clinic. This was a preventive measure in case of internal threats.
"We always kind had to keep our guard up, so if you see something, say something and be ready to defend yourself and whatever equipment you are on," Becker said. "So we had to carry those on us at all times and you couldn't go without it unless you were using the restroom, taking a shower or going to the gym."
The threat of external attacks also something they worried about.
"I remember waking up just after midnight one night to these big booms and sirens going off screaming, 'ROCKETS, ROCKETS, ROCKETS, ROCKETS,' and 'TAKE COVER, TAKE COVER, TAKE COVER,'" Becker said.
"So you get down on the floor and put your 'battle rattle' on as we call it — so your big vest and helmet and that — and you'd get out to the bunker, which is basically just concrete slabs with a concrete top and you wait for the all clear to call. It can vary how long it is; that time it was almost a couple of hours we had to wait."
Around Christmas, Becker said they were paranoid the Taliban would strike since, presumably, most members of the group do not practice the Christian faith.
"Usually, they'll hit during Christian holidays, but they didn't so that was good," Becker said. "But it certainly made sleep a little disjointed."
Even with the required constant vigilance and scary moments, Becker thinks his deployment was easier than most.
He noted he slept in a bed every night, the food was good and he was gone for less than two months, something he does not take for granted.
"I had it really good," he said. "There were guys and gals who were at these FOBs — F-O-Bs — so these forward operating bases that were taking fire every day and having to sleep in less than desirable conditions and eating MREs.
"I have a lot of respect for those that do that."
---
BEARS:
While he deployed to Afghanistan, Dr. Ryan Becker, a major in the Nebraska Air National Guard 155th Air Refueling Wing, brought two teddy bears that belong to his children, Eli and Evi.
Becker would either pose the bears of pose with them in different parts of the base or while on a flight. He plans to make a book out of them.