SHELDON—Gallons of human waste, discarded condoms and used feminine hygiene products are some of the things Peter and Karin Vanden Berg have seen in the basement of their home at 821 11th St. in Sheldon.
Since 2014, the Vanden Bergs have had four major sewer backups in their basement, the most recent of which occurred June 5.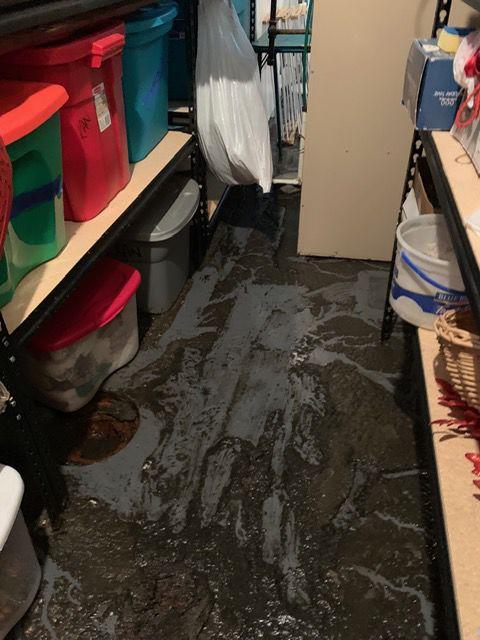 When they moved into their home in 2005, the basement was finished, had built-in bookshelves and other amenities.
"That's all been torn down; there's no carpet anymore," Peter Vanden Berg said. "We've replaced walls a couple of time already and the stairs."
The couple's frustrations mounted after the city of Sheldon's insurer denied their latest claim and they asked to be put on the Sheldon City Council agenda.
During the Tuesday, July 2, meeting, the Vanden Bergs shared their experiences with city leaders.
"Our insurance agent has told us that our insurance may drop us because of all the claims," Peter Vanden Berg told the council. "This is news I just got yesterday. I don't know if you understand how this feels.
"If my insurance drops me, then my mortgage company is going to want all their money because I don't have insurance and then I lose my home all because the sewer lines in Sheldon. It's a pretty sick feeling."
Peter Vanden Berg said city manager Sam Kooiker lent him an ear during the process and was empathetic; however, a call from him just before the meeting made him question Kooiker's motive.
"Twenty minutes ago I got a call; he says they'd like to settle this outside the council room," Peter Vanden Berg said. "We'd like to pay you off and you'll sign a sheet that says you'll never sue us.
"What does that say to you? Kind of sounds like a bribe — I don't know if I can say that — are you trying to shove something under the rug? What's going on? We can't fix the problem, nobody can stand here and say it's not going to happen again yet I might lose my home."
The Vanden Bergs' first sewer backup was on June 18, 2014, followed by another major backup on July 20, 2015.
In 2017, the couple took out a second mortgage to replace the sewer lines connected to their home hoping that would solve the issue.
On July 6, 2017, the Vanden Bergs had their third major backup, which they said impacted other homes on 11th Street and left them with three gallons of sewage in the basement and an odor they said lasted for months.
Peter Vanden Berg thinks the newer, larger pipes installed underneath his house accidentally made his basement into an expressway for waste.
While telling his story to the council, Peter Vanden Berg said he knows he has friends on the council and asked one of them to step up and intervene with the insurers who are threatening their coverage.
"I've done nothing wrong except buy a house on 11th Street in Sheldon," he said.
At the recommendation of a plumber, the Vanden Bergs plugged their basement drains with turnbuckle plugs; however, those proved ineffective on June 5.
Peter Vanden Berg said he called the city the same day and found out crews had ran a water jet down the main line about a block away from his home.
He thinks that caused the latest backup.
Public works director Todd Uhl said that's not how the process works.
"The sewer jetter, or water cannon as Pete describes it, that's standard equipment to clean sewers with," Uhl said. "It is a hose with a high-pressure nozzle on the end of it and it propels itself down the sewer by squirting water backward."
For normal maintenance, Uhl said the city likes to hit every sewer in town at least every other year. Uhl said they have cleaned the line near the Vanden Bergs in 2012, 2014, 2015, 2017 and its slated to be cleaned again this fall.
Additionally, Uhl said the city received five calls since 2013 on the 800 block of 11th Street, including three in 2017.
"The difference on the current complaint is that we were actually jetting upstream, so our jet was two blocks away from their home," Uhl said. "There was a plug in the 1000 block of 11th Street, which we cleared with the sewer jet, but that just allows it to just then run downhill. So to speak, it wouldn't be under pressure.
"We are never under pressure — we don't cap the ends — there's pressure water squirting, but we are not under pressure. It's not a water pipe . . . None of it is pressurized; it's all gravity."
The Vanden Bergs disagreed with Uhl and asked city officials to do something about the backups.
"We're not saying give us money," Karin Vanden Berg said. "We want you to fix it. I don't want to go through this, what we've gone four times again. You don't have a clue. Last time it was three inches; this time it's two. It was disgusting."
The council agreed to bring in a contractor to have the pipe checked out with a camera.
"We'll camera that line and get you the results," Uhl told the council.
Furthermore, the council asked the Vanden Bergs to provide documentation of their damage claims, which the city will consider repaying through a "moral obligation to pay benefit" and the signing of an indemnification agreement.
"We are going to get to the bottom of this," Sheldon mayor Greg Geels told the Vanden Bergs.