SHELDON—As the Sheldon City Council debated a third request for backyard livestock Wednesday, Oct. 7, councilman Brad Hindt reminded his colleagues of something.
"I said that in the beginning: This is going to create some headache for us," Hindt said.
He was the lone "no" vote during previous requests for backyard flocks and reiterated his points to council members as they went back on forth on Angie Juarez of Sheldon's request to keep backyard chickens, the third such request the council has dealt with since May.
The 14-year-old was at the meeting and explained to the council that she did not know she wasn't allowed to have poultry in her backyard without permission.
Juarez gave away her roosters and was willing to do the same for her ducks if she was allowed to keep her chickens.
She collected signatures from seven neighbors near her residence at 629 Third Ave. who supported her keeping the birds.
"We've had chickens for a couple of months and I'm sorry because we didn't know we were supposed to get permission for that," she said. "I didn't know until somebody called and complained about them."
It is legal for residents to keep livestock on their property in an area not zoned for agricultural purposes if they have prior council approval.
The council approved a similar request for then 15-year-old Conner McDonald in May, who was permitted to keep to 20 small fowl, and in July the council approved then 8-year-old Bailey Van Engen's request to keep three layer hens.
New ordinance
City manager Sam Kooiker and city attorney Micah Schreurs are in midst of drafting a new ordinance in regards to urban livestock in Sheldon, per a recommendation from the Sheldon Planning and Zoning Commission.
The commission also recommended the city council no longer be involved in decisions about chickens or other urban livestock, a topic that came up later in the meeting.
Kooiker will present a draft of the ordinance at the Oct. 28 planning and zoning commission meeting and one change would be for livestock special exemption requests go through the Sheldon Board of Adjustment.
"That ordinance would then come back to you prior to implementation," Kooiker said.
"The other option is to have a 'simple' — I put simple in quotation marks — permit that would be issued by the zoning administrator, which is me, then could be appealed to the board of adjustment."
Councilman Wayne Barahona expressed support for handing these matters to the board of adjustment rather than the council.
"It would be my hope to table the request until we have the zoning ordinance updated and we can go to the board of adjustment that way," Barahona said.
Mayor Greg Geels asked if Juarez could keep her fowl in the interim period and Kooiker said she could. Barahona noted Juarez could be the first person to test out the new system once a modified ordinance is in place.
"Let's get those fixed and then start worrying about the chickens," Hindt said before making a motion to deny Juarez's request.
"She's going to be in limbo until we get the ordinances fixed and that's not simple; that's going to be three readings."
With Hindt's motion, Juarez would have to get rid of her chickens.
Barahona said he did not want to punish Juarez for trying to go about it the right way as there are other people with illegal chickens in town. Hindt argued they need to enforce the existing ordinance and go after those in violation of it, which Barahona agreed with.
"But, with the ordinances we have, there is a loophole — as I understand — a loophole if you will that allows them to have it by this process that we've been following," Geels said.
"And we're dealing with it right now, Greg," Hindt said.
"Exactly, we are but we are not done with it," Geels said. "To me too, it seems a little harsh to throw this one out when we've allowed it and we're in limbo already."
Councilman Tom Eggers also chimed on this discussion.
"I have a hard time supporting the totality of where you are going with that even though I agree that in the end, we're going to have to deal with it," he said.
Hindt's motion died for a lack of a second but Barahona's motion to table the item until a new ordinance is in place and allow Juarez to keep her chickens passed 4-1 with Hindt casting the dissenting vote.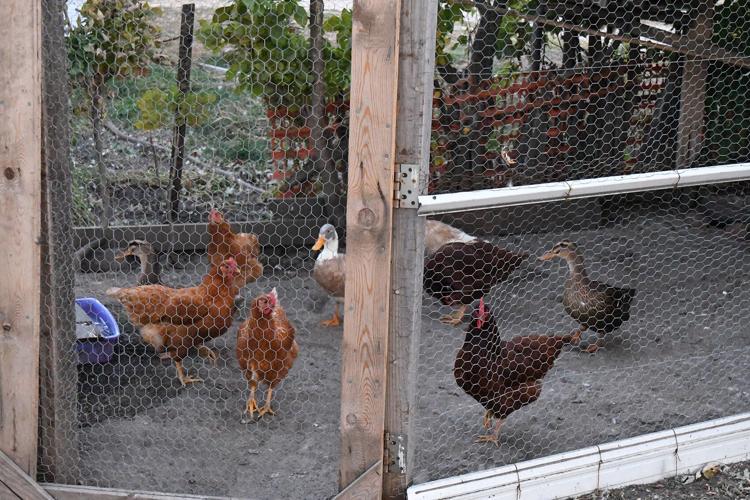 Process oversight?
A related item that would remove the city council from the decision-making process on urban livestock also sparked a debate. This concept was recommended by the planning and zoning commission.
Most council members agreed with taking chickens off their plates; however, councilman Shawn Broesder asked what's the advantage of sending those requests to the board of adjustment rather than the council.
"You have a set public hearing, you have a standard notification process where a letter goes out to all of the neighbors within a 200 (-foot radius) and it's an easier process, in my mind, to manage," Kooiker said. "And the city would get a sum for the administrative work that goes into this."
"And we wouldn't have to spend the 300 hours we spent talking about chickens over the last year," said Barahona, who noted the council was opening "Pandora's coop" after approving the second chicken request on July 15.
Eggers said it would give the process some regulation. Broesder argued the ordinance should provide more clarity and going through the board of adjustment process could be a financial challenge for 4-H or FFA students.
"It still needs to be oversighted," Barahona said. "That's why you have a board. I think that's the only way that we can create any sort of exception because that's what it is. We are allowing someone to violate the rule."
Broesder argued it would take the same amount of time for Kooiker if it went through the council or board of adjustment, but his fellow councilmen argued it wouldn't and that the latter process would be better.
"Coops got to come before the chickens, hopefully, OK. Can't have chickens without a coop — no pun-intended," Eggers said.
The first reading passed unanimously.