SHELDON—First-grader Elizabeth Zeilenga is a fan of the $2.2 million expansion project taking place at Sheldon Christian School.
"I love it," she said.
The school broke ground in April on the project, which will renovate older areas of the 102-year-old faith-based educational institution and create a few new additions as well.
Sheldon Christian School serves about 120 students and has maintained steady numbers over the years, something officials think the improved facility will help support.
The project includes 6,296 feet of new construction being added to the south side of the school to provide new preschool and kindergarten rooms with separate restrooms, a new library, a new administration office and a multipurpose room.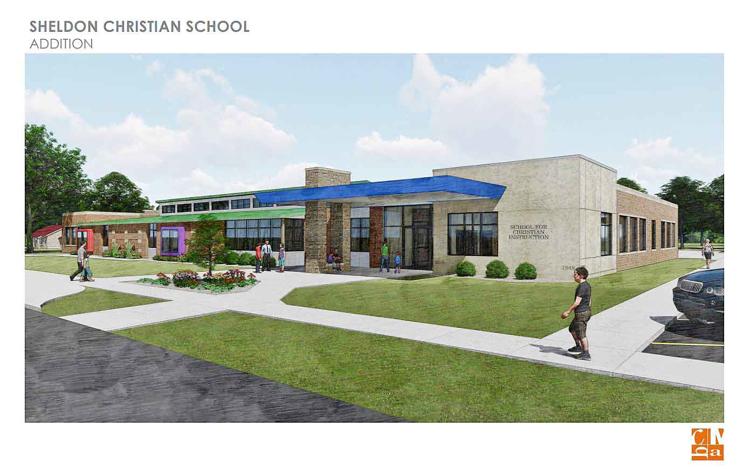 Some of the additional work includes room renovations, the gymnasium roof being replaced, new restrooms an updated fire alarm and a new sprinkler system, and replacement of the 39-year-old heating, ventilation and air conditioning system.
The new restrooms and HVAC system are in place and room renovations, which included new carpet, smart boards, new lights and other improvements, have been completed in the original part of the building, according to principal Pete Van Velzen.
Elizabeth said all of the new features "sound good" to her.
"I'm glad my sister is going to be in the new part and we have a lunchroom," Elizabeth said.
Although crews from Poppema-Sikma Construction of Sheldon and other contractors work on the project during the school day, Van Velzen said it has not been much of a distraction.
"It really hasn't been bad," he said. "There have been a few days that have been pretty loud, but the students have been OK."
Sixth-grader Chris Vande Brake agreed that the noise has not been too terrible.
"Some of them have are a little distracting when Mrs. (Alyssa) Postma is talking," Chris said. "Every time she's about to say something, one of the noises goes vrrrrrrrnnnnggggh. Every time she says anything, but it's not too bad. I'm still doing great in school."
Van Velzen said the project remains on pace to be completed by spring with enough time for this year's crop of students to make full use of the amenities.
"It's exciting, so everyone is willing to put with a little bit of inconvenience," Van Velzen said.
Chris, who has two more years to attend the school that serves children from preschool age to eighth grade, thinks the updates will help the educational facility in the long run.
"It's a great addition to our school and I really like the fact that we get a new lounge and stuff and I think it will probably bring more people to our school," he said. "It's just a great idea."