ORANGE CITY—Kim Scorza vividly remembers the last conversation she had with her mother as she laid dying of cancer at Orange City Municipal Hospital.
It was Dec. 6, 1992, and Pamille Bird was near the end of her 10-year bout with the disease, which had started in her breasts and eventually reached her brain.
Kim was holding her mom's hand when Pamille made what she thought was a simple request.
"She said to me, 'Kimmy, I want my son, I want my son.'" Kim said.
Kim ran out into the hallway and grabbed her older brother, Jay Vrieze. Kim retrieved her mother's hand and reassured her that Jay was there. Pamille looked up, saw Jay and dropped her daughter's hand.
"Not him, my other son," she said.
Kim assumed the cancer in her mom's brain was affecting her since she only had three siblings: Kathy, Jay and Theresa.
A few hours later Pamille died. Kathy, thought to be Pamille's eldest child, then shared their mother's deepest secret with them: They had an older brother.
Pamille grew up in a deeply Catholic family in Alton and her family owned a business in the small Sioux County town. At 18, she became pregnant and was sent to a convent in South Dakota to deliver the baby in secret.
The infant was put up for adoption through Catholic Charities USA, which has a regional office in Sioux City.
Kim, an Orange City resident, shared her family's story to spread awareness of National Adoption Awareness Month, held annually in November.
'He's part of me'
After she returned to Iowa, Pamille met Kim's father, Henry Vrieze, while working at the OK Cafe in Alton. They married on Valentine's Day 1966 in Nevada and had three children before divorcing.
Kim's mother later remarried, which is how her youngest maternal sister, Theresa, came to be.
A social worker by trade and CEO of Seasons Behavioral Health Center based in Spencer, a nonprofit psychiatric and behavioral organization, Kim thinks she and her siblings were "replacement babies" for the son her mother never got to know.
Replacement children is a term psychologist use to describe offspring conceived shortly after losing another child. It is most often associated with losing a child through death as a way to fill that void.
"We are not the typical Sioux County family" was something Kim thought even before she found out she had a long-lost brother. Discovering she had another sibling no one had met only reaffirmed those views.
Once she learned of his existence, Kim spent the next 25 years sporadically searching for her brother, a process more difficult than it sounds by modern standards.
"You have got to remember, this was before the internet was a thing," she said.
Adding to the challenge was that Kim did not have much information to work with. She had no clue who the father was and the only facts she knew about her brother were that he was born in South Dakota on Oct. 31, 1964.
Kim had trouble sleeping at night because she wanted to know where her brother was and said it felt like something was missing. In public, she would scan the features of random males and wonder if one of them was him.
"He's part of my tribe; he's part of me," Kim said.
'It was just crazy'
Her breaking point came one day in the parking lot of Sheldon Hy-Vee in summer 2017. She sat in the car while her husband, Phil, went in the store and the anguish of not knowing finally became too much.
When Phil returned, she told him she wanted to pour serious resources into finding her brother. Phil, who also happens to be adopted, agreed to the commitment but cautioned his wife that it may not work out the way she hoped. Personally, he had no desire to locate his birth family and he thought there was a chance her brother could hold the same view.
Kim moved forward anyway and worked closely with Catholic Charities during the search. A few weeks into the process, Kim found that her nerves still had not calmed and the anxiety had heightened.
"I was just crazy and I thought, 'I can't just do this anymore,'" Kim said. "I said to God, 'I can't do this anymore,' and gave Him an ultimatum."
Kim asked God to give her closure by Thursday of the following week or she would take it as a sign to end her search. When Thursday arrived, she still had not heard anything and then that afternoon her phone rang.
The call was from the Catholic Charities office in Sioux City. They had found her brother.
A social worker from the agency had tracked down Randy Riesberg of Audubon. He wanted to meet the sister he never knew existed.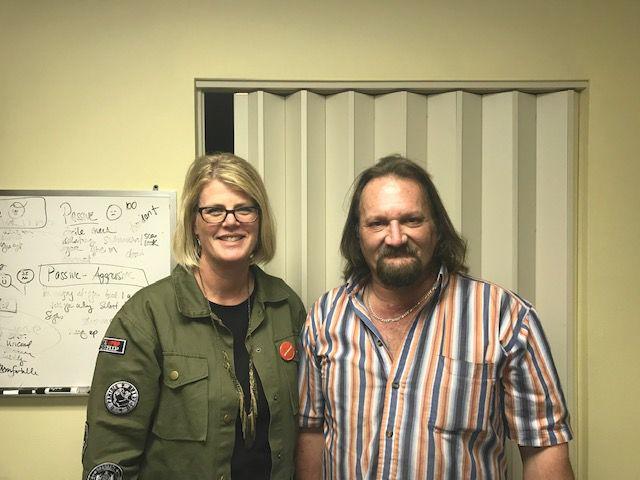 'Like an outcast'
About 25 years ago, Randy started looking for his birth parents. He grew up in a family of six in Audubon; however, all four Riesberg children were adopted, something that was never hidden from them.
"Some people, it doesn't bother them at all, but I grew up my whole life feeling like I was missing something; feeling like an outcast," he said. "And I grew up in a family, I mean they loved me, but there was never no affection shown, never heard 'I love you,' got a hug or a kiss or anything like that."
Randy was born in Beadle County, SD, most likely in Huron, which is the county seat, but was raised in Iowa. His birthday is Oct. 30.
Meanwhile, Kim had been searching for her brother primarily in Iowa and for a man with an Oct. 31 birth date.
"She had actually found me, but didn't think it was me because the birthdays were different," Randy said.
For his part, Randy never considered that his birth mother would have other children.
"That was the thing, I never knew I had other siblings or thought I had other siblings," he said. "I knew my mom gave me away, so why would she have others?"
The agency arranged for Randy and Kim to meet for the first time on Aug. 25, 2017, in Sioux City.
Once that was scheduled, Kim set up a dinner date with her other maternal siblings at Four Brothers — an intentional choice on her part — to tell them she had found their brother and was getting ready to meet him.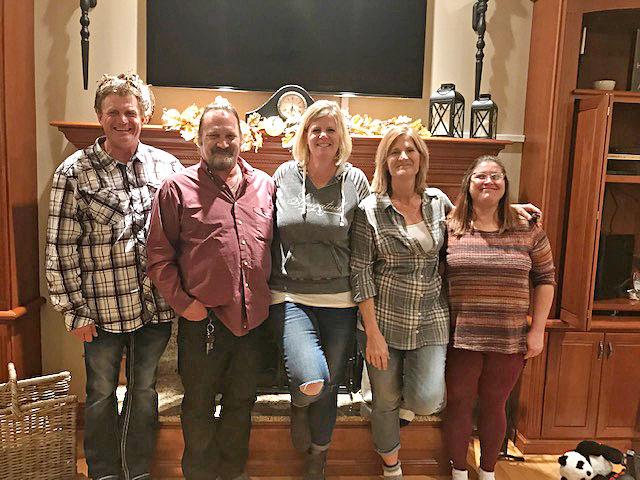 When it came time to meet Randy, Kim decided to bring Christina Eggink-Postma, a close friend and Seasons Center colleague who specializes in complicated family situations.
Christina and Kim arrived well before the 4 p.m. meeting was to begin. As the set time came and went, Kim's nerves turned to frustration because she thought it she was being stood up after all this time and effort.
'I felt a connection'
Finally, Randy and his daughter, who came with him for support, arrived. They had gotten lost multiple times due to the construction on Interstate 29 and because the office is off the beaten path.
The agency did not divulge any information about either sibling to the other before the meeting, but somehow Randy said he knew which woman was Kim and he sat next to her in the office.
"That was a crazy day, I was nervous as hell going there," he said. "As soon as I seen her, I felt a connection. I knew without knowing her that, that was the one. I don't really know, I just knew that she was the one. I felt comfort as soon I seen her."
Kim too felt an instant connection. She also was struck that her brother had blue eyes like her. None of their maternal siblings share their eye color.
"Kimmy says that me and mom were a lot alike," Randy said.
The two kept in contact and by November, Randy was invited to Kathy's house in Sioux City for Thanksgiving, which allowed him to meet the rest of his siblings.
"I was a little nervous but they all made me feel warm and welcome," Randy said.
He and Kim have become inseparable since meeting. Whenever she has to go to Des Moines for work, she swings by Audubon, which is about 90 minutes east, to see him. They've gone on multiples trips together, she's met his adopted family, they share common tastes in music and love to go fishing together. They even got matching tattoos.
"The first one we got was one that I picked out — it's on my forearm — and it says, 'I am right here with you.'" Randy said.
Kim, who previously had no ink, added a flower stem with four branches underneath the words of her tattoo. The flower represents her mother and the branches represent she and her siblings, including Randy.
Randy followed up by getting a compass tattooed on his right shoulder and he plans on having the text "Never lost again" added below it.