ORANGE CITY—The Sioux County community known for burned books felt a different kind of burn Sunday, Nov. 10.
Presidential candidate and U.S. Sen. Bernie Sanders (I-Vermont) electrified a packed house of more than 330 people during a town hall at Prairie Winds Event Center in Orange City.
The event was specifically geared toward the topic of climate change and the need for environmentally friendly jobs, but the 78-year-old senator also addressed health care, child care, income inequality and the cost of higher education.
Onstage with Sanders were a panel of three Iowans who briefly spoke of their support for the senator and creating good-paying green jobs: Jennifer Winn, an environmental activist from Hawarden; Matthew Jefferson, a geologist and conservationist; and Gary Davis, a retired maintenance engineer for the Sioux City School District and a labor union member.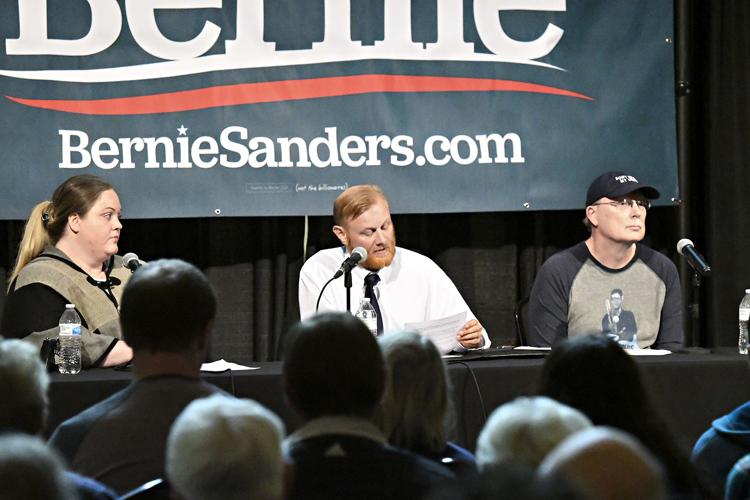 "Scientists tell us that if we do not get our act together, what you're going to see here in Iowa is increased heat, a significant reduction in crop production, you're going to see more flooding, you're going to see more extreme weather disturbances in Iowa, in Vermont and all over this country," Sanders said.
His approach to tackling climate change would be to implement policies outlined in the Green New Deal, a climate proposal that would seek to reduce greenhouse gas emissions by transitioning the U.S. energy system into one powered by renewable sources. The policy also would aim to create millions of good-paying jobs for working-class people.
He said states such as Iowa already are leading the way in renewable energies, since about 35 percent of the state's electricity comes from wind power.
"Instead of having a president who denies the reality of climate change, you're going to have a president who will lead the world in transforming our global energy," Sanders said.
During his speech, Sanders also argued the United States is becoming an oligarchy, where the wealthiest individuals can either pump money into their own political campaigns or bankroll the campaigns of their preferred candidates.
"That is not democracy, that is oligarchy," Sanders said.
He also made the case for increasing the minimum wage to $15 an hour — and addressed criticism he has received for that policy during his last presidential bid.
"Four years ago people said, 'Hey Bernie, you're a nice guy, but you're crazy.' Well, you know what's happened over those last four years? Seven states in America have raised that minimum wage to $15 an hour," Sanders said.
His economic agenda also includes ensuring women receive equal pay for equal work as men and expanding workers' access to labor unions and affordable child care. Sanders also would advocate for pay increases for teachers, make public colleges and universities free to attend and erase student debt college graduates owe.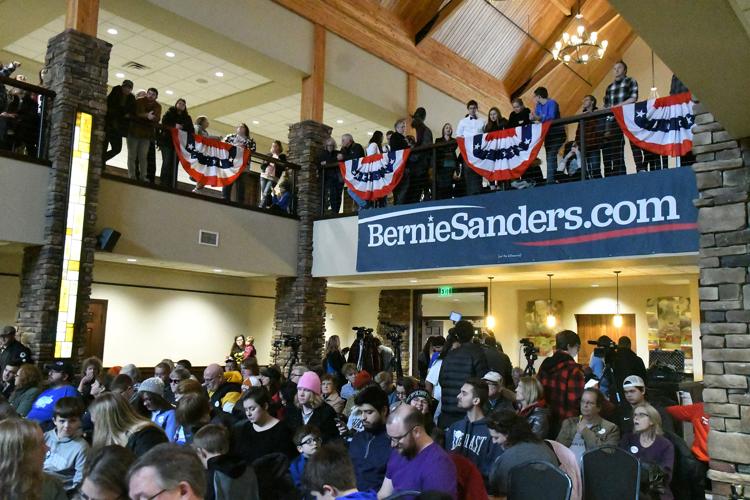 Another cornerstone of Sanders' campaign is passing Medicare for All and reducing the price of prescription medications.
"Medicare for All means is that because we are funding the system public, out of the public tax base, it means you walk into any doctor you want to. Freedom of choice. You do not take out your wallet or your credit card," he said.
His plan would be rolled out over four years: In the first year, the qualifying age for Medicare would drop to 55, then to 45 and 35 during the next two years. By year four, everyone would be eligible for the program.
Sanders gave audience members the opportunity to share their personal stories struggling in the existing health-care system.
A 66-year-old self-employed man named Miles said his wife has cancer and they would be facing $21,000 a year in out-of-pocket expenses.
"We're on Medicare Part A right now. Self-employed. But this will put an indefinite postponement to my retirement," he said.
Sanders responded by saying his health-care plan would be comprehensive and would cover everyone no matter their medical needs.
Health care and the rising cost of college tuition were the main policy issues that concern two students from Orange City-based Northwestern College, 22-year-old senior Lucas Sander and 20-year-old sophomore Sofia Schaeffer.
The students were supportive of Sanders' plans to switch to a single-payer health insurance program and reduce the cost of higher education.
"I've kind of loved him since like the last election," Schaeffer said. "I'm finally old enough to vote now, and so I just really think it's important to be educated and see people when you can."