ROCK RAPIDS—State auditor Rob Sand dug in with a series of public forums in N'West Iowa, including a Wednesday, June 2, stop outside the Lyon County Courthouse in Rock Rapids.
The most Republican county in the Hawkeye State yielded just three members of the Lyon County Democratic Party, a more intimate gathering than most stops on statewide officials' 99-county tours. Larger crowds were in attendance in Sand's other events in Sioux Center and Sibley on Wednesday and Sheldon on Thursday.
"I'm happy with just three people," Sand said. "The newspaper is here and there's good conversation."
The town hall-style conversation touched on a range of topics as the auditor highlighted his vision as the state's top oversight official.
Sand became the most animated when talking about government waste.
Throughout the meeting, he used the term "insider" to describe what he described as an broadly unkempt system.
"This is the problem — and both parties do this — when you have a long period of time with unchecked power, you just start veering off into extremism," the Democrat said.
Sand then recalled growing up in Decorah and paying off a loan his parents gave him to buy a bicycle.
"It's part of what made me fiscally conservative because I remember having to pay them back," he said. "It's fiscally conservative to have oversight and to have accountability for how you're spending your money."
Sand is no stranger to financial scandals, working as an assistant attorney general 2010-17 and prosecuting cases such as 2010 Hot Lotto fraud worth $14.3 million.
The penny-pinching auditor also mentioned his office's PIE program, which promotes public innovations and efficiencies for government entities. For Lyon County, Sand praised the offices of the courthouse, secondary roads office and sheriff for finding ways to save taxpayer money.
The group discussed recent state actions they thought lacked proper oversight, including the state budget bill Gov. Kim Reynolds signed to close the legislative session.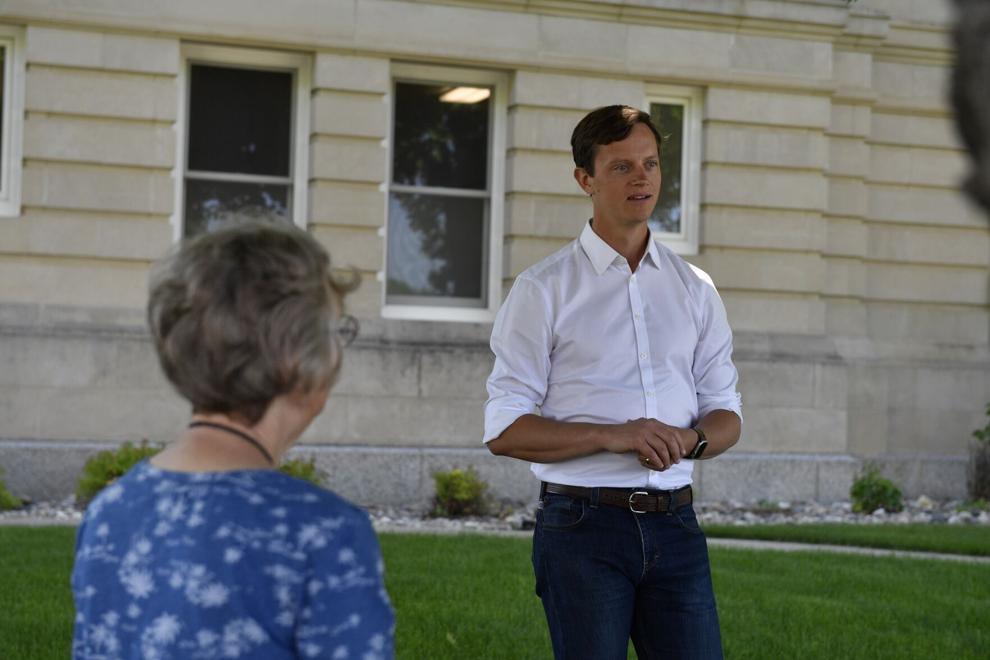 Rock Rapids resident Richard Reitsma said the part of the law concerning water quality needs more muscular accountability authority, with Sand agreeing.
"Time after time after time, with five years of unchecked power — they have decided that they're the insiders and they're in the club, and everybody else in this state — whether they're Democrats or independents or Republicans, all the other ordinary people — they're not," Sand said.
Attendees also inquired about Sand's future plans and aspirations, urging him to run for governor in 2022. Sand was elected in 2018, the first Democrat to win a first statewide term since Michael Mauro won the 2006 secretary of state race. He is only the second auditor from his party since the position was established in 1939.
"I'm thinking about it," Sand said. "I don't really have anything to tell you other than thanks for the encouragement and TBD."
Iowa Democrats' rising star was definitive about one 2022 electoral prospect: He is not running for Iowa's U.S. Senate seat occupied by Republican Chuck Grassley.
"I think that would suck," Sand said. "I have little kids. I want to be around my kids. I like my job though. I really do like my job. I like the fact that I get to be around my kids a lot. I like the fact that I get to focus on accountability for everybody — it's very similar stuff I got to do in the AG's office — and I just got elected to my first term. There's lots of reasons to do it again."