SANBORN—It took a second try, but 18-year-old Paige Dagel is proud to have been selected as a youth voice for Iowa's pork industry.
On Jan. 28, Dagel was named one of two Youth Ambassadors by the Iowa Pork Producers Association. She joins the 2021 Iowa Pork Youth Leadership Team, which promotes the efforts of pork producers across the state.
For Dagel, that includes her parents, Paul and Stacey, who run a wean-to-finish operation on their farm northeast of Sanborn.
"I have always been infatuated with pigs," Dagel said. "I recall going into the barns as a young girl with my dad."
Despite growing up around pigs, Dagel said her journey to finding a passion for the pork industry was a long time coming.
Although she helped with chores in the nursery and three finishing buildings on her family's farm as a youngster, she was not involved with pigs beyond that.
"Throughout 4-H and FFA I showed rabbits and cattle. I showed rabbits for nine years," Dagel said. "That's where my heart was, just doing my rabbits."
That changed in the spring of 2020 when outbreaks of the coronavirus at meatpacking plants disrupted the pork industry. Dagel realized how much she missed having pigs around when her family's farm was temporarily let go from its hog company.
"It was really hard for us to cope with the fact that our farm was empty. We had no pigs on site for about five months," she said.
While the barns sat empty, her dad jokingly offered to let her try showing pigs for the first time. Keeping show pigs had not been an option before because of the possibility for disease transfer between show and commercial animals.
Dagel, who was a senior at Hartley-Melvin-Sanborn High School in Hartley at the time, convinced her 11-year-old brother Luke to try it with her. They each bought three show pigs.
"I knew nothing about show pigs; I got thrown into the show industry overnight," Dagel said.
She showed pigs for the first time at the 2020 O'Brien County Fair in Primghar.
Despite being a beginner, Dagel placed in the top of her class every time she showed. She had a shot at having the grand champion gilt, too, but Luke's entry won that title.
"Thinking about it just makes me smile," she said. "Just remembering the moment my brother and I were both in the ring, we're driving our pigs around each other and my brother's pig is selected."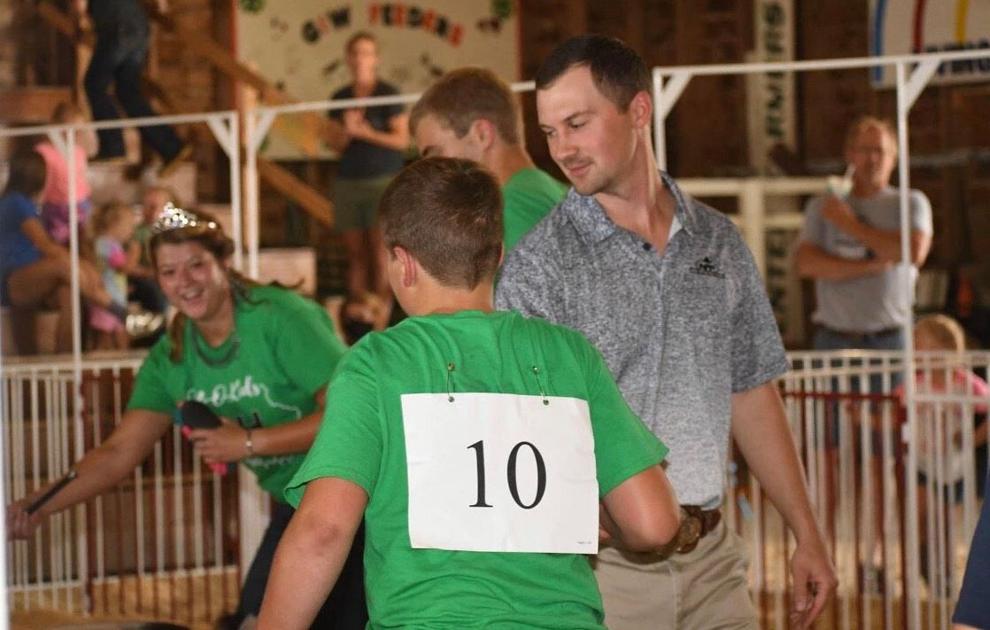 Another standout moment of Dagel's journey with pork is when she competed for a position on the Iowa Pork Youth Leadership Team in January of 2020.
The annual contest is open to Iowa high school students or recent high school graduates. Competitors take tests, participate in an interview process and give a speech on an aspect of the pork industry during the Iowa Pork Congress in January.
The top three candidates are named to that year's youth leadership team, with the top-ranked female candidate named Iowa pork queen and the other two made youth ambassadors.
Although Dagel did not get a position when she competed in 2020, the experience made her hungry to learn more about the pork industry.
"Understanding how important it was to be a producer and how important it was to feed the world really sparked my passion," Dagel said.
She spent parts of 2020 touring hog farms and pork processing facilities to learn more about the industry and then ran again, successfully this time, at the 2021 Iowa Pork Congress in late January.
"I went home and was going a hundred miles an hour just trying to learn as much as I could," Dagel said. "It really goes to show that if you're passionate about it, you'll go the extra mile for it."
She added that competing not once but twice opened her eyes to the size and significance of the pork industry across the state.
"Just stepping back and realizing this industry is way bigger than my farm in O'Brien County," she said. "I didn't realize how grateful I was to be part of the pork industry until I stepped away from it and had an outside view looking in."
Dagel and the rest of the leadership team will spend the rest of the year traveling to events around the state promoting the pork industry.
She hopes to be able to visits schools and farms as an ambassador to teach kids about the pork industry and continue learning from Iowa producers.
Dagel is a freshman at Briar Cliff University in Sioux City where she is pursuing a business degree.
She hopes to have a career in public relations for a pork company or wean-to-finish operation.
"I really want to find a job where I can promote and educate others about the Iowa pork industry, and it is my goal to leave the industry better than I found it," Dagel said.