SANBORN—The opening of new businesses, expansion of existing ones and construction of additional housing units have been underway in Sanborn.
Besides an eight-plex building that opened late in the fall and already is at full capacity, a housing development located next to the Sanborn Golf & Country Club will have space for more than 40 new homes.
"I'm kind of proud of that because a lot of the communities in O'Brien County are doing a lot of building, and we have had a lot of those duplexes and condos and housing," said Doug Elgersma, president of the Sanborn Chamber of Commerce.
"A lot of spec houses have been built, but they're getting sold just about as fast as they're built. So it's kind of a neat thing."
Elgersma is serving his second, three-year term as chamber president, having been elected to the role in 2015.
Since communities across N'West Iowa compete to attract businesses and workers, Elgersma said the chamber and city of Sanborn constantly promote the town and businesses that operate there.
The O'Brien County community of about 1,400 people has a mix of service- and industrial-based businesses. It ushered in the new year with the opening of two new businesses: Family Health Chiropractic in late December and ReBorn Treasures, a vintage and antique store, in early February.
The chiropractic clinic is located at 606 Carroll St., the old location of Yesterday's Memories & Antique Truck Museum.
"It's a little busier than I anticipated," said Dr. Stacy Carlin, chiropractor and owner of the new chiropractic clinic, of the business so far.
Carlin is certified in pediatric and pregnancy chiropractic medicine. Her husband, Patrick, is the new superintendent of the Hartley-Melvin-Sanborn School District.
They moved to Sanborn from Waterloo, where Carlin had practiced for 11 years.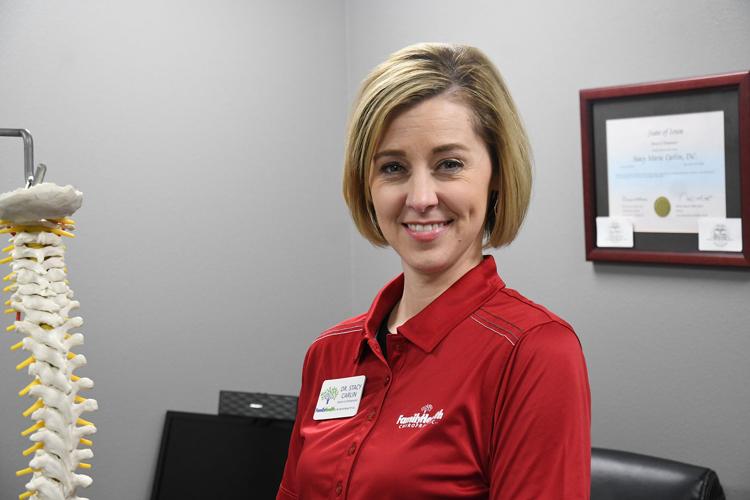 "We've been very well-received, and we're excited to be part of Sanborn," she said.
Earlier in 2019, a longtime Sanborn business — Bowl-Mor Lanes — was saved from closing when Bert and Bev Van Dam of Orange City bought the bowling alley. The Van Dams reopened the business in July after completing renovations.
One of the main businesses in Sanborn that draws in new residents, however, is Associated Milk Producers Inc., which recently added a new cooler to its facility at 101 W. First St.
"They're always looking for people," Elgersma said of AMPI.
Besides promoting Sanborn businesses, the chamber holds activities throughout the year to encourage residents to shop locally.
"We have a great small community that supports our local businesses," said Sally Smith, who has been chamber director for three years.
"We have Chamber Bucks available that can only be used at chamber businesses and are always encouraging people to purchase them for gifts so they shop local and help our businesses."
Annual events such as Railroad Days in July and a fall festival in October also draw in crowds from outside of Sanborn to the benefit of businesses in town.
The chamber ends the year with its Hometown Christmas activity, where shoppers can pick up bingo-like cards to check off the names of chamber businesses each time they visit those places during the first week of December. A full bingo card gives them a chance to win Chamber Bucks.
More recently, the chamber hosted its third annual Chili Cookoff on Feb. 6 at Yesterday's Memories & Antique Truck Museum. The event doubled as the chamber's annual meeting where members give updates on developments around town.
Smith said the cookoff was well-attended but noted most of the attendees were connected to chamber businesses.
"That is still nice to allow the community to see the faces of those businesses if they aren't regular customers," she said.
"And who knows, maybe their chili is good enough to make them want to check out the business that goes along with those friendly faces."