SIOUX FALLS, SD—At just 3 months old, Sylas Gengler has earned his nickname "Buffalo."
Born seven weeks early on Christmas Eve to TJ Gengler and Angela Timm of Sanborn, Sylas has spent his whole life in the neonatal intensive care unit at Sanford USD Medical Center in Sioux Falls, SD, putting up a fight that has surprised doctors and given his parents hope.
"He's as strong as a buffalo," Angela said. "We've cried a lot of tears, but he keeps pulling through and he's doing awesome."
Sylas was born with a rare condition called Trisomy 18, or Edward's Syndrome, which is caused by an extra chromosome 18. Unlike Down syndrome, which also is caused by an extra chromosome, babies with Trisomy 18 have potentially life-threatening medical conditions.
At first, TJ and Angela, who are 35 and 41, were not sure they would even get to hold their son.
Now they are watching him gain weight and hoping to bring him home by the end of the year.
'Something's wrong'
Angela found out she was pregnant in July. What would have been a happy moment soured when they were given the results of an ultrasound at Orange City Area Health System.
"When they did the ultrasound, they said our baby had a small bridge on his nose," Angela said. "There was something wrong with his stomach; there were cysts on his brain."
Their baby was not developing quite right, the doctor told them. The characteristics pointed to Trisomy 18.
TJ and Angela started reading up on Trisomy 18 and kept going back for ultrasounds, where the news got grimmer. Sylas's stomach was extremely small. The two bottom chambers of his heart were not closing right.
"Every time we went to the doctor to get an ultrasound, they were finding something else that was wrong with him," Angela said. "It felt like they were trying to find things wrong with Sylas."
TJ and Angela were given three options. Angela could take a blood test to confirm the diagnosis; she could undergo amniocentesis, a procedure that would remove amniotic fluid from the womb to test for Trisomy-18; or she could terminate.
"I said, 'No, I'm not going to terminate,'" Angela said.
They ended up opting for an amniocentesis, since Angela also was carrying so much amniotic fluid in her womb that they were worried Sylas would be born early.
Angela had the procedure on Dec. 23. The next day, Sylas was born.
TJ and Angela were about to leave Sioux Falls after Angela's procedure when she went into labor.
The couple said the timing saved Sylas's life. They were checking out of their hotel at 11:03 a.m. when Angela's contractions started. Angela was rushed to triage and Sylas was born via emergency C-section at 11:26 a.m.
"If we hadn't been in Sioux Falls, he probably wouldn't be alive," TJ said.
Encouraging progress
On Christmas Day, Angela went to hold her son for the first time and he stopped breathing. This prompted emergency surgery to close a gap between his esophagus and stomach, which was allowing secretions to come up from his stomach and block his lungs.
Sylas was just 26 hours old when he had the surgery. Since then he has had two more, one to add a tube to drain fluid building up in his chest cavity and another to repair his stomach, which ruptured once because the tissue of his organs is so thin.
He eats using a feeding tube, a process that takes several hours a day because his stomach is still tiny and fragile. He can only take a few milliliters of formula at a time.
Still, he's putting on weight. He weighed 2 pounds and 14 ounces at birth. Now, he's up to 5 pounds and 11 ounces.
"Sylas has his good days and his bad days," Angela said.
It has been more good days than bad recently. Sylas has been on a ventilator since he was born and is likely to need it for the rest of his life, but he's strengthening in other areas.
In the last few weeks he was weaned off two pain medications. He also has recovered from the brink of liver failure. After one surgery he was on an IV drip for so long his liver started to give out, but he is back on a feeding tube and those numbers have returned to normal.
"He hasn't had as many worrying spells in the last two or three weeks," TJ said. "It's way more encouraging."
'Very thankful'
At the time of his birth, TJ and Angela still did not know if Sylas had Trisomy 18. The test results did not come back for another two weeks. Having the diagnosis confirmed was expected but Angela said it still was "heartbreaking."
According to the Trisomy 18 Foundation, only about 50 percent of babies with Trisomy 18 carried to term are born alive. Only 10 percent of those survive their first year.
"Every time we went to the doctor it was just, 'I'm sorry, I'm sorry,'" TJ said. "This is my first kid and it was really hard to go to the hospital and hear that stuff."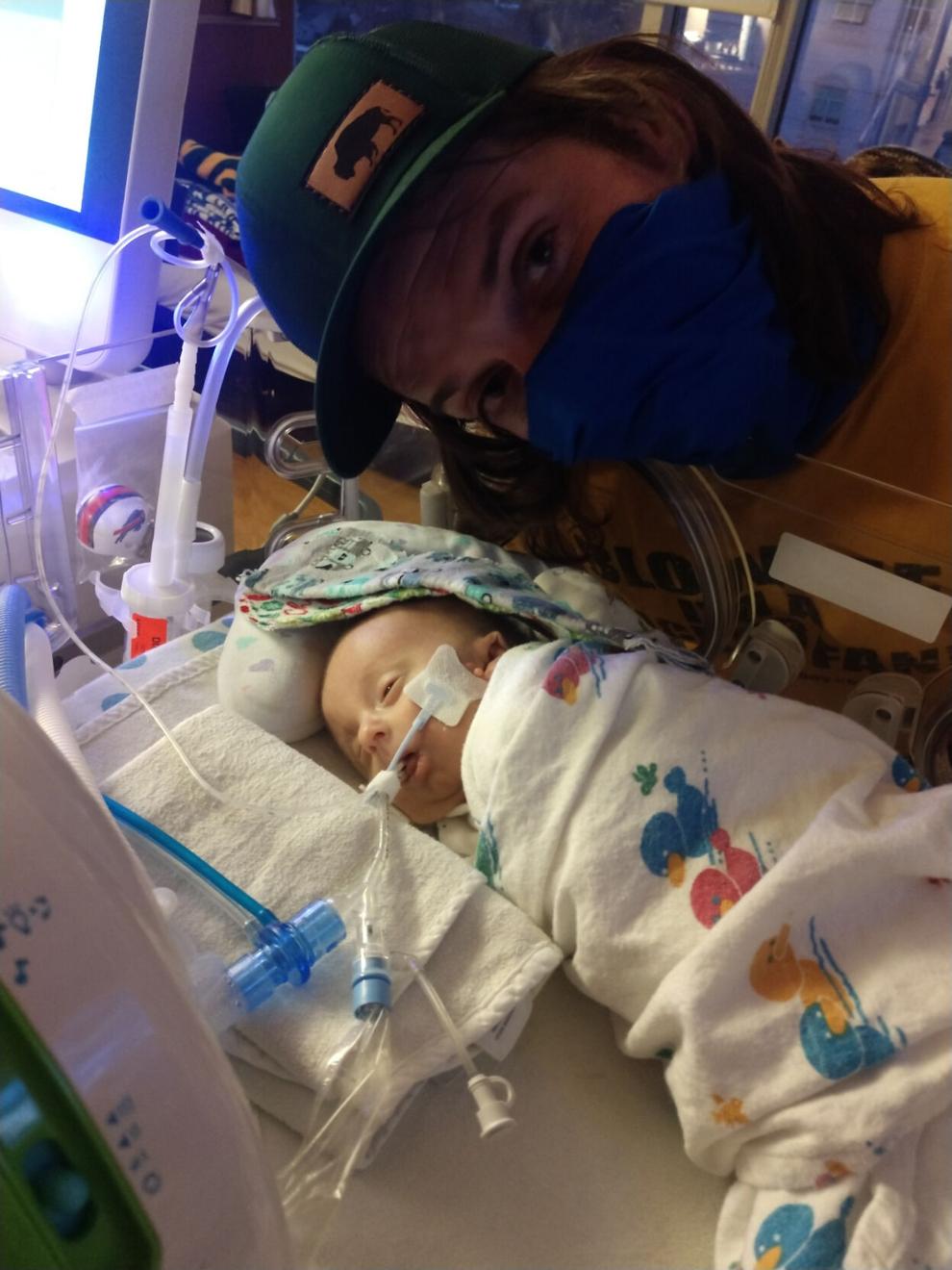 Through it all, they agree the support from family and friends — who have offered to cook, watch their house, babysit Angela's 5-year-old daughter, Meika, or just pick up the phone to talk — has been overwhelming.
"It seems like whenever we're having a hard time, someone is always calling us at the right time," TJ said.
"We have them supporting us like none other," Angela added. "They've been praying for us and we are just very thankful."
They have received support from total strangers too. In late February they were hoping to get Sylas transferred to the Mayo Clinic in Rochester, MN.
Someone from Florida offered to donate the almost $22,000 for the transfer. Although the transfer did not happen, in part because of Sylas' fragile health, TJ and Angela said they were overwhelmed with gratitude.
"I don't know who this guy is," TJ said. "I love him, but I don't even know him."
COVID interruption
Sylas has stayed in the neonatal intensive care unit since he was born.
Because of the coronavirus pandemic, TJ and Angela have not been able to let many people visit Sylas.
Meika has only been able to visit her brother once. The rest of the time she stays with her dad four hours away. The last three months is the longest Angela has gone without spending much time with her daughter.
"I'm torn because I want to be with Meika and I feel like I need to be here with Sylas," Angela said. "I'm very torn because I want to be in both places at once."
TJ and Angela have barely left the hospital since Sylas was born, but that changed when Angela was exposed to someone who tested positive for COVID-19 on March 10.
They informed the hospital when they found out March 13 and were told they would need to wait 10 days from the exposure to visit again, as long as they did not show symptoms of COVID-19.
Then on Wednesday they heard from the Ronald McDonald House where they had been staying that they could not self-quarantine there.
TJ and Angela went home to Sanborn. They can visit Sylas again today (Saturday, March 20) and stayed in touch with nurses and doctors every day.
'He's still my son'
Nothing has shaken TJ and Angela's resolve to see Sylas become strong enough to come home.
Sylas' care team seems to feel that might finally be a possibility, if he can put on a little more weight.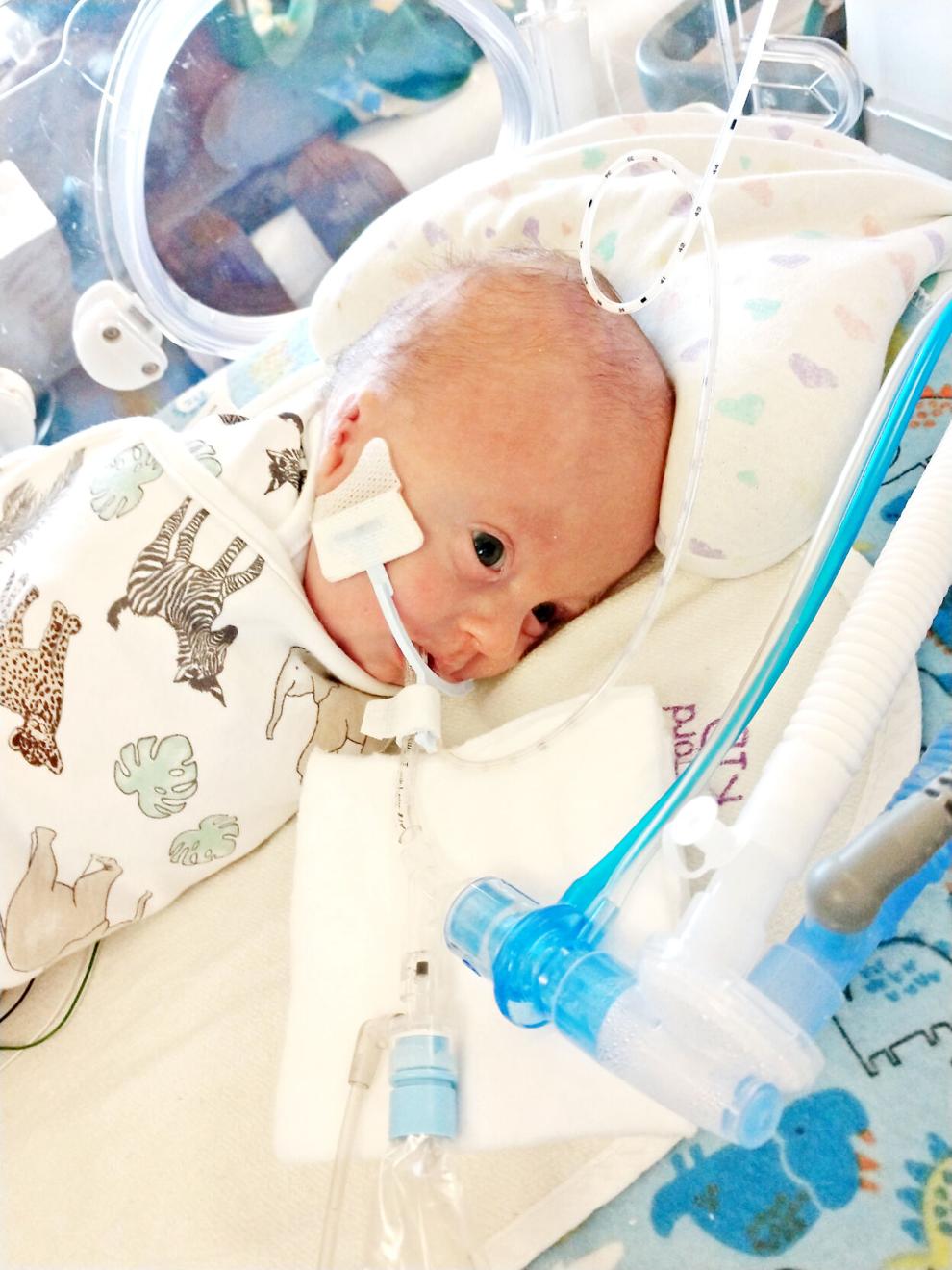 If Sylas can gain another pound, he will have another surgery to put in a tracheotomy tube.
It will replace the ventilator he uses that goes over his mouth and will make it easier for him to eat and breath.
"The big plan is to get him to grow until he gets big enough to get that trach," TJ said.
It's likely to be six to nine months before he reaches the point where he be released from the hospital.
In the meantime, the hospital will help TJ and Angela look for nurses. If Sylas goes home, he will need close to 24-hour nursing and still will be on medications, a feeding tube and a ventilator.
Sylas' battle and medical issues will be far from over even if that happens, but TJ and Angela said they are trying to think one goal at a time.
"What I've had in my heart ever since Sylas was born, I'm taking my son home, just like anyone else would want to do," TJ said. "As long as I get Sylas home, that's I want. Even if he's got issues for the rest of his life, he's still my son."