SANBORN—It does not seem like 10 years to her, but that's how long it's been since Melissa Rupp opened Align Chiropractic in Sanborn.
"I didn't know what to expect coming into a new community, but they welcomed me with open arms," said the 38-year-old Sibley native. "They embraced me being here, and it's been fantastic."
She opened the office, located at 109 Main St., in 2011, three years after she graduated from chiropractic school at Northwestern Health Sciences University in Minneapolis.
Rupp's patients include people of all ages and backgrounds, including babies, teenagers, pregnant women and farmers.
"I see everything from pain management, injury, personal injury, people falling, doing silly things, getting hurt, athletes getting hurt during sports," she said.
"But then I also have a great number of clients that are just wellness patients that come in once a month because they feel good and they want to stay feeling good."
Rupp mainly treats patients by hand, although she also uses treatments such as kinesiology taping, ultrasound therapy and electrical muscle stimulation therapy. The office also offers fertility care services through Ashwood FertilityCare Center in Orange City.
She also works alongside massage therapist Ashley Daggett, who has been employed at Align Chiropractic for eight years and handles issues relating to patients' muscles.
"We work really well together. We see a lot of patients that will see her first for massage and then come see me or vice versa," Rupp said.
Rupp's journey to becoming a chiropractor was not a linear one. Before studying chiropractic, she graduated from the University of Sioux Falls in South Dakota in 2005 with a degree in exercise science.
She recalled being a month away graduating in December of that year and grappling with decisions about what she wanted to do afterward.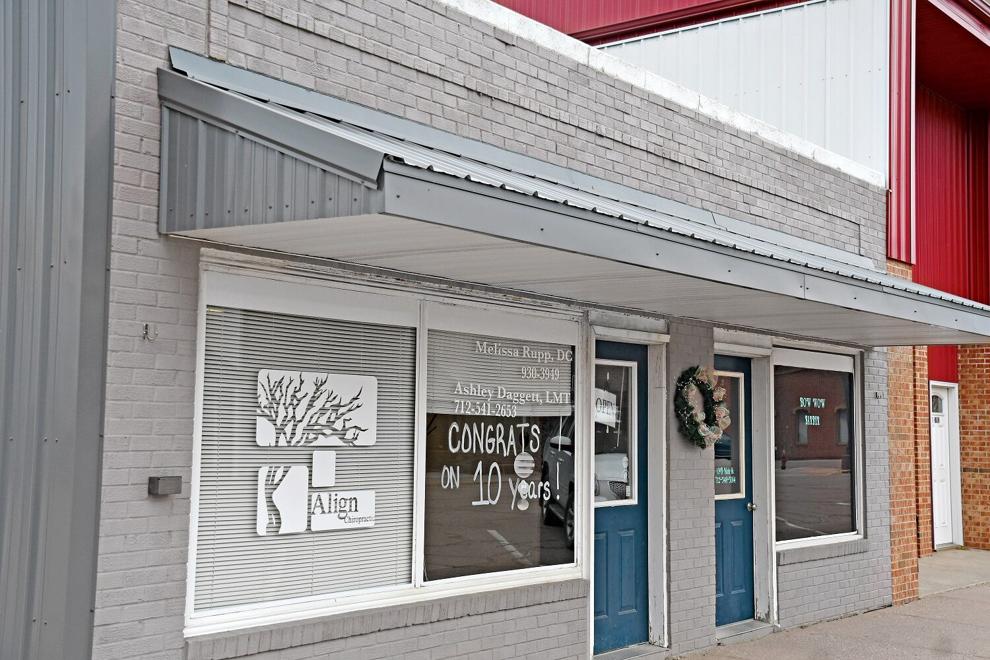 Around that time, she received a care package from her mother, which included a paper Rupp had written in the sixth grade which detailed her desire to go into chiropractic after having interviewed a local chiropractor for the assignment.
"My mom's like, 'I just think you should think about this,'" Rupp said. "She had to dig through probably totes of stuff to find this paper, and how she even remembered that I did that was so crazy."
Nonetheless, the gesture paid off. Rupp applied and was accepted to the Minneapolis chiropractic school, which she began attending in May 2006 after finishing her bachelor's degree.
"I felt like, 'OK, I'm 20 years old and, yeah this is what I'm supposed to do.' And I finally felt good about it," Rupp said.
After graduating from chiropractic school, Rupp moved to Hartley with her husband, John, who worked in the O'Brien County community. She worked a number of odd jobs as she tried to decide when, where and how she would open her own chiropractic practice.
"Coming out of chiropractic school, you don't have much other than debt," she said.
Once she found the building she wanted to work out of, she had to remodel the space before opening it for business.
Rupp also recalled challenges she has faced with the business through the years, the most recent being the coronavirus pandemic.
Although the office was able to stay open through the pandemic, Rupp said the hours fluctuated and Daggett was unable to work the massage therapy side of the office for about two months. The office also closed for two weeks earlier this spring when Rupp's husband got COVID-19, which meant the household had to self-quarantine.
Other than that, Rupp has been busier than she expected to be throughout the pandemic. Part of the reason for that was that many of her patients wanted to stay as healthy as they could and saw chiropractic as a way to help.
Rupp reflected on how she has been able to follow many of her patients through their own life developments the past 10 years, such as those who first came to her as children and are entering adulthood or adults who started bringing their kids to her for treatment.
"It's just cool to have that feeling of family, like they trust me with themselves and now they trust me with their children."