SANBORN—Misfortune has not spared Bowl Mor Lanes, but the ball is rolling to have the Sanborn business back and better than before.
The bowling center, purchased by Bert and Bev Van Dam of Orange City and their sons Josh and Jeremy in May 2019, has closed twice in their two years of ownership due to external factors.
The first was the coronavirus, which shuttered Bowl Mor for four months last spring and summer.
Bowl Mor reopened in August only to close a month later when a water leak caused more than $300,000 of damage.
The pins were silenced for almost five months while the building underwent extensive renovations and repairs, and the Van Dams still are easing back into a full reopening.
Having to shut down again twice in one year felt like a slap in the face, Bert said.
"To have leagues one week and then come here and find the water, I was pretty much at wit's end," he said. "I didn't know what to do at first. I kind of just stood there and looked after I got the water shut off."
Two inches of water flooded half the building, soaking through carpet, walls and cabinets in the front entrance, central seating area and kitchen. The only silver lining was that the bowling lanes were raised a foot and did not sustain any damage.
Once the Van Dams started pulling up carpet and taking stock of the damage, more things came up that would need to be repaired or replaced.
Removing wet carpet meant taking out the front counter, which led to the removal of part of the ceiling. Damage in the kitchen had them rip out the floor and replace old plumbing. Tearing up soaked plywood on the main floor revealed wiring that had to be disconnected and brought up to code.
"We completely gutted everything, the front counter and everything," Bert said.
After extensive demolition to remove water damage, months of repair and remodeling began.
"We put new carpet in, new flooring in our dining area and our kitchen, put in new ceiling tiles because part of the old stuff had to be torn out so we thought, might as well fix it and have it all look right," Bert said.
On top of replacing what was damaged by flooding, the Van Dams used the remodeling opportunity to make other repairs and improvements.
The biggest change has been opening up the space and making it more accessible.
Groups from Village Northwest Unlimited in Sheldon come to bowl regularly. Before the remodel, getting wheelchairs through the door and around the counter was a two-person job. When the front counter was torn out, Bert made a point of redesigning the entrance to admit wheelchairs.
"It was very tough for wheelchairs," Bert said. "It was like trying to take a mattress around the corner. Now they just walk in."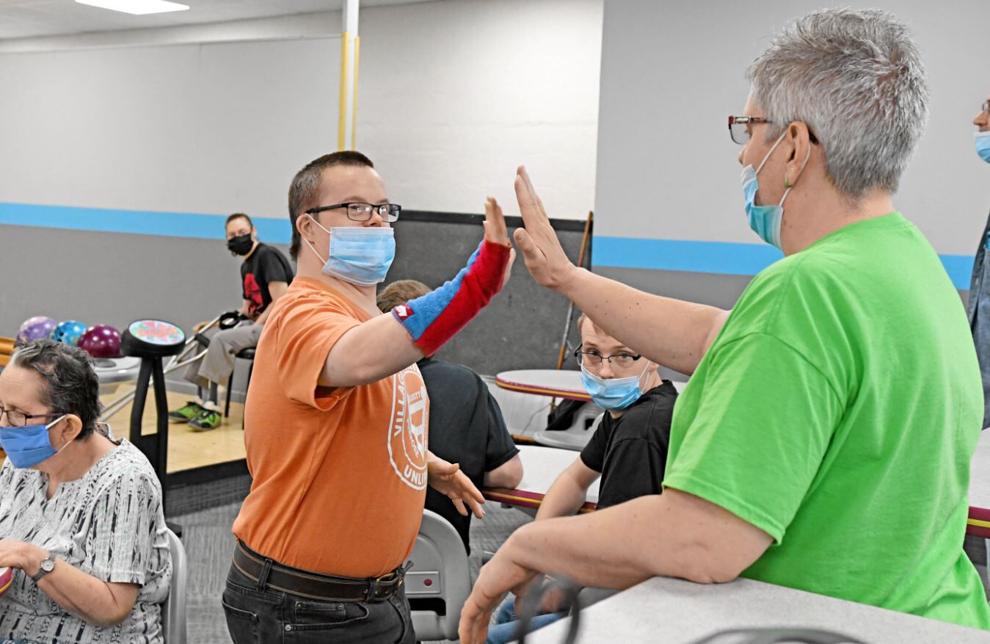 The dining area also has been expanded to have more seating and an additional entrance into the dining area was put in.
"Eventually, we hope to open for breakfast so we can close off the bowling side," Bert said.
He anticipates Bowl Mor will be serving lunch in a few weeks. Work on the kitchen concluded just last week and was inspected and cleared to start selling food.
These improvements complete upgrades to the entire business that began when the Van Dams bought Bowl Mor from former owner Penny Haag of Sanborn. Before reopening under the Van Dams, the pin setters, ball returns, lanes, bumpers and pins were all upgraded.
"From two years ago, it's a completely different bowling center," Bert said.
Reopening for bowling began gradually in February with leagues coming in part-time. Bowl Mor opened to other bowling leagues in March and began accepting reservations for bowling.
"The community has been really good about coming back to bowl. We've been really, really busy," Bert said.
Most evenings there is just one of the eight lanes open.
Although the timing was far from ideal, Bert said the significant improvements to the bowling alley and the obvious appreciation from returning bowlers has paid off.
"Would I do it over again, if I knew all these hassles?" he said. "Yes, I probably would have ended up doing it over again."