ROCK VALLEY—The sound of hand drills and power saws is normal in Todd Vander Velde's construction class at Rock Valley High School, but the 10-foot building surrounded by ladders and racks of power tools is not.
The structure is one of two small cabins Vander Velde's ninth-grade students are constructing for Rivers Bend Campground, which will be available for campers to rent this summer.
It's a change for the class, which normally works on a range of smaller or individual projects, and students are excited to be laboring on such a significant item.
"I haven't done anything as big as this before," said freshman Mitchell Verburg. "Normally, we just build our own projects. Now we're building something for the city."
The cabins are 12-by-20-foot and will have sleeping accommodations for four to five people and a small porch out front.
The students are learning a range of skills, from the fundamentals of framing and putting up walls and a roof to elements like installing siding, roofing and insulation. They also are learning about electrical wiring. When complete, the cabins will offer heating, air conditioning and lights.
Constructing the cabins is a learn-as-they go process, according to Vander Velde.
He explains what needs to be accomplished at each stage, then stands back and lets the students start measuring, sawing and putting in screws, ready to step in with advice or a suggestion as needed.
The approach has resulted in some funny stories for the class to share — bruised fingers, dropped screws, measuring and remeasuring spaces to cut a piece of wood that fits properly.
"Once in a while we do something wrong, but we fix it and we work as a team," said Lucio Vazquez, another student in the class. "It'll turn out to be a good project for our city."
Vazquez works in construction with his dad in the summer, so he is familiar with many of the steps in the class. He said his favorite parts have been framing the building and putting up rafters.
"I enjoy all of the construction labor that's going on here," Vazquez said.
Vander Velde has 24 students, spread between two classes, working on the cabins. Since starting in January, they have almost finished one of the two cabins and are getting started on the second.
This week the city came to help move the first cabin to an outside location where students will finish the interior walls. Since the roof, siding, windows and doors have been installed, it can be out in the elements and free up space for the class to get started on the second cabin.
"We were kind of anxious to see how that goes because we had to pick it up and move it," Vander Velde said.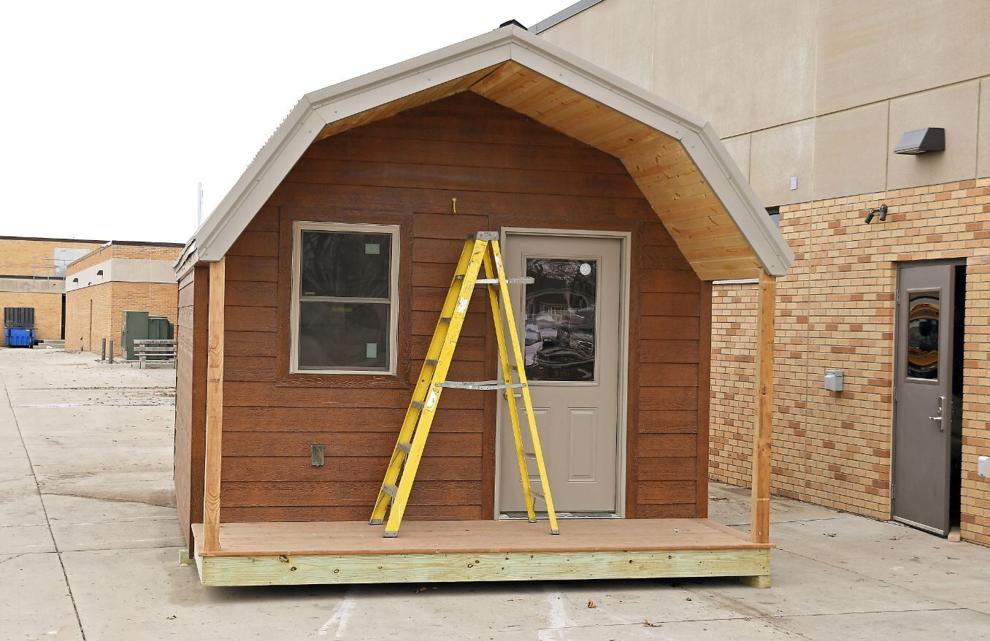 This is not the first time Vander Velde's class has done a project for the city. Last year his ninth-grade class was building a shed, but when school closed down for the coronavirus pandemic, Vander Velde ended up finishing that project himself.
He said he is glad to have the students back and able to work hands-on under his supervision. Judging by the conversation and energy in his classroom, the students are just as glad to be back.
Working on something that will be put to use outside the classroom also has spurred the students.
"It's a lot more motivating than any other project," said freshman Merrik Van Grootheest. "My mom said to me 'You'll be able to see people use it and be helping out the city."
Vander Velde hopes to have his class finish, or at least nearly finish, two cabins by the end of the school year. Next fall, he will repeat the process and build two more cabins for the city.
"It's a great experience for these kids, but it's a great thing for the community, too," Vander Velde said. "They're having fun making something and you know maybe this summer they and their families will stay in one of the cabins they made."