ROCK VALLEY—The only items remaining on Nichole Blankespoor's table were a bag of party mix and a container of zucchini chocolate chip muffins toward the end of the Rock Valley Farmers' Market on a recent Thursday.
"I had a lot more. They pretty well cleaned me out," said Blankespoor, who runs a baking business called Sweets out of her home north of Rock Valley.
In other words, the third night of the farmers' market was a success for Blankespoor, who was one of about 18 vendors lined up on the southern end of City Park along Highway 18 to show off their goods.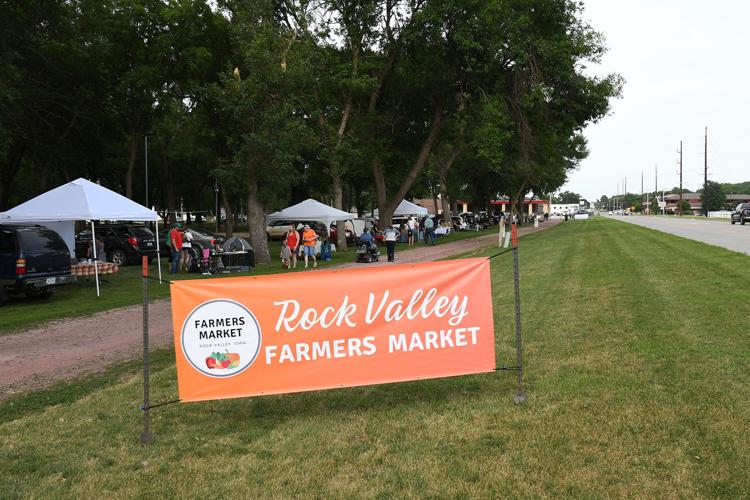 The farmers' market in the Sioux County community is a collaboration between the Rock Valley Chamber of Commerce and Hegg Health Center, which started on June 11 and takes place 4-7 p.m. Thursdays through Aug. 27.
"Every year we get a CHNA report, which is our Community Health Needs Assessment and one of the needs in the community was obesity and nutrition," said Josie Faber, marketing specialist at Hegg Health.
"We were like, 'Oh what would be a fun way to bring some produce, different things and just some fun back into the community?' So that's how it got started."
Since the farmers' market is outside, vendors and customers are able to space out per social distancing rules on signs set up throughout the area. Hand sanitizer pumps also are stationed toward the ends of the vendor lineup as a preventive step to avoid spreading the coronavirus.
"The park is one of the premier assets that we thought when we started talking about the farmers' market, in terms of having a place where if you did bring the family, the kids can go play so you don't have 17 different people touching all the same stuff," said Adam Rosman, director of the Rock Valley Chamber of Commerce.
Wendy Heikes of Hull had the coronavirus pandemic in mind with her booth of homemade fabric face masks.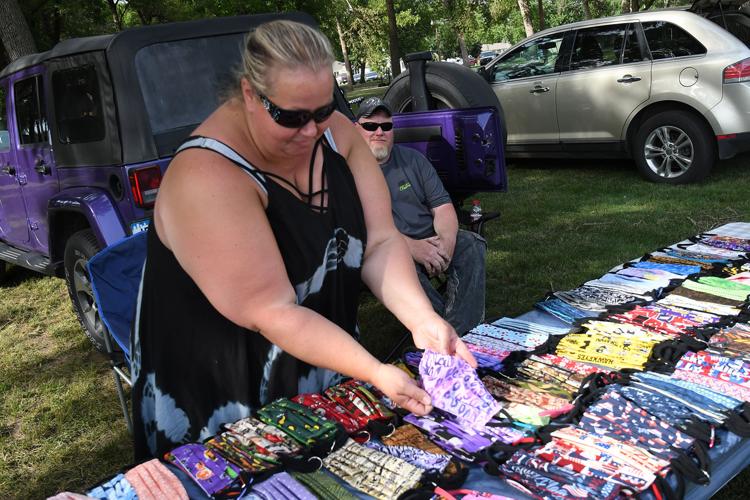 "I'm actually a nurse, I work full time in LeMars," Heikes said. "We had a couple, and it just kind of snowballed from there."
The masks on her table ranged from colorful, abstract designs to masks emblazoned with the logos of athletic teams.
"I've made hundreds of them," Heikes said. "For a wedding I did 75, and I did a fun one with like a tux on the face for the groom. It's kind of cute."
Another vendor, Rock Valley native Susan Van Driel, brought a selection of wines from Madison County Winery. Her brother, Doug Bakker, owns the winery, which is located in St. Charles south of Des Moines.
"I've bet he's been producing wine for over 15 years," Van Driel said.
Some of the varieties Van Driel had on display included the winery's signature Lollipop, which is a sweet red wine. She also had a raspberry blanc and pink, which is a semisweet rosé.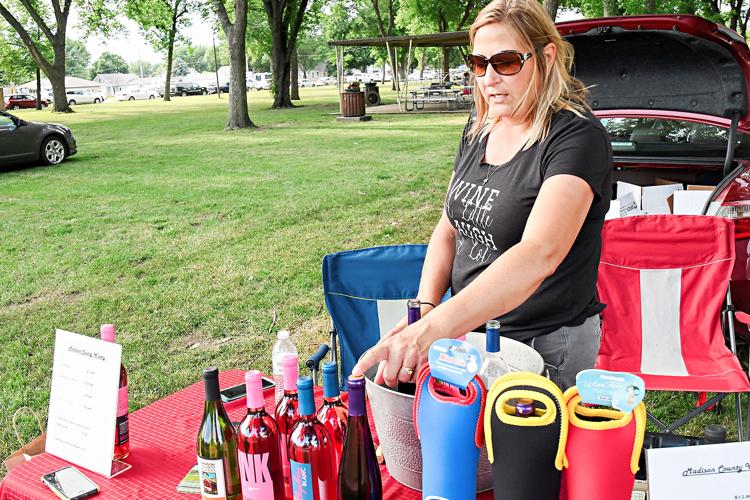 Lindsay's Flower Patch, an Orange City-based flower shop owned by Lindsay Millard, also had a booth boasting a display of plants ranging from snapdragons to lilies to sunflowers.
Lindsay Kuiper, a summer employee for the flower shop, said the business has been to other farmers' markets this year and has seen success at them despite the pandemic.
"A lot of people just like getting out and finding stuff at the farmers' market," said Kuiper, who will be a sophomore at Dordt University in Sioux Center in the fall.
"It's been awesome. This is maybe the sixth farmers' market we've been to this season, just with ones that we've done in Orange City and Sioux Center."