REGIONAL—Masks are still a must to enter Town Square Coffee House + Kitchen in Orange City despite a recent proclamation from Gov. Kim Reynolds, which rolled back the statewide mandate in place since November.
"We haven't really seen anybody raising a stink about it, which is super awesome," said Tucker Schneider, general manager of the coffee shop and restaurant.
"We were under the impression until the majority of people start getting vaccinated that we were going to keep what we were doing because it's working."
The governor's proclamation, which went into effect Sunday, Feb. 7, rolled back the mask mandate requiring Iowans to wear masks in public spaces if they are within six feet of individuals who are not part of their household.
It also eliminated the rule that capped attendance at 15 people for indoor gatherings and 30 for outdoor settings. Instead, the measure encourages event organizers to take reasonable measures to protect the health of their guests and the public.
The governor also strongly encouraged residents with medical conditions and those over the age of 65 to limit their activities outside of their homes and advised those who are not at substantial risk to limit their interactions with those more vulnerable to the virus.
"My approach has been consistent from the very beginning of COVID-19: When virus activity increases, we'll dial mitigation efforts up in response, and when it comes back down, we'll adjust accordingly," Reynolds said in a news conference Wednesday.
"As I've said for months and I'll continue to say, we must learn to live with COVID-19 and effectively manage it within the course of our everyday lives."
'Mitigation efforts'
Businesses are free to decide whether or not they want to continue mask policies or limit capacity. Town Square chose to keep doing each of those things.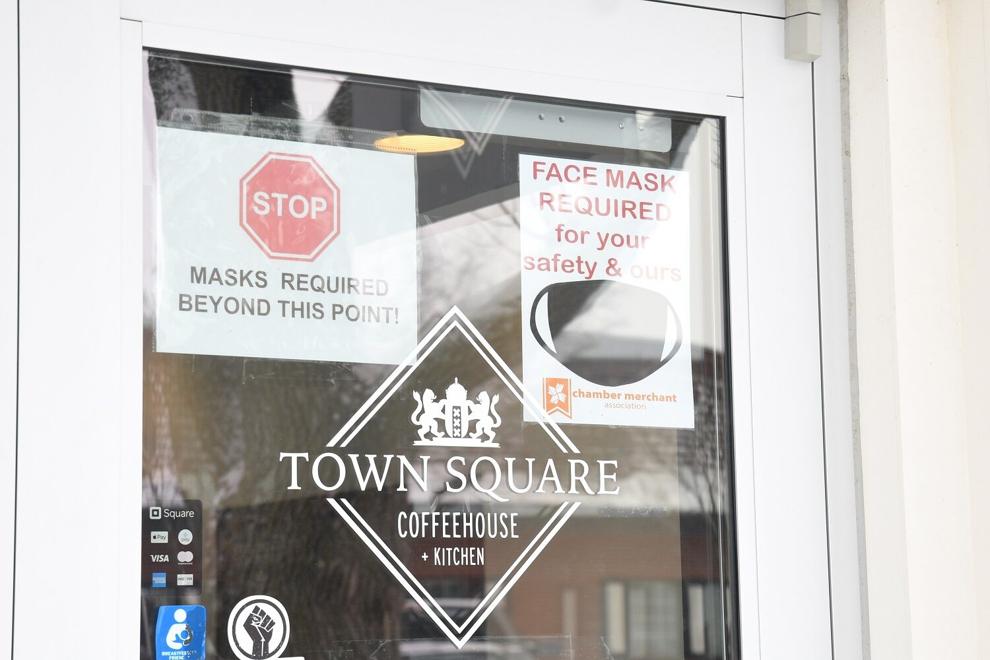 The eatery has required customers to wear face coverings since it reopened after temporarily shuttering last year due to the pandemic. Patrons can dine inside at socially distanced tables as long as they wear masks whenever they are not seated.
Town Square also is limiting indoor space to 30 people for events such as trivia nights or live entertainment, even though the interior has a capacity for 100 patrons.
"The people that come to those events know that if they're not eating or drinking, they need to keep their mask on. We cap it out: Once we hit every chair full, then we stop letting people in," Schneider said.
The Iowa Department of Public Health continues to advise the public to wear face masks and socially distance to curb the spread of the virus. Other mitigation strategies include washing one's hands often and staying home when sick, according to the health department's website.
"IDPH advises the governor daily on the state's COVID-19 response," said Sarah Ekstrand, public information officer for the health department. "As the governor has done from the beginning of this pandemic, she has adjusted the mitigation efforts based on the availability of health-care resources."
'Quite different'
Reynolds initially issued the masking requirement and gathering limitations in November in response to surging cases and hospitalizations due to COVID-19.
As of Friday, Feb. 12, each of N'West Iowa's counties — Lyon, O'Brien, Osceola and Sioux — recorded 14-day COVID-19 positivity rates of less than 10 percent.
Hospitalizations in Iowa's northwestern corner also are declining. As of Feb. 12, Regional Medical Coordination Center Region 3 — which consists of 20 counties including N'West Iowa — tallied 18 hospitalizations from COVID-19. That included seven COVID-19 patients in intensive-care units, three of whom were admitted in the past 24 hours.
Although the governor dropped mask requirements in gathering spaces, several school districts in N'West Iowa are keeping their masking policies intact for the time being.
Sibley-Ocheyedan School District superintendent James Craig said his district will keep requiring masks when social distancing is not possible because it's proven effective at keeping students in school.
"We do not have anybody isolated or quarantined right now, which is quite different from the 25 percent of the student population that we had out in September," Craig said Wednesday, Feb. 10.
The district will wait until the Centers for Disease Control and Prevention or the Iowa Department of Public Health makes the decision contact tracing is no longer necessary to track COVID-19 cases.
The West Lyon School District is likewise keeping its mask policy in place during school hours because contact tracing procedures have not changed, according to a statement posted on the district's Facebook page Tuesday, Feb. 9.
"We'll continue to follow our current mask policy for students, staff and visitors in the building during school days. For in-class instruction, the district will continue to follow guidelines set for social distancing and require masks when social distancing is not possible," the statement said.
The district also will continue to follow guidelines from the Iowa Girls High School Athletic Union and Iowa High School Athletic Association that limit audience attendance and require masks and social distancing for home events.
'Respect each other'
Town Square is not alone among N'West Iowa establishments that are maintaining mask policies for the time being.
The Northwest Iowa Lifelong Learning and Recreation Center on the campus of Northwest Iowa Community College in Sheldon also is requiring people to mask up when they can't keep 6 feet of social distance.
"We are proud of the good work our facility and entire campus has done to limit the spread of the virus. We hope that our guidelines for facial covering usage and social distancing will continue to keep our employees, patrons, campus and communities safe from the spread of COVID-19," said LLRC director Greta Giese.
Ben Franklin and Framing & Gift Gallery is another Sheldon business that is sticking with health guidelines it had in place before Reynolds' recent proclamation.
"We will maintain our current policy and that's encouraging everybody to wear their mask and keep their social distance when they are in the store. Nobody is required to wear a mask, but we do encourage everybody to respect each other," said Phil Warnke, who owns the downtown Sheldon store.
Warnke said the store has continued to enjoy support from residents during the pandemic and he appreciates their business.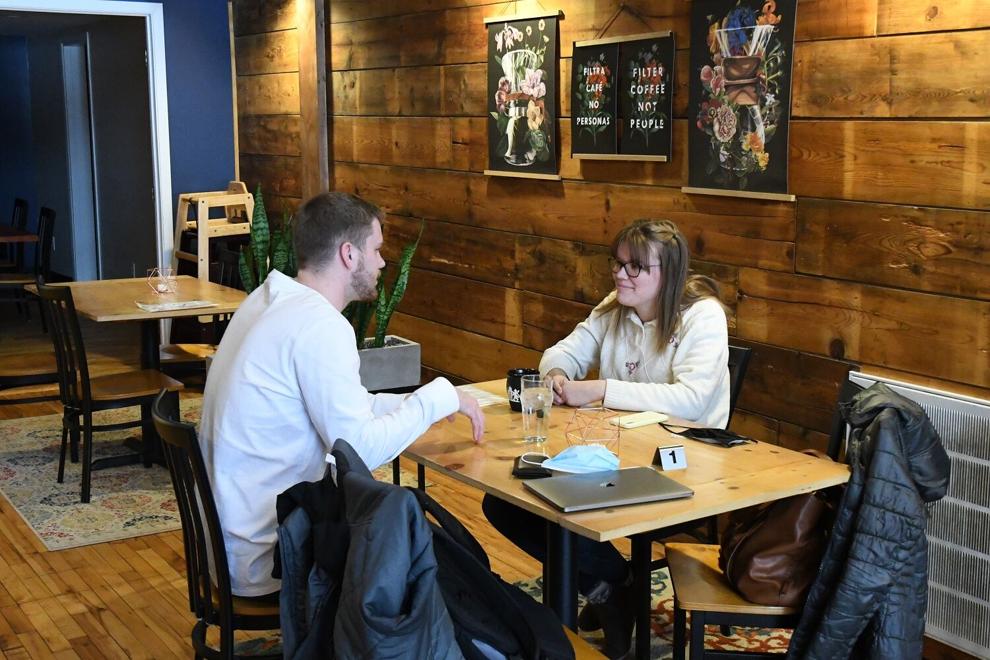 Town Square in Orange City likewise continues to feel support from community members, according to Schneider.
"Our business has been not what it was, but it's not getting any worse," Schneider said. "It's a lot of college kids, a lot of the same regulars that we see every day, which is super awesome."