REGIONAL—It is, says Osceola County engineer Aaron Holmbeck, "a perfect storm."
Perfectly dreadful, that is.
Hundreds of miles of gravel roads in N'West Iowa are crumbling, weakened by two wet years and pounded by heavy farm equipment.
There are about 3,000 miles of gravel roads in Lyon, O'Brien, Osceola and Sioux counties, three times the amount of paved surfaces. There also are a couple hundred miles of minimum-maintained dirt roads.
"The last two years have been somewhat tremendous," Holmbeck said. "This spring was one of the worse for gravel roads. It was kind of the perfect storm. I can tell you right now the gravel road system is in bad shape. We've been fighting hard to address those issues with our maintenance program."
The persistent wet weather, from snow and ice in the winter of 2018-19 to downpours and steady rains in the spring and summers of 2018 and 2019 were rough on roads, Holmbeck said.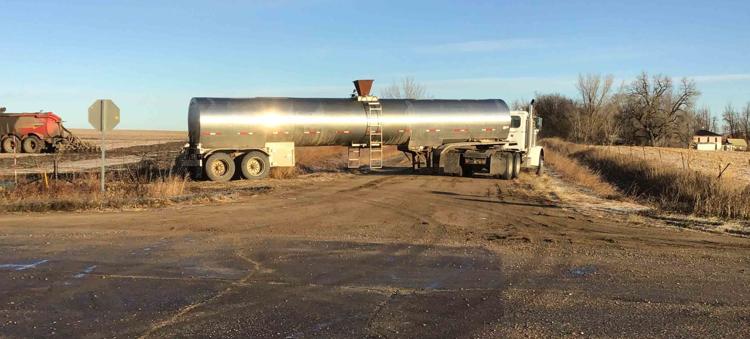 Large farm equipment, from massive tractors and combines to heavily loaded manure wagons, damaged the roads, he said. Gravel roads make up the majority of routes in this corner of the state, and those roads are much the same as when they were scratched out of the prairie sod more than a century ago. They were built up on the surface, with layers of gravel added.
Osceola County has more than 700 miles of roadway, with 500 miles of it being gravel roads, as well as some minimum maintenance roads, "which are basically dirt," Holmbeck said.
Those roads were not intended to support thousands of pounds of equipment, especially heavy loads of manure spread over a relatively small frame. That can be especially hard on a gravel road.
"They're doing OK. They require a lot of maintenance," Holmbeck said. "They're really not designed for this kind of equipment. Basically, it's a road built out of dirt and surfaced with gravel.
Fortunately, Osceola County has access to a lot of gravel, Holmbeck said. "We're very blessed to have these kind of resources," he said.
'Always challenging'
It is not a new issue, but the wet weather has made matters much worse in the last two years.
"It's dragged on so long," Holmbeck said.
The wave of warmer weather this week added to road woes. It pulled frost out of the roads and made them softer and more likely to be damaged.
It is a smaller version of the cycle seen in the spring when roads warm and the frost is expelled.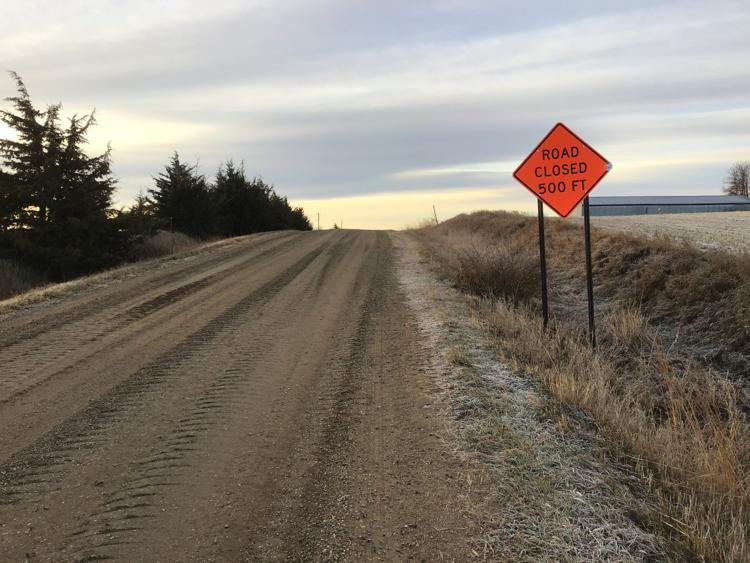 A drive across parts of N'West Iowa on Tuesday, Nov. 19, revealed the problem. Ruts and ridges are visible on some gravel roads, and as the surface softens with highs around 50, the grooves are cut deeper.
Harvest, delayed by a wet fall, is still wrapping up, with trucks and heavy trailers on the roads. Manure is being hauled and injected into fields, and those vehicles also can be tough on gravel roads, area engineers said.
"It's always challenging, to be quite frank, when they're hauling manure and those kind of things, it's always hard on roads," Holmbeck said.
Lyon County engineer Laura Sievers said some roads were closed this year and a couple bridges were damaged "beyond repair" in March and are still shut down.
"We are working with FEMA to find an acceptable replacement project," Sievers said in reference to the Federal Emergency Management Agency.
All the snow, ice and rain set the roads up for trouble, she said, and the loads they are bearing is causing some to buckle.
"Lyon County's low-volume gravel roads were built for different-sized equipment than what agriculture uses on the roads now," Sievers said. "Lyon County is putting more gravel on the roads this year than they ever have in previous years. In soft areas, the operators have dug out the oversaturated soil and put back larger rock to create a place for the water to drain more efficiently."
Most of the money for road maintenance comes from state and federal dollars. Sometimes, part of the cost is passed along to individuals who caused damage.
Raising county taxes is not an option, Holmbeck said, in part because of reduced rural populations.
"The taxes would have to go up dramatically to cover that," he said. "And the demographics don't justify that. In the past, a section would have three or four homesteads there, or at least a couple."
Now, there are far fewer people living in the country, and fewer farmers working the land. They are able to do so with large equipment, but they are hauling these modern machines on roads designed in the 19th century.
'It's been a rough year'
Holmbeck said he does not blame farmers. Most try to treat the roads gently. Some don't, and if that happens and it can be proved, law enforcement can get involved and fines can be imposed.
"Most people in general are somewhat respectful," he said. "We can't efficiently police this system in a perfect way. We don't have the ability."
Some farmers have taken to cutting into the edge of a ditch, seeking more land to plant. That harms the flow of water, and silt builds up and further blocks water.
In the past two years, wet weather has made the problem more readily apparent. A lack of proper drainage makes things worse.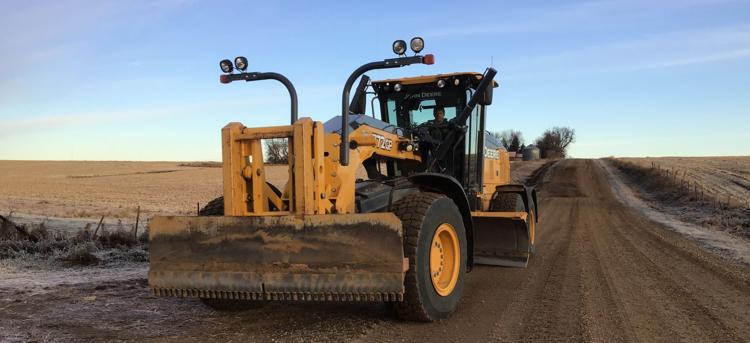 Micah Hoogendoorn was operating a maintainer west of Larchwood on Tuesday morning. The Lyon County employee was blading the gravel on Buchanan Avenue and cutting down the shoulders. It they are higher than the road surface, water does not flow off the road and into the ditch as designed.
"It's called curb and gutter work," he said.
O'Brien County engineer Scott Rinehart has only been with the county since March, but he was the Clay County engineer 2002-17. He has seen the toll that weather and heavy traffic can play on gravel roads.
But he said O'Brien County worked hard to keep the roads in usable condition. It poured 150,000 tons of gravel on the roads to ensure they could remain open.
Sioux County engineer Doug Julius has been on the job since 1984. This year has been a memorable one, he said.
"It's been a challenge this year," Julius said. "We went into this spring with wet conditions, lot of soft spots, frost boils. They haven't completely healed up. It's been a rough year on gravel roads."
The county placed tons of gravel on roads, double what it usually does, Julius said. He said the roads just need more care each year.
"We're experiencing more traffic," he said. "The implements are getting larger, the manure-carrying units are larger."
Road shoulders — on gravel and paved surfaces — are damaged by equipment that is wider than ever.
What can be done to protect and preserve the roads? Julius is open to suggestion.
"It's a good question. Things are just getting larger and the methods are changing," he said. "The technology is changing. Farms are getting larger — and it's not going to go back to the way it was."
Julius said he keeps his crews on the road, blading the gravel to provide a relatively smooth and safe surface.
"We're trying to stay ahead of it as best we can," he said. "Sometimes it's a little rough."
Holmbeck said that is all the county crews can do.
"It's always a moving target, road conditions, especially on gravel. You can go from beautiful to complete horribleness in a day or two," he said. "Your whole system can go bad all at once. That's what happened all at once."