PRIMGHAR—A 2020 graduate of South O'Brien High School in Paullina recently had the chance to visit four places across the globe without leaving the comfort of her Primghar home.
Twenty-year-old Shelby Enger, a sophomore studying marketing and communications at the University of Iowa in Iowa City, took part in a virtual study abroad course through the school's Tippie College of Business.
During the three-week summer course, "Introduction to Global Business: Asia Pacific," Enger expanded her knowledge of Australia, Hong Kong, New Zealand and Singapore by virtually touring those regions and connecting with business leaders there.
Enger learned of the virtual course from her academic adviser and Tippie Direct Admit instructor, who nominated her for it as a way to fulfill one of the business college's four required RISE components. The components are: research, internship, study abroad and experiential learning. Before that, she had not considered taking a study abroad class.
"I was sent information on the course and thought it was perfect for me as it was virtual and could introduce me to study abroad during a time when study abroad was not available due to the COVID-19 pandemic," Enger said.
"After researching the course and looking into possible grants to cover the cost, I decided I had to apply. I was informed a few weeks later that I had been accepted into the program."
She logged onto the class each night Sunday-Thursday June 13-July 2 with about 20 fellow Hawkeyes, each session lasting about three-four hours.
The class consisted of three main components. The first was a two-hour lecture from adjunct professor Chin Heng Low, who is based out of Singapore. After a half-hour break, the students would log back in for the second and third components, which alternated between business briefings and cultural activities.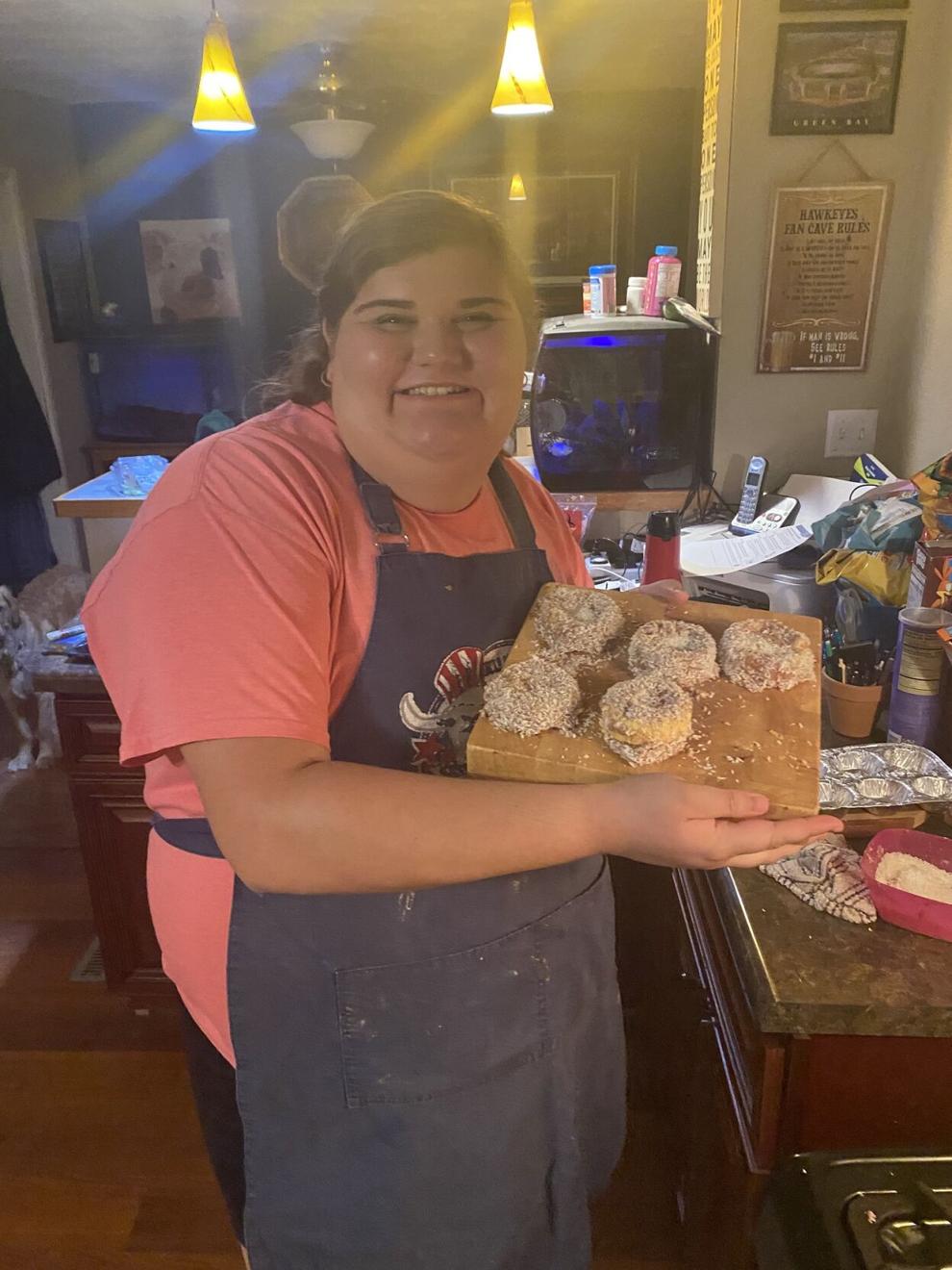 During the briefings, Enger and her classmates met with business representatives from each of the countries and asked them questions about their work and background. Some of the companies they learned about included multinational insurance firm AXA, New Zealand-based bungee-jumping company AJ Hackett Bungy, computer software company Oracle and biopharmaceutical company Pfizer.
The cultural activities, meanwhile, consisted of tours of places such as the Gardens by the Bay in Singapore, the Rocks District of Sydney, a tai chi lesson from Hong Kong and a cooking class led by an Australian chef.
During the culinary activity, Enger and her classmates learned how to make lamingtons, which are chocolate-dipped sponge cake squares rolled in coconut, and meat pies, which consist of a meat and vegetable mixture baked in puff pastry dough.
The course adviser, Joelle Brown — a Sheldon native — shipped the students boxes with some of the ingredients as well as items needed for other hands-on activities during the study abroad course.
"The cultural activities were tons of fun of course, but more than that, they gave me a taste of the hands-on portion of studying abroad that I was missing by not visiting the countries in person," Enger said.
Other coursework for the study abroad class was a group project and a written final exam. For the project, Enger and her team members used their newfound international business knowledge to brainstorm what a company would need to do to set up a representative office in an Asia-Pacific country.
A big take-away from the class for Enger was that many businesses eventually look to expand internationally, which means having experience abroad is useful for aspiring businesspeople.
"The business world is growing exponentially with many opportunities calling for people all over the world," she said.
"Meeting with many different international businesses in our business briefings made me realize how important technology and global communication is to internationally expanded companies."
She also was surprised that some of the countries she learned about had multiple national languages, although English was a tongue common to all four places.
Enger said the virtual method of study abroad is a good way for people to dip their toes into international study if they are unsure about going to another country. In her case, however, foreign travel remains something she is interested in doing.
"Of the countries we studied, Australia seems to be the one I would be interested in the most. The country, landmarks and people seem so inviting and interesting there," Enger said.
Enger is back on the Iowa City campus for classes during the 2021-22 academic year, which started Aug. 23. She is excited to be able to attend more in-person events than last year, including athletic competitions.
Other extracurriculars she will be involved in are the Tippie College of Business' Dore Emerging Women Leaders program and working as a diversity ambassador and global correspondent for the university's study abroad program.
This story was first published in the Sept. 4, 2021, print edition of The South O'Brien Sun.