OMAHA, NE—Chris Sickelka has not heard his wife's voice since Sept. 26, the day doctors put Bridget on a ventilator as COVID-19 continued to take a toll on her lungs.
"She was just really struggling to breathe," Chris said.
Bridget, 43, called Chris, who was lying in bed at their rural Primghar home dealing with his own bout with the coronavirus, from the intensive-care unit at MercyOne Siouxland in Sioux City to tell him her decision.
"Saturday at 3 in the morning she called me and said, 'I just can't do this anymore, I can't take it so hard to breath. They got me on the biggest machine and most air and oxygen that they can give me. I need to go on a ventilator and I'm choosing to go on a ventilator," Chris said.
"That was a terrible hard conversation at 3 in the morning, especially because we couldn't be in Sioux City and be by her side hearing this."
About three hours after the phone call, Bridget was hooked up to a ventilator.
Bridget was transported via a medical helicopter to Creighton University Medical Center — Bergan Mercy in Omaha, NE, on Sept. 30.
She took a turn for the worse on Friday, Oct. 16, and doctors told Chris and their children to get down there and see her as fast they could.
Chris, 41, has been in Omaha since. He sits by Bridget's hospital bed praying, reading Scripture, playing music and talking to his wife as she remains unconscious while the machines breathe for her.
'Short courting period'
The couple celebrated their 19th wedding anniversary on Monday, Oct. 19, and their initial courtship was quick.
They met in her hometown of Norfolk, NE, after he got transferred to the Bomgaars store to be a manager and where she worked as an associate.
Chris said he was all about work at the time and Bridget made the first move and asked him out.
"Kind of took me by surprise," he said.
He canceled their first date twice — once due to the death of his great-grandmother, which required him to go back home to the Sutherland area — but she gave him another shot.
"It ended up working out," he said. "We had a short courting period I suppose you'd say; started dating end of January and got married in October.
"Everything just kind of fell into place — not to say we haven't had our problems through the years, everybody does — but we're just hanging on to each other."
His role with Bomgaars led to them moving around the company's service area for a few years before they settled down on his family's N'West Iowa farm.
They have two children, 16-year-old Jordan, a junior at MOC-Floyd Valley High School in Orange City, and 14-year-old Sydney, a freshman at South O'Brien High School in Paullina.
Chris and Bridget even went into business together starting with Sickelka Ag Service, which they shuttered earlier this year after about a decade of operation, and a commercial wine operation dubbed Country Barn Winery.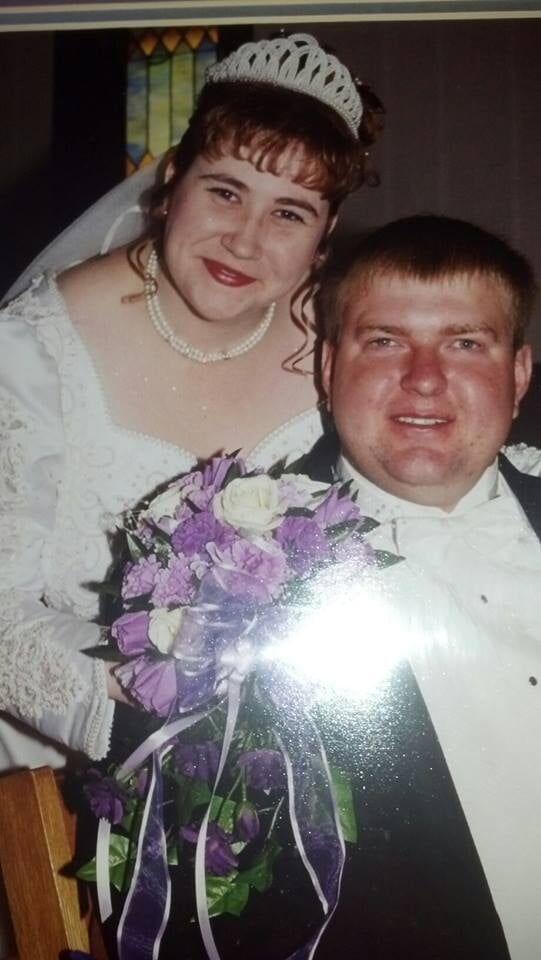 'It just came on so fast'
Chris is not sure where or when he and Bridget contracted the coronavirus but recalls things starting to get bad on Sept. 11. He bought a guided fishing tour of Devils Lake, ND, during an auction and they went up to cash in on the prize.
"On the 12th we went out with the guide on the boat and Bridget started with a little tickle in her throat and then was coughing by noon and by the time we got back to the hotel at 4 o'clock she was violently ill," Chris said. "It just came on fast."
Bridget's symptoms did not resemble normal COVID symptoms — she never lost her sense of taste or smell nor did he or the children when they contracted the virus — so they did not suspect that to be the cause.
Chris said she was vomiting and dealing with stomach issues and Bridget was so ill they ended the trip early and came home.
"She did not want to get hospitalized seven hours from home," Chris said. "We had no idea it was COVID, we thought it was heatstroke or something — she had had that before — being on the water and the hot sun and stuff like that. Just thought it was something kind of normal."
Chris took Bridget to the doctor on Monday, Sept. 14, and she took a COVID test. She was instructed to keep taking fluids while they waited on the results, so the family did its normal routine. Chris went back to farming, the kids went to school and Bridget stayed home on bed rest.
Bridget's cough intensified the next day and the family suspected COVID. Chris had the kids stay home and quarantine. He took Bridget to the MercyOne Primghar Medical Center emergency room at 2 a.m. Wednesday, Sept. 16.
"We had done the teleconferences with the doctors but she needed to get in and get seen and get an IV to start replacing some fluids," Chris said. "They did another COVID test — it was a rapid test — and she tested positive.
"Where she got it? None of us know. She could have got it Casey's, at a wedding we were at the week before — just no idea. The incubation periods is just so different for different people we just don't know."
She was admitted to the Primghar hospital and was there for about 13 hours before an ambulance transported her to MercyOne in Sioux City, which Chris noted had a few more specialty machines and treatment options.
"They started her out with just normal, nasal oxygen line like you see people on all the time," Chris said.
"As it progressed every day, it got slower and a little worse. They put her on more concentrated machines that can output more air."
'Fighting for her life'
With one member of their four-person household confirmed with the virus, Chris took his children to the Test Iowa site in Storm Lake. Jordan and Sydney's results came back positive after a few days while he was negative.
"The kids never really had much for symptoms, they were quarantining anyway since we had a family member with COVID," Chris said.
"I knew it was a lung disease so I actually had them walking out with me. We'd go for a half-mile walk — making sure they can keep breathing in and take some deep breaths — and they flew through theirs like champs."
Sydney had a sore throat and Jordan had some headaches.
The week after Bridget's initial symptoms Chris started to show them. He went for another COVID test at MercyOne Primghar and came back positive.
"It wasn't a huge surprise; if the rest of the family had it I was going to get it," he said. "But my symptoms were very mild at first but then they grew."
Chris and the children stayed home and took over-the-counter cough and cold medicines for treatment.
"I stayed home and kept taking that kind of stuff and wasn't getting better so I called in again and they got me some inhalers and that following Monday I still wasn't getting better so I went to the emergency room; the kids drove me," Chris said.
He only spent a little time at MercyOne in Primghar before being taken to the sister facility in Sioux City, where Bridget already was.
"I was up on the COVID floor in Sioux City and the nurses were like, 'Oh, I know that last name; there were two relatives that were here,'" Chris said. "Yup, my wife Bridget — she was in the ICU then, I was not around her — and my great-uncle, who is 90, also was on that floor."
Elmar Sickelka, the great-uncle, recovered after his hospital stay and his ICU room was two doors down from Bridget's.
"It's crazy how it affects people different," Chris said. "He was 90 years old — hospitalized — but breezed right through it. Bridget's 43 and down here fighting for her life."
While Chris was on breathing machines, the nurses told him about the plans to transport Bridget to Omaha.
"Fortunately, they let me see her before they flew her down here," Chris said. "She was unconscious and on the ventilator but I at least got to see her and hold her hand for a little bit before the helicopter took off."
The MercyOne nurses encouraged Chris to talk to her before the flight but he struggled to get words out while connected to his own set of breathing machines and his words came out as coughs.
"I was able to hold her hand and say some prayers," he said. "But as far as talking to her, there wasn't much of that going on."
So what went through his mind after that moment?
"I didn't know if I would ever see her again," Chris said.
'Small, little victories'
Chris was released from the hospital on Oct. 15 — 17 days after being admitted — and the first thing he wanted to do was go to Sydney's vocal music concert in the South O'Brien gymnasium.
This would be Sydney's first concert as a high school student.
He said Sydney was worried no one would be there since he and Bridget were hospitalized and other relatives, including his parents and brother, also contracted COVID.
Community members had no clue he was out of the hospital and was able to attend the show so they bombarded him with pictures and videos of Sydney singing, which he appreciates.
The day after the concert was when Chris got the call to get to Omaha.
"Friday was a bad day," he said. "They pretty much had her maxed on the ventilators and the IVs and there was not a whole lot more they could do and every day this week we've just had some small victories.
"We are nowhere near out of the woods yet; the victories are so small we are going to need 10,000 of these small, little victories before she can go home."
What happens next is up to Bridget's body. Chris said the plan they have developed with the medical team is to transfer her feeding tube from the nose to the mouth and to perform a tracheotomy so her ventilator can go through that hole rather than her throat due to the long-term damage that can cause. They need Bridget's ventilator oxygen level to drop below 30 percent for that to happen.
"When they cauterize the throat, there's actually a risk of fire if there's too much oxygen going her throat into her lungs," Chris said.
From there, the hope is for Bridget to go from ICU to a regular hospital room and eventually to a highly-skilled nursing facility where she can learn to regain her motor functions.
Chris said doctors asked if they wanted to go through with all of this and, to him, there was no question about it.
"She's got two kids at home. We are going to do everything we possibly can for her, to get her home to those kids," he said. "So that's what we're doing right now."
Throughout this, Chris said the support system has been great including from medical personnel. Bridget's family still lives in Nebraska and has come to see her, so has their pastor and her best friend.
Chris continues to stay by his wife's side, returning a favor from when she stayed by his in 2013 during his 85-day stay the Mayo Clinic in Rochester, MN, for treatment of a skin condition.
He put up pictures in her ICU room including one of all four family members from a wedding they went to in early September and a picture of a smiling Bridget holding a sea turtle that's prominently placed.
"It really humanizes her more," Chris said. "It shows that she wasn't always lying in this bed with tubes hooked up to her. She was an active person."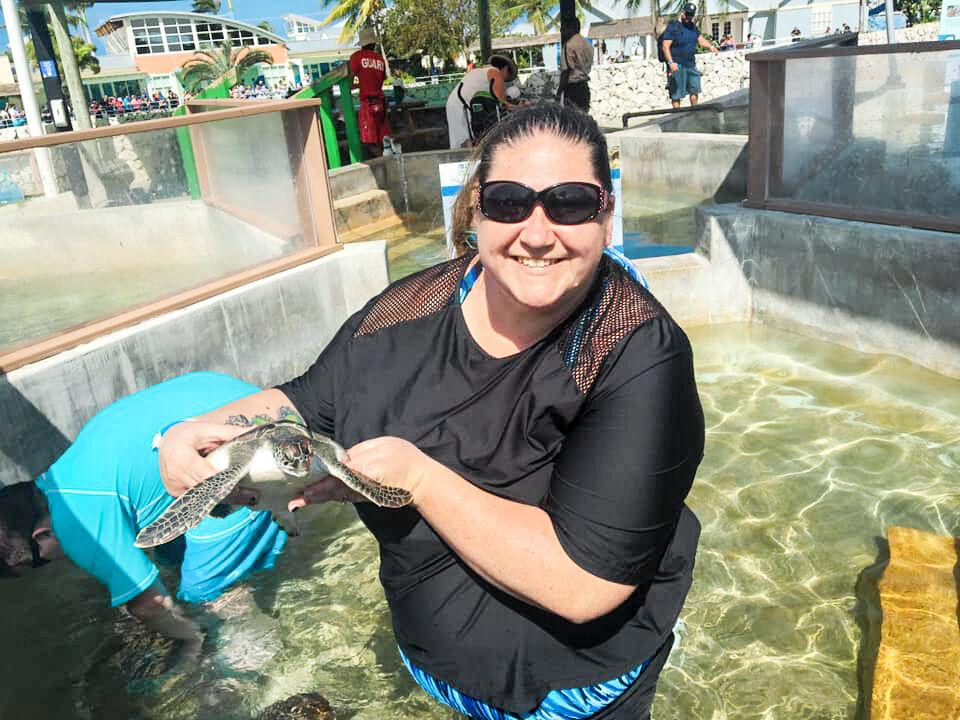 He reads Scriptures, shares the prayers and positives messages people send to him and plays music for her, including church hymns and '80s hits, Bridget's favorite.
"I turned on Pandora on my phone the other day and the first song that played was Journey's 'Don't Stop Believin','" Chris said.
"Hearing that as the first song that we played for her, it's no coincidence."