ORANGE CITY—Jen Angus met her wife, Amie, when they were paired as roommates at Northwestern College in Orange City in 2009.
Amie graduated from Northwestern in 2013 followed by Jen a year later; however, the pair had not been back to Orange City since they completed college due to the difficulties they faced as a lesbian couple in an extremely conservative community.
"Our time here at Northwestern — looking back — was definitely a varied time," Jen said. "Because we were roommates at Northwestern College, that couldn't be found out that we were together."
The Anguses shared their story the afternoon of Saturday, Oct. 20, during a storytelling event at Orange City Town Hall, part of the three-day OC Pride festival hosted in the community.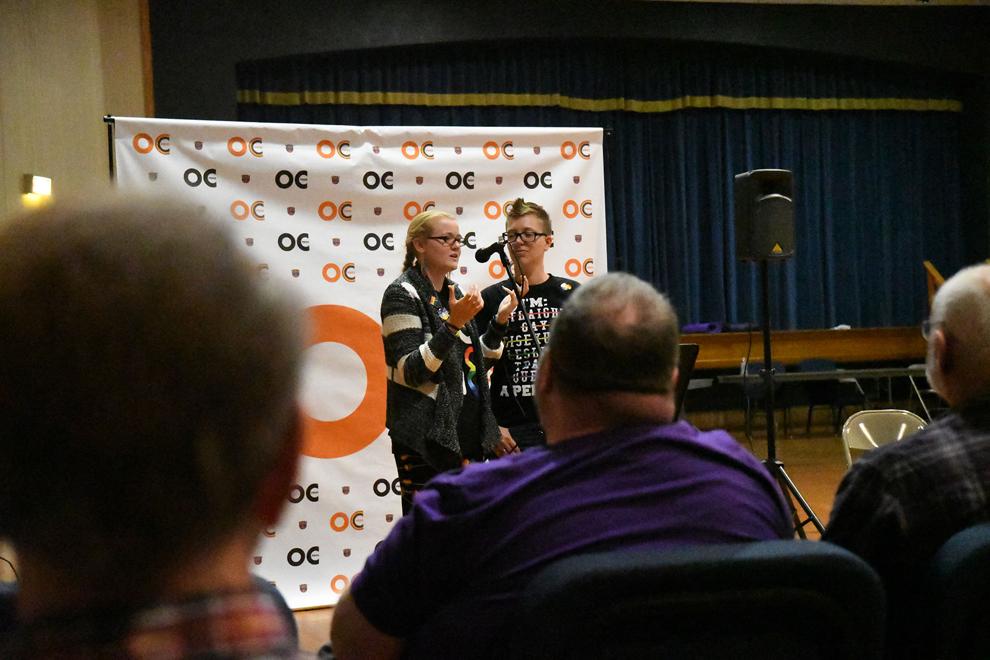 Pride is the general term members and supporters of the lesbian, gay, bisexual, transgender and questioning community use when describing an annual open celebration of their culture.
OC Pride attracted hundreds of attendees and served as sort of homecoming for some former N'West Iowa residents who are members of the LGBTQ community such as the Anguses, who drove five hours from Iowa City to attend.
They and others were astonished that something like OC Pride was taking place in the heart of Sioux County.
"When I heard about it last year, it was not something I would have ever expected," Arnold Carlson said. "It's a good thing for the town, it's good for people to hear each other."
Carlson is a former art professor at Northwestern who lives in Minnesota's Twin Cities. He was visiting relatives in Orange City over the weekend and popped in for the storytelling event for a bit.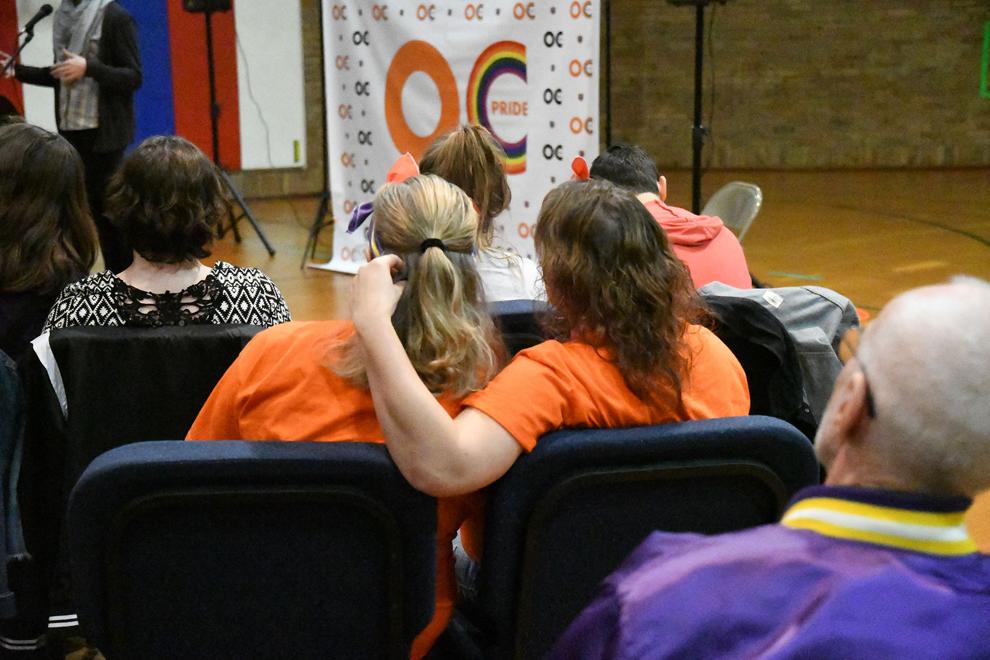 Books burned
While the OC Pride festivities were not disrupted, there were two visible protests.
The Sioux County Conservatives held a gathering Thursday, Oct. 18, to rally against it and stoked the metaphorical flames via social media throughout the weekend while another activist resorted to literal flames.
Paul Dorr, of the Ocheyedan-based Rescuing the Perishing religious group, recorded a Facebook Live video Friday, Oct. 19, of himself burning LGBTQ-themed children's books checked out from the Orange City Public Library.
Library director Amanda Vasquez said the books will be replaced and that the book depository has policies in place for materials that have not been returned or have been "slightly damaged" by patrons. Law enforcement also is looking into the situation.
Jen and Aimee said life was complex for them in Orange City, but they were glad to come back for a visit and reconnect with old friends and make new ones.
When they graced the town hall stage, they provided the crowd — particularly LGBTQ people in the audience — some encouragement, noting they have been married for three years and are raising three foster kids.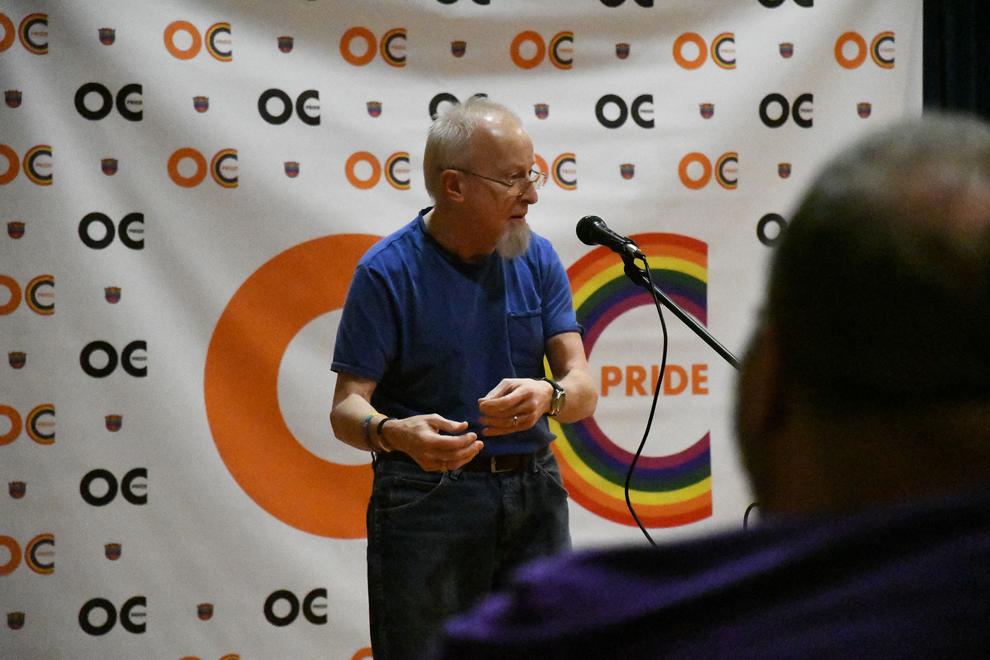 "Just know that if you are sitting in that hard time, it does get better. I know it sounds cliché but it really does," Jen said. "Sitting in our dorm room, I would have never imagined our life to be like this. It gets awesome; keep plugging along."
'It's beautiful'
The Dowell Baum family of Sioux City — made up of the Rev. Ryan, his wife, Maggie, and their two daughters — thought it was important for them to attend.
"Sometimes it's hard to find the community of support in northwest Iowa, so we are just super excited that it's happening here and we wanted to come up," Maggie said.
Maggie noted she and Ryan met while living in New York, which hosts some of the country's largest pride gatherings and have always celebrated it and wanted to let their children experience it as well.
"As a family, we have some of our own identities that fall under the alphabet soup and we wanted to be able to find out what resources are around and connect with other folks who are LGBTQ plus are allies," she said.
Although the book burning grabbed a fair share of headlines, Mike Goll, one of OC Pride's organizers, was still pleased with how the weekend went.
"It's beautiful, especially for me to see young people see love and support I didn't have when I was their age and knowing they won't have to have as much therapy. I joke about this all the time, but this event is reducing therapy bills long term," he said. "I hope it continues in that regard. You can see the different stories of mental health and how the queer community is affected in the regard; it's not easy, but there is a great life to be lived."