ORANGE CITY—A pair of theatre performances about hope in the midst of tragedy will take to the stage this weekend at separate venues in Orange City.
A readers' theatre presentation of the true World War II story, "Things We Couldn't Say," by Diet Eman and Jim Schaap will be performed at 7:30 p.m. Saturday, Sept. 11, in the Knight Center at Unity Christian High School.
The one-act play, "September Bears," by Jeff Barker about a true 9/11 tale, meanwhile, will be performed at 4 p.m. Sunday, Sept. 12, and 7 p.m. Monday, Sept. 13, in the sanctuary of Trinity Church.
'Things We Couldn't Say'
Eman, a Holocaust survivor and resistance fighter during the Nazi occupation of her native Netherlands, initially wanted to forget the horrors she experienced during World War II when she arrived in the United States after the war's conclusion.
However, in 1990, she attended a conference held at Dordt College in Sioux Center and spoke of her experiences in the 1940s when she and her then-fiancé, Hein Sietsma, allied with the Dutch resistance movement. They and other resisters aided Jews in hiding as well as Allied forces in the country.
She was briefly interned at a Nazi concentration camp in 1944 but eventually let go. Sietsma, however, was captured and tortured to death at the Dachau concentration camp the following year.
Schaap, an Alton resident and former Dordt English professor, was captivated when he heard her story at the Sioux Center campus 30 years ago and recalled asking her afterward if she ever wanted to write her story, he'd be glad to help.
Eman told him no at first, but six months later, she called him back to enlist his help in the writing endeavor. Schaap traveled to her Michigan home with his tape recorder to learn more about her story.
When he asked her to describe Sietsma, Eman instead did something she promised she'd never do: She brought out a box full of her late fiancé's diaries that she locked up in 1946.
"It had never been opened until I came there. So she had spent maybe 48 hours opening that box and reading all those things for the first time in years," Schaap said. "Therefore, the story just tumbled out. I had to do all I could to stay with her for 12 hours and she would just go and go and go."
That story eventually became the book the duo co-authored, "Things We Couldn't Say," and published 50 years following the end of World War II. The novel then was adapted for the stage readers' theatre style.
Schaap stayed in touch with Eman throughout the next several years and visited her in Michigan whenever he traveled to the state. His visits with Eman grew less frequent after he retired from Dordt and as Eman's health declined.
She died Sept. 3, 2019, at 99.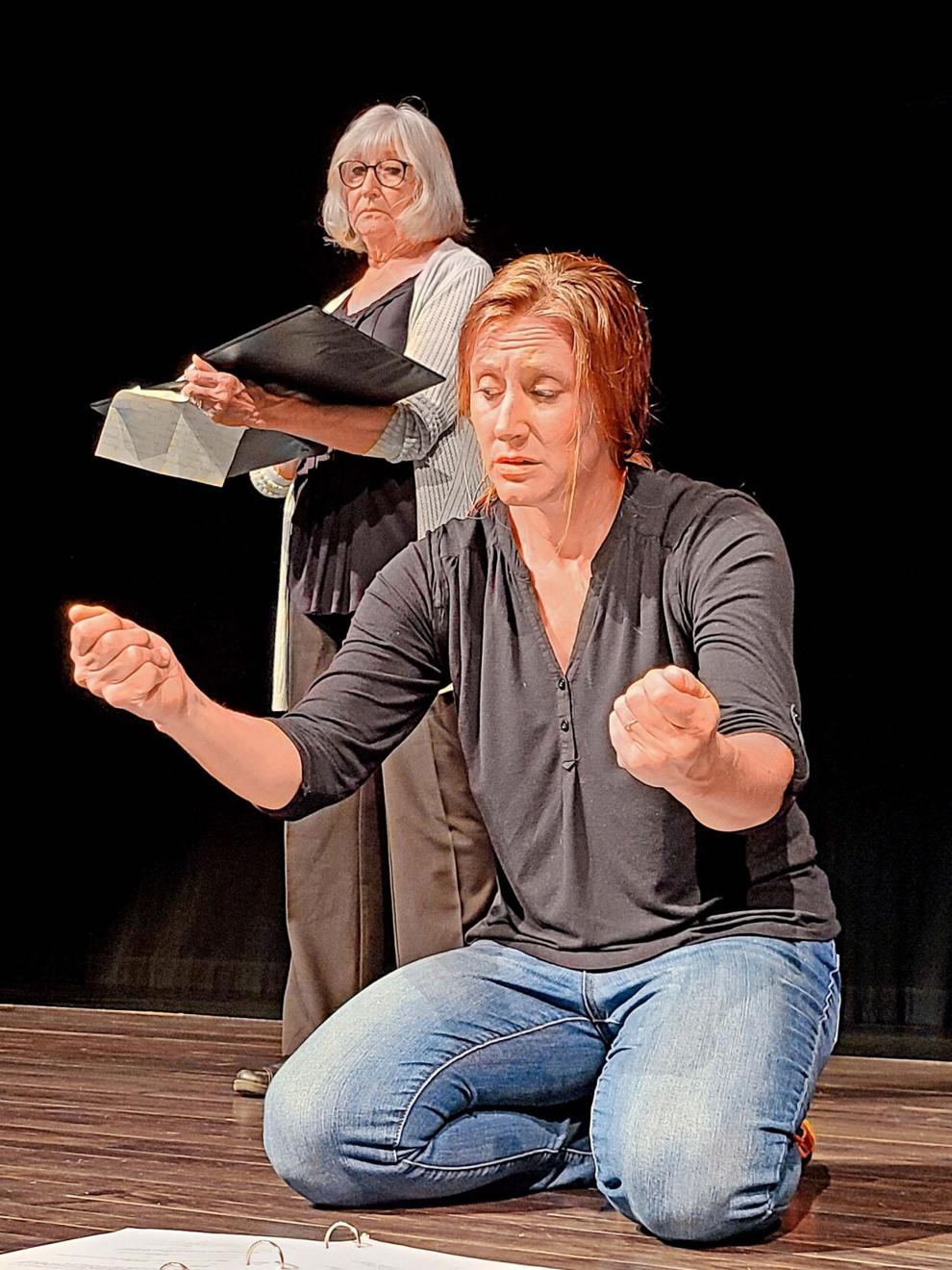 Unity Christian English teacher Janie Van Dyke, who is directing "Things We Couldn't Say," also had the fortune of meeting Eman years ago. She recalled driving Eman from Sioux Center to Edgerton, MN, where Van Dyke was teaching at the time.
"I didn't know what to talk about, but I asked her a question and I think she talked the entire way," Van Dyke said.
Van Dyke has directed the readers' theatre version of the story for the Unity Christian stage in the past, although she said the cast consists of different people this time. Two actors that will take to the stage to portray Eman will be mother-daughter duo Jeri Schelhaas and Becca De Vries. They will respectively play Eman's older and younger self.
Schelhaas has performed the role several times in the past, including in the original showing of the production 25 years ago.
Schaap and Van Dyke hope audience members leave the performance asking themselves: Would I put myself at risk to help another person in the way Eman did?
'September Bears'
A conversation in 2002 with a friend from Manhasset, NY, is what inspired Barker, a former theatre professor at Northwestern College in Orange City, to write a one-act play about children finding healing in the wake of 9/11 and the origins of the nonprofit Hugs Across America.
When Barker's friend, Mary Clark, and her husband, Stuart, visited him in Orange City a year after the terrorist acts, he asked Mary to tell him what the previous year had been like in New York City.
The story she told was of thousands of teddy bears being sent to her and her husband's church in Manhasset to distribute to young school children following the attacks.
It started when church member and local teacher Sue Lucarelli let her students share three teddy bears she had in her classroom as a simple way to comfort themselves after 9/11. When Lucarelli told that to the Clarks, other church members provided additional teddy bears so all her students could have one.
When Mary put the word out about the bear collection effort to Reformed Churches of America, the stuffed animals started arriving at the little church from around the country. The logistical problem of how to distribute all the bears eventually led to the founding of Hugs Across America, which is headquartered in Hamburg, NJ, and has chapters in 33 states and Washington, D.C.
"It's just about the birth of this organization out of this little classroom and about this little church, and this little town and this little classroom and school all grappling with the magnitude of this horrible tragedy," Barker said of the play.
He penned the hourlong show in the fall of 2002 and Northwestern's theatre troupe was able to perform the production at St. Paul's Chapel in New York City. The church is the oldest surviving one in Manhattan. Although it is situated across from where the Twin Towers stood, it took no damage from the structures' collapse and was notable for being a site where recovery workers rested.
In the years since he wrote the show, Barker said high schools, colleges and some small professional theatre companies across the country have performed it.
The cast of the Sunday-Monday performances will include eight actors, one of whom is Barker's wife, Karen. Two other thespians were Northwestern students who were part of the original cast almost 20 years ago.
Barker hopes "September Bears" serves as a reminder of the 9/11 attacks and the way people in the United States were able to help one another following the event.
"It's a story that we all sometimes would like to forget but we must never forget," he said.
"It's just a reminder that this happened, that the country came together to care for one another and that care continues. Sue's organization, the Hugs Across America organization, continues."