SIOUX CENTER—The former vice president didn't come all the way to Sioux Center just to flip burgers on a Friday afternoon.
"I'm really here for one reason and one reason only," Mike Pence said. "And that is that Iowa and America need Randy Feenstra back in a Republican majority."
Pence was the headliner for the inaugural Feenstra Family Picnic, a Republican fundraiser for U.S. congressman from Hull. He addressed a crowd of more than 400 at the Dean Classic Car Museum.
The theme of speeches preceding Pence was "Randy delivers." U.S. Sen. Joni Ernst and U.S. Rep. Mariannette Miller-Meeks of Iowa's 2nd District included the phrase in their remarks — a phrase Pence repeated.
"I am here first and foremost because Randy delivers," Pence said. "I heard that somewhere."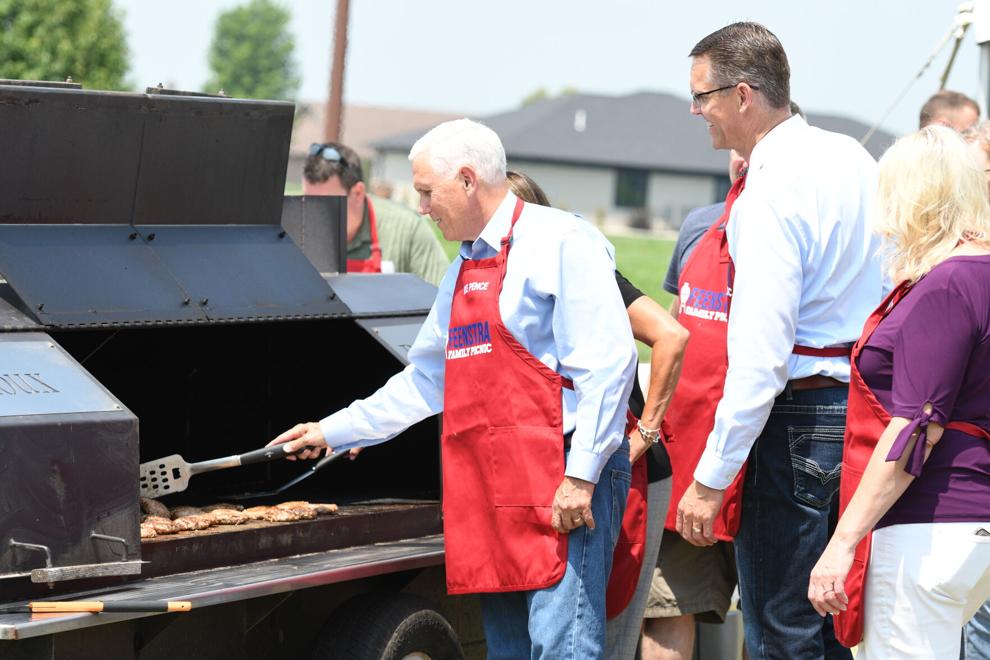 The policy content of Pence's speech mirrored the others at the event. Standard Republican talking points in support of law enforcement, limited government and anti-abortion laws were prevalent.
Tickets for the Feenstra Family Picnic sold out the week of the event after going on sale on June 11. Feenstra for Congress sold 400 tickets ranging $50-$2,900 per person.
Pence also touted his work in the previous administration concerning COVID-19 vaccines calling it "the greatest national mobilization since World War II."
Sioux County has an adult vaccination rate of less than 50 percent, with similar numbers in Lyon, O'Brien and Osceola counties.
He also accused his opponents of "canceling our most cherished civil liberties."
Cancel culture, or "canceling," originally referred to boycotting offensive or criminal celebrities. Republicans have since co-opted the term as an expression of grievance over various cultural changes.
Among those grievances is how the history of racism is taught in schools, something Iowa Republicans targeted in the previous state legislative session. The GOP has coalesced around the term "critical race theory" as the antagonist to their education agenda.
Critical race theory is a decadesold school of thought that some academics have offered as an explanation for the lingering affects of legal oppression of African Americans. It is not a mandated policy on the federal or state level nor an educational academic standard for K-12 students.
"Instead of teaching all our children to be proud of their country, critical race theory actually teaches children as young as kindergarten to be ashamed of their skin color," Pence said. "Let me be clear: Critical race theory is nothing less than state-supported racism, pure and simple, and it should be rejected by every American every day."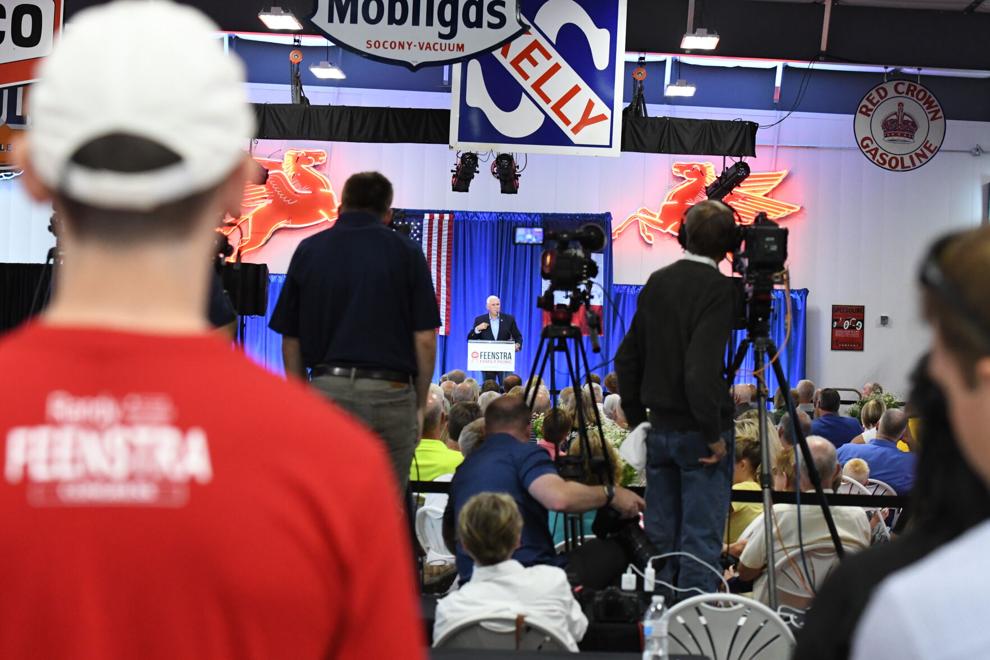 The former vice president punctuated his speech for an electoral effort, encouraging donors to push for Feenstra's re-election and Republican gains nationwide.
"The time has come in the next 16 months to win back the House of Representatives, win back the Senate, and in three more years, we're going to win back America. I promise you," Pence said.
Out-of-state politicians are beginning to trickle into Iowa ahead of the 2024 caucuses. In June, U.S. Sen. Tom Cotton of Arkansas even campaigned at the same car museum alongside his Iowa counterpart, U.S. Sen. Chuck Grassley, whom he challenged to a pushup contest.
Pence also appeared at the Family Leadership Summit in Des Moines later on Friday. Feenstra communications director Aaron Britt said the former vice president wanted to make the most of his trip to the Hawkeye State and the GOP picnic was a perfect fit in the schedule.
"Gov. (Kim) Reynolds has her harvest festival and Ernst has the Roast and Ride, so everyone has their own thing," Britt said of similar Iowa political events. "Grassley has pushups. I guess Grassley doesn't have one, but he doesn't really need one."
The picnic brought in Republicans from around N'West Iowa. Doon residents John and Margaret Vermeer were in attendance. They said Pence is on their shortlist of potential caucus candidates they might support.
"It's not just his politics," John said. "It's the manner in which he carries himself, and I think it's attractive. We'll see what everyone thinks of it all, but I have a lot of respect for him."