SUTHERLAND—Modern agriculture is a high-tech industry, which is a fact N'West Iowa high school students learned Sept. 6-8 at Precision Agriculture and Animal Science Days.
The three-day agriculture education fest took place at Iowa State University Extension and Outreach's Northwest Iowa Research and Demonstration Farm near Sutherland.
Students rotated in small groups to stations around the site, where they absorbed mini lessons about contemporary approaches to farming and animal care.
Brett Peelen, owner and founder of 5th Gen Ag in Primghar, was present all three days of the event to chat with students about the evolution of precision agriculture — which has roots in Iowa State's home city of Ames.
Before the availability of the first piece of precision ag technology — the yield monitor — Peelen said the main piece of technology farmers used on their harvest equipment was a device that counted acres.
"It took wheel speed, and you programmed in, 'I'm 10 feet wide.' That was technology to a farmer," Peelen said.
That changed when Al Myers, an Illinois native and engineer for hydrostatic transmission manufacturer Sauer-Danfoss, relocated to Ames along with the company he worked for.
Myers eventually decided to create his own agriculture tech product — what eventually would become the yield monitor. A conversation with his father, a farmer back in Illinois, inspired Myers to invent something that would track a farmer's yield for them while they were in the field.
Myers spent the next seven years developing versions of the yield monitor and testing it on equipment belonging to his father and other acquaintances. He had a slow start taking the invention to market in the early 1990s until the product caught the attention of Case IH in 1994.
By 1996, Case IH made Myers' fledgling technology company — Ag Leader — its original equipment manufacturer. Peelen said that "started the whole yield monitor revolution."
Ag Leader has since gone on to sell systems to other ag manufacturers like New Holland and John Deere.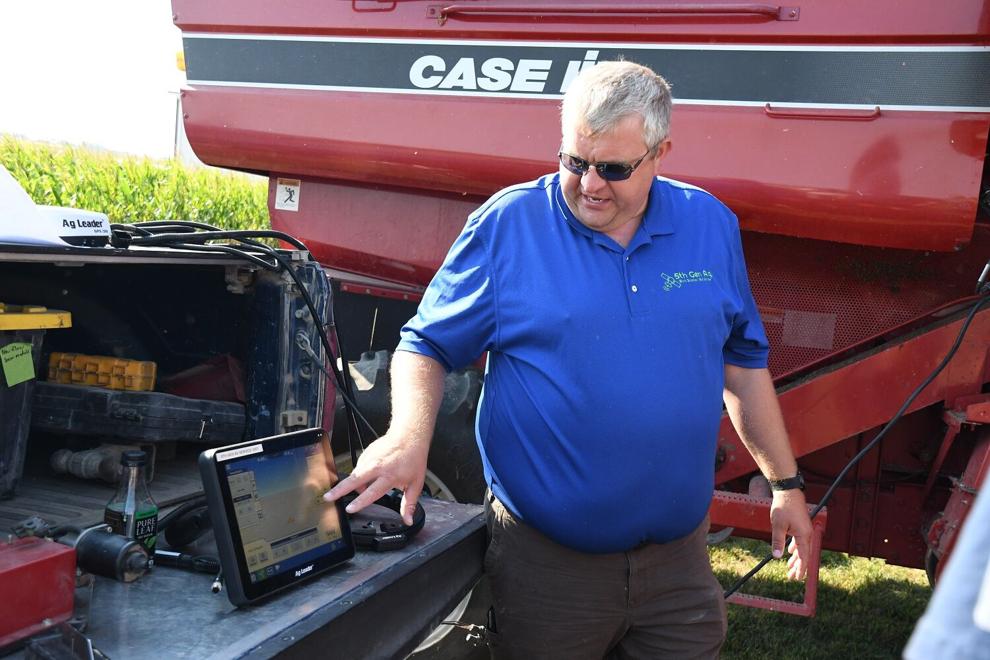 "The three big manufacturers today all buy their sensors from Ag Leader, from a farm kid who designed it in his garage," Peelen said.
He explained how the yield monitor's sensor works by pointing out the anatomy of a combine's threshing system with the Case IH combine behind him. A piece called the load cell tracks the volume and weight of the crop.
Myers also incorporated a moisture sensor into combines using an elevator mount unit, which allows farmers to measure live yields and moisture as they drive through fields.
Later in the 1990s, GPS was starting to be used for commercial purposes, including in agriculture. A farmer approached Myers asking if Ag Leader could integrate GPS into its yield monitors.
"They made it happen, and that was the birth of the data side of precision ag," Peelen said. "As soon as you plugged the GPS into your monitor, you now had data and maps from a field."
He showed students what all is included on a yield monitor's screen by demonstrating with an Ag Leader device he had on hand. The data shown includes yield, acres, moisture, wet weight and dry weight.
Peelen's business installs precision ag devices such as yield monitors into combines for farmers. He also troubleshoots issues farmers have with their devices.
"When a farmer calls me, and he says, 'I don't have any yield,' I know what I need to look for because I can break that problem down into its parts," Peelen said.
A Sheldon native, Peelen graduated from Iowa State with an agronomy soils degree. He recalled how he applied for a tech support job with Ag Leader before his junior year of college, even though he was not majoring in ag engineering or ag systems technology.
Out of 165 applicants, he was one of seven people hired and the first agronomy major the company hired. He worked for Ag Leader for about two years and was able to earn money while still getting internship college credit.
After that, he said Ag Leader almost always employed agronomy majors because of their crop expertise.
"The crop knowledge I had meant that I could talk more at the same level to the farmer on the phone than somebody that didn't have the crop knowledge," Peelen said.
"Because what would happen is, invariably, the farmer would ask me, 'Well, what population should I plant this at? How many gallons per acre should I be spraying at?' Without the agronomy knowledge, you couldn't answer that question."
---
DRONES IN AGRICULTURE:
Max Wilson put another type of technology on students' radars at Precision Agriculture and Animal Science Days: drones.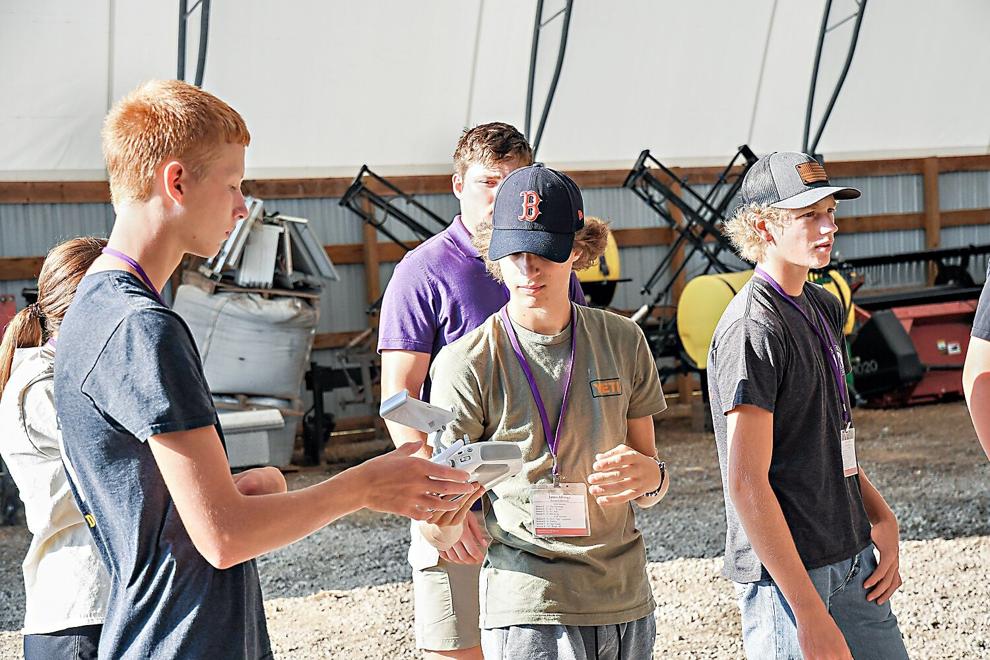 Wilson, a third-year student at Ellsworth Community College in Iowa Falls, led a session about how farmers are increasingly using unmanned aerial vehicles in their crop operations.
The most common uses of drones are photography, spraying and checking crop health. Farmers also can use the devices to check their fence lines more conveniently.
The leading drone manufacturer is DJI, which Wilson described as "the John Deere of drones."
He had a variety of drones at his station for students to examine. He talked about their features and how drone technology has evolved.
The largest and most expensive drone he had also was the oldest: an 18-year-old V-shaped plastic foam drone with a price tag of $30,000.
"You wouldn't think it'd be that expensive, but one thing that makes this drone so expensive is it's what's known as fully autonomous," Wilson said.
The drone also has three types of cameras that can take thousands of photos while flying. Those pictures then can be merged into a composite image to get a detailed picture of a field.
Drone users must obtain a commercial drone pilot's license before they are legally able to operate the vehicles. After that, pilots must follow guidelines related to flight heights and drone weight restrictions.