PAULLINA—The Paullina Ambulance Service is rebounding in a big way from where it was the past couple of years.
The emergency medical services group went from about five members in May 2020 to its latest head count of 18 volunteers.
"We have some growing pains, but the good kind of growing pains," said service director and emergency medical technician Lauri Struve, who has served with the group since 2011.
There was a period over the past few years where the ambulance service relied on assistance from Granville and Primghar to cover day calls because there were not enough Paullina responders available.
Jeff Patterson, the only other EMT at the time, worked in Mapleton during the week, which meant Struve was the only one who could go to calls. However, since she works in Orange City during the day, she was only available at night during weekdays.
A third EMT, Doug Daniels, eventually joined the group, which also consisted of drivers Isaac Conrad and Tyler Harper.
Struve and Patterson renewed their two-year EMT certification last year, although Patterson indicated it would be his final certification period before retiring. After he retired, that would have left Struve as the only EMT.
"If Jeff's done, I'm not doing it with two people again," Struve said.
The ambulance service held an information meeting in September for an EMT class that was set to start later that month.
Struve recalled how the ambulance service went to the Paullina City Council for help in trying to attract recruits. She — along with emergency services education coordinator Kevin Miller of Northwest Iowa Community College in Sheldon and Keri Oostra of Granville EMS — also went door to door to people in town asking if they would be interested in joining the team.
Their efforts paid off.
About two dozen people attended the informational meeting, with several choosing to take the class to join the Paullina Ambulance Service.
The new recruits increased the group's EMT count by eight people. Struve said five registered nurses also joined the team who are able to run as EMTs. They are Amber Ebel, Kayla Paulsen, Amanda Rausch, Sherri Wittrock and Kacy Wolf.
"It's really exciting that we've got all these folks," Struve said. "RNs are amazing. Oh my gosh. I can't even find words to describe how amazing those women are."
She also noted a few business owners in Paullina joined the team, such as Eric Brown of Paullina Hardware, Joel Gnade of Gnade Auto Sales, Laura Palmer of Prairie Market and Molly Appeldorn of Small Town Thrift Store.
Palmer spoke about her decision to join the EMS team, recalling a period of a few weeks last year in which the ambulance was parked along Main Street with a banner on it that read, "This ambulance is sitting here because there are no volunteers to take it out."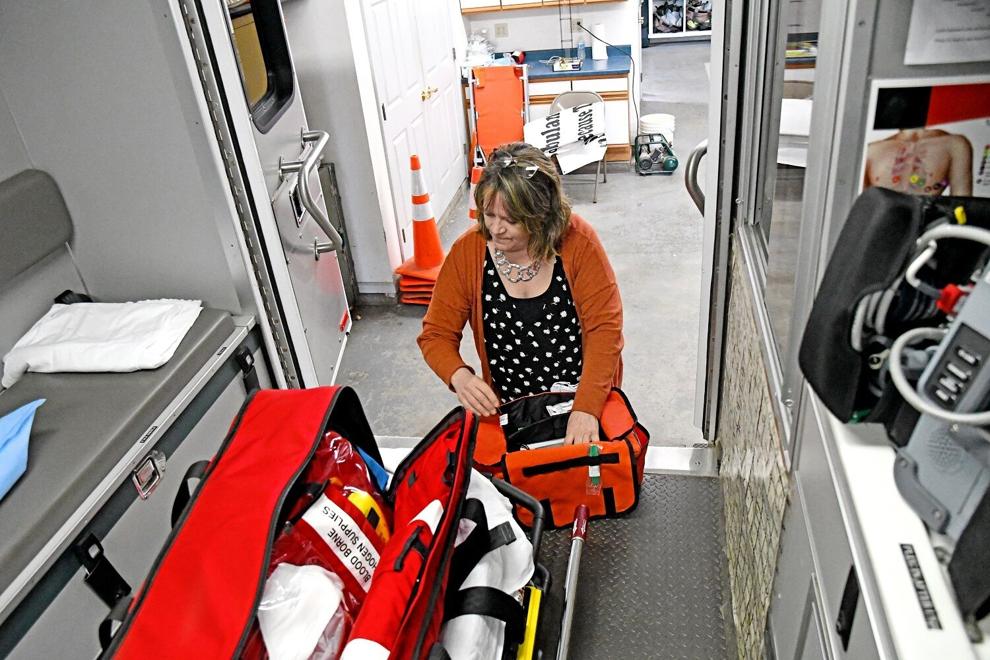 Around that same time, a child who lives next door to Palmer had an accident that required an EMS response from out of town. Palmer recalled it taking 20-25 minutes for the ambulance to arrive, which further solidified her choice to get involved with the Paullina ambulance team.
"Between this and seeing what happened to him, I was like, 'OK, we've got to do something about this,'" Palmer said.
The EMT class Palmer and the other incoming members September-January was a compressed hybrid model, meaning some aspects were taught in person and some parts were done online. Oostra taught the in-person portion in Paullina, which meant the students did not have to drive back and forth to NCC.
Although new members were not able to provide direct patient care on calls while they were still taking classes, they were able to drive, help with equipment and assist with ancillary tasks.
Struve said having more members who are in town during the day has meant the ambulance service has been able to respond to a larger call volume than usual.
"Previously from 6 a.m. to like 3:30 or 4 p.m. Granville or Primghar were taking our calls, where now we're here to take them," she said, adding that Paullina EMS does not take inter-facility transfer calls, just 911 calls.
She also noted how the boosted membership has resulted in the ambulance service having responders that live throughout the organization's coverage area. That's allowed individual members to arrive on scene quickly.
Each EMT also carries a "jump bag" in their private vehicles that contains face masks, gowns and other medical equipment that lets members administer emergency care wherever they are.
She gave a recent example in which one of the new EMTs was able to arrive on scene and provide patient care before the rest of the ambulance team showed up because she lives less than a mile from the incident.
Keeping an ample supply of personal protective equipment has not been a struggle for Paullina EMS during the coronavirus pandemic either as O'Brien County emergency management agency coordinator Jared Johnson has regularly distributed such materials to the group.
"Jared has been amazing with helping us maintain and supply our PPE," Struve said. "He's been like Santa Claus."
One challenge that's come with more day calls is finding child-care assistance for EMTs who are parents when they get paged out to a call.
The group is hoping to set up a system of "pager parents" who would coordinate schedules with EMTs so that if the ambulance team member is called out, they already have someone lined up to watch their children. The EMS group already has received inquiries from community members interested in becoming pager parents.
"I know some of the gals that have stepped up and said they'd like to help do that," Struve said. "That's a pretty good bunch."
Another eventual goal for the group is to purchase a new ambulance that would have a power-load cot system, which would make lifting people in and out of the vehicle easier.
"We're hoping to — crossing fingers and toes — have a deal on that shortly and have that ambulance by the end of the year," Struve said.