SUTHERLAND—The high attendance of a field day on Paul and Karen Mugge's farm west of Sutherland showed that interest in organic farming is booming.
The farm actually hosted two Practical Farmers of Iowa field days — one in the morning and another in the afternoon — on Wednesday, July 17. It was expected that two dozen people would attend the morning session and 50 in the afternoon, but those numbers nearly doubled.
"There's a lot of interest in transitioning to organic production right now, mainly because the commodity prices for conventional crops are not very good," Paul Mugge said.
Paul is a member of Practical Farmers of Iowa, an organization that supports conventional and organic farmers.
The Mugges transitioned to organic farming 1998-2000. They farm 300 tillable acres, including corn, soybeans, alfalfa and fall triticale — a small grain hybrid between winter wheat and winter rye.
"Things looked really bad in agriculture right then," Paul Mugge said. "I've kind of been a lifelong environmentalist. It appeared that there was a developing market and a demand for organic stuff and so I kind of took a chance.
The market for organic products spoke to Mugge as an environmentalist and as a producer trying to run a successful operation.
"I'm all for it philosophically, but yet there's an economic benefit too. The prices are roughly twice what conventional prices are," he said. "It works economically and it feels like the right thing to do for me. It keeps our water cleaner and gives us more healthy food."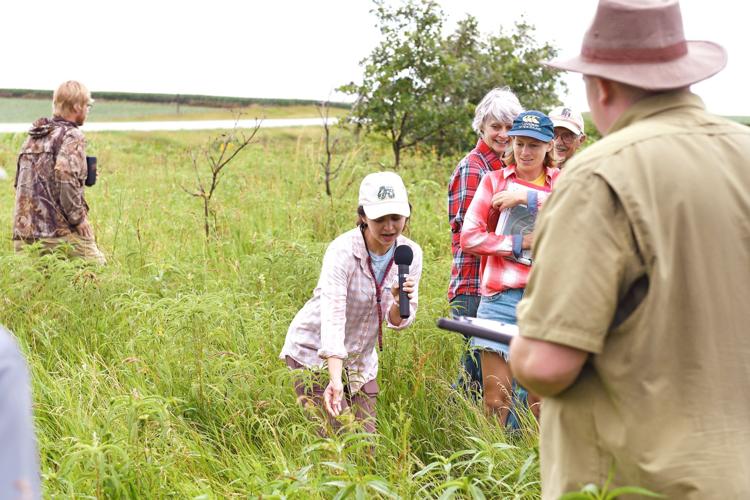 To have a certified organic farm, producers are not allowed to use pesticides, herbicides, genetically-modified crops and other practices that are considered to cause unnecessary environmental damage.
The morning field day session was sponsored in part by the Xerces Society, a nonprofit organization aimed at protecting invertebrates and their habitats. The discussion centered around promoting habitats for beneficial insects and how that can impact the land.
Mugge uses a beetle bank for weed and pest control, which is a strip of perennial plants or grasses planted within a crop field. The beetle bank also provides a hospitable place for pollinators, helps control erosion and reduces nutrient loss.
"It sort of started in Europe, because as they lost their hedge rows over the years, then they're finding they had to replace them with something to provide habitats for these beneficial insects," he said. "If you leave those weed seeds on the soil surface — in my case with ridge tillage — for like seven months, about 70 percent of those weed seeds are going to be eaten by something."
The topic for the afternoon was organic crop production.
Mugge said he knew many of the attendees as fellow organic farmers, and some of them had traveled more than 100 miles for the field day.
He noted that he was the only organic farmer in O'Brien County when he started, but it has become more common in the area. Still, he thinks that N'West Iowa may be behind other parts of the state when it comes to adopting organic farming practices.
"The demand continues to grow. We can't keep up with demand actually," he said. "That's why so much is imported from other parts of the world. Roughly half of the organic corn and soybeans used in this country are imported, which just seems ridiculous."