ORANGE CITY—Walkers, runners, bicyclists and more can enjoy a change of scenery on the most recent extension of the Orange City trail system.
The Dunlop Wildlife Trail was completed this summer and the 2.2-mile concrete path connects in-town routes to the Dunlop Wildlife Area.
"We have to do some replanting of grass and things like that, adding some trees and benches," said Mitch Aalbers, Orange City Parks and Recreation director. "All that still needs to happen, but the usability of it is available."
The Dunlop Wildlife Trail connects to existing trails at the southeast corner of Landsmeer Golf Club in Orange City before heading east out of town.
The trail crosses St. Paul Avenue Northeast near Trinity Reformed Church and extends for just over two miles. The concrete path links up with existing half-mile crushed rock trails in the Dunlop Wildlife Area.
"There's some scenic views to it," Aalbers said. "It's been kind of a couple-year process to get some acquisitions from landowners, but it's just a nice addition."
He noted the Dunlop Wildlife Trail has more hills than older routes. The first half of the trail offers a view of Orange City from the east at the top of one hill. The second half follows the Floyd River downhill toward the wildlife area.
"Those are the two different aspects," Aalbers said. "If you're riding a bike, you kind of have to work pretty hard."
The extension is one phase of a long-term project to expand the Orange City trail system.
The trail system, which includes the Puddle Jumper Trail, Dunlop Wildlife Trail, golf course trail, and short in-town routes, covers 8.5 miles.
Future phases of the trail project will add splices of trail to connect longer sections like the Puddle Jumper Trail and the Landsmeer recreational trail with in-town routes on the south side of the city. At the moment, these trails are linked by sidewalks and Orange City's Safe Routes to School network.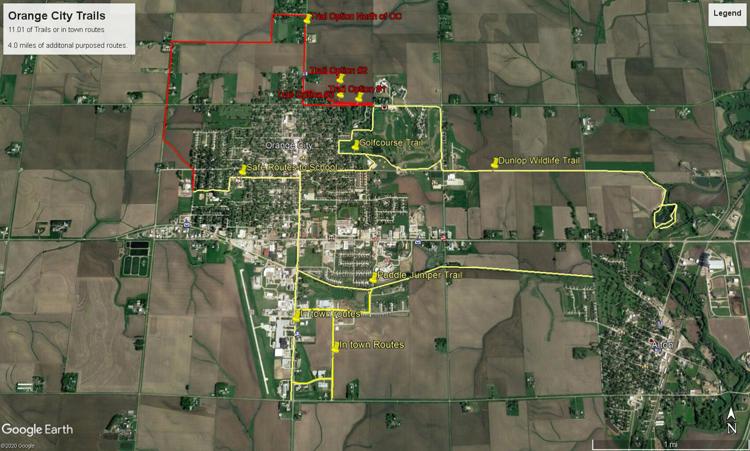 "Our hope is with all our phases to have it all connected just by trails and not by sidewalks so it has more of a trail feeling to it," Aalbers said.
Existing trails are open to walking and biking. The Puddle Jumper Trail also has a bridle path for horseback riding.
Another future phase of trail development is the addition of a new loop on the northwest side of the city.
"Our next phase would be to connect from the golf course all the way back to Unity Christian High School in some way or fashion," Aalbers said. "That would be our phase three and we're just in the beginning process of that, talking to land owners."
The proposed route would add four miles to the trail network.
Aalbers hopes for a third addition beyond that, which would connect Orange City to Sioux Center.
"I've had a master plan and it changes and it evolves a little bit, but we just realized as a city that to get new people interested in your town, they're looking for amenities like that," Aalbers said.
He added that Orange City residents use and appreciate the existing trails a great deal, especially during the coronavirus pandemic when other outdoor activities have been canceled.
"You know you can walk out any time of day to the Puddle Jumper and there's people on it," Aalbers said.
"Trails are an important thing for a community, and that's one thing we're always trying to strive as a community to get more of."