ORANGE CITY—While it doesn't have anything to do with the Patrick Swayze movie, Aaron Lenz said he liked the neutrality of the name The Roadhouse after about 1,000 other names were considered.
"It's kind of fun and gets everybody knowing that it's a casual place to come," he said.
The 38-year-old hopes to open the new restaurant and sports bar in Orange City with to-go orders on Sept. 17. The dining room will open Wednesday (Sept. 30).
"We're making changes every single day to everything," he said. "We're trying to go with the flow and see where things are at."
The Roadhouse will be in the same building that P's Pizza was in before closing in December. Lenz, who originally is from just outside Des Moines, said The Roadhouse will have a full-service sports bar in part because the building already was designed that way.
"It already had lots of televisions mounted," he said. "The audio, or the acoustics of the place, and the general design of it are just built to be a sports bar. So we're just playing off what the building is already designed for."
The staples of the restaurant will be hand-smashed burgers, slow-roasted Iowa barbecue, creative flatbreads, local craft beers, creative Moscow mules and milkshakes.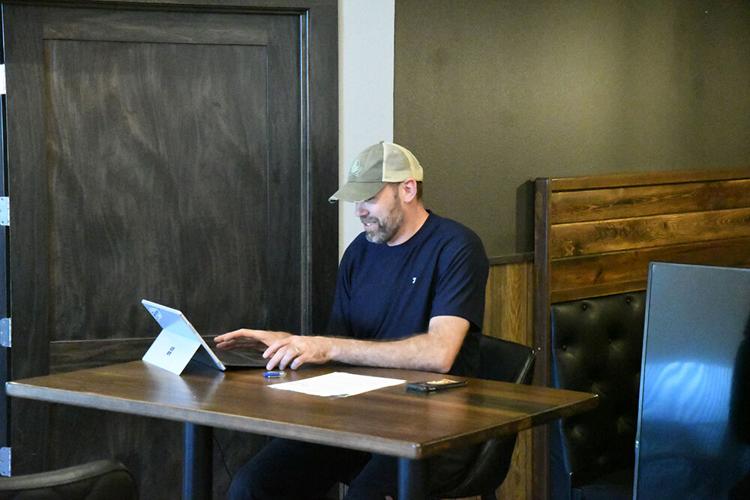 Lenz, who said he has lived all over the United States over the last 15 years, has specific experience with ice cream. He previously owned Frio, an ice cream shop in Perry, but The Roadhouse will be the first full-service restaurant that Lenz has owned.
Lenz's wife, Amanda, is originally from Orange City and he likes running restaurants.
"It was about time to do it for myself," he said. "An opportunity came up in Orange City and it seemed right."
Lenz said that because of the coronavirus, there were many different options that were looked at about when to open or whether to delay things.
"We wanted to make sure we didn't open too fast for what society and the market was ready for but still kind of push the envelope a little bit to get it up and running as soon as people are ready to go out to restaurants," he said.
Lenz added that he still had a lot of things to work out before The Roadhouse opens.
According to Lenz, the best way to get updates on when the restaurant will open is by checking the Facebook page for The Roadhouse.
"With the way word travels in this area of the world, I don't want people getting the wrong impression and being disappointed when they try to walk in the door," he said.