ORANGE CITY—Some may see Randy Van Peursem's home as just a regular house in Orange City, but once inside, visitors will be taken to a galaxy far, far away.
The 51-year-old Van Peursem is a science support services professional at Northwestern College in Orange City. He graduated from the college in 1992 as a double major with bachelor's degrees in biology and chemistry.
He has a disease called dysautonomia, which is a disorder in the nervous system. It could result in a multitude of problems such as having high blood pressure, diarrhea, digestion problems and nausea.
"We didn't even know what it was at first, Van Peursem said. "First, we thought it was severe allergies, but then it was affecting other parts of my system that typically aren't affected. Like I look up and I get dizzy so I have to try to keep my focus forward."
As a result, Van Peursem has to have a specific type of lifestyle, with much of it being spent at home in a monitored area.
A trip to a thrift store when he was in medical school at the University of Iowa in Iowa City in the early 1990s started a collection of action figures and collectibles, and the eventual creation of dioramas in his home.
"It was really weird," Van Peursem said. "When I was in medical school in '92, they had a flea market in one of the malls, and then some of those places sell 'Star Wars' figures. I remember I had six 'Star Wars' figures growing up. Then I thought maybe I should get the original 12. I only had six because action figures were expensive because we didn't have a lot of money growing up in the '70s and early '80s. So then I thought I would start with the original 12, but then the bug bit me."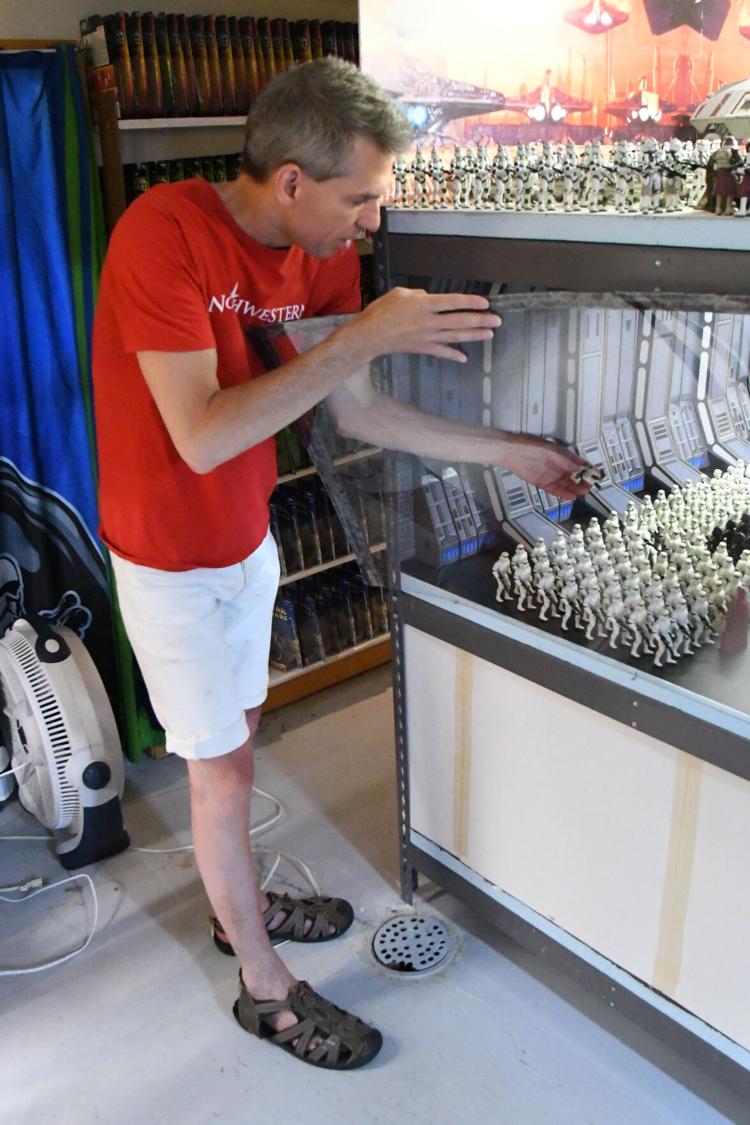 He is a fan of other science fiction franchises too.
"I was real into 'Star Trek' as well and that was still on TV at that time," Van Peursem said. "One of the stores there had 'Star Trek' action figures. Those looked pretty cool too because Playmates was sort of new at the time. They were making the adjustment from old-style action figures to newer style. Playmates was pretty good."
While in college, he would travel for hours to stores trying to find more figures to add to his collection.
"When I would come home from medical school, that was before the health really tanked, on the way home, I would take sometimes seven to nine hours and hit all of the back roads," Van Peursem said. "The towns had Walmart and Walgreens and I would try to find the 'Star Trek' figures I was missing."
Ever since his initial purchase of those "Star Wars" and "Star Trek" figures, he has purchased figures from "Lord of the Rings" and "Babylon 5."
After obtaining such a collection of figures, he has built dioramas in his home the show specific scenes from the "Star Wars" and "Lord of the Rings" movies.
The first diorama he built was in 2002 when he moved into his home in Orange City. It was a "Star Wars"-themed diorama of the emperor's arrival from "Star Wars: Attack of the Clones."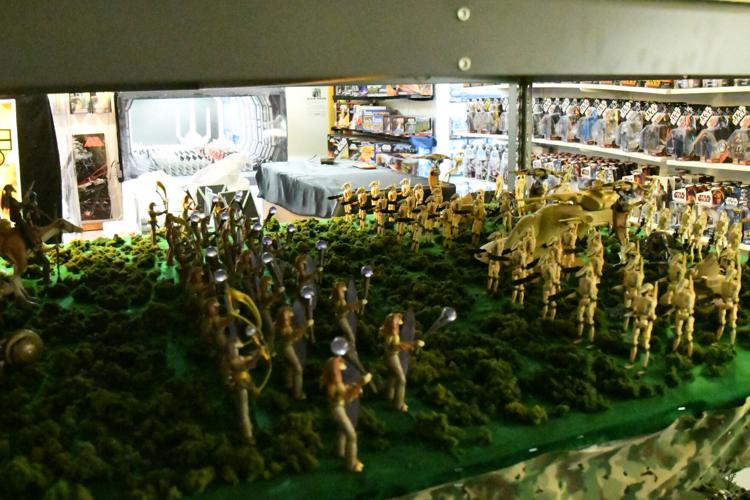 In his basement at this time are two notable "Star Wars" and "Lord of the Rings"-themed dioramas. The "Star Wars" one is an updated version of emperor's arrival scene and the "Lord of the Rings" scene is part of the "Prologue Battle."
Van Peursem is able to keep the figures to stay on the boards with a variety of methods such as attaching magnets to the characters' feet or by using a hot glue gun. Some of the figures' feet have holes in them, so he creates pegs to keep them in place. He does that so if one of the figures falls, it does not create a domino effect.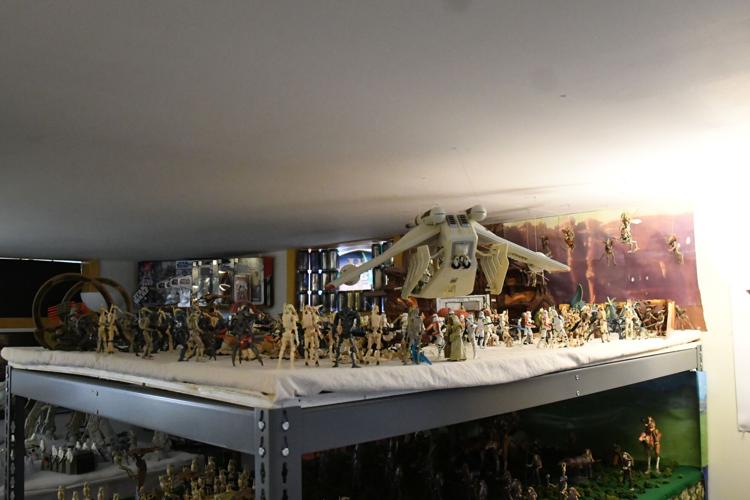 Van Peursem has a YouTube channel where his dioramas can be seen. Most of the videos have a "Star Wars" or "Lord of the Rings" theme to them. He calls the videos "Ran's Realm" because he previously managed the website ransrealm.com and friends call him "Ran" for short.
An aspect of his collection he is proud of is he was able to get in on it before it got too expensive.
"Fortunately, I got a lot of my good stuff on eBay when prices weren't that high yet," Van Peursem said. "In the late '90s, on eBay, I was able to buy these large lots. People would sell them without that big of markups. I'd buy large lots, keep what I want and sell the extras and get my money back. I didn't put near as much into it as what you would think.
"Prices are going up now, so I don't really keep up on all of the new 'Star Wars' stuff because ever since Disney bought them, the prices, they jacked the prices way up," he said. "They used to be only like $4.50 or $5 a piece and now they're up to $10-$11 a piece, that's more than I can afford."
Van Peursem has around 5,000 figures and each one is noted a Microsoft Excel spreadsheet.
He said all of his figures will be safe in case a disaster strikes.
"They're insured. I have a special insurance policy just for them," Van Peursem said.
He said between all of them, there is not specific one he likes the most.
"There's a couple of holy grails," Van Peursem said. "Every collection has a couple holy grails, but sometimes, some of the most common figures are actually the coolest too. People always ask 'What's your favorite "Star Wars" movie or your favorite "Lord of the Rings" movie.' You can't have a parent choose what child is their favorite. So, I like them all."
However, he did say between his three favorite franchises, "Star Wars, "Star Trek" and "Lord of the Rings," "Lord of the Rings" is his favorite.
"Those books and the 'The Lost Tales' and all those, they're heavy reading," Van Peursem said.
Although he is not much of a reader, a new gift has inspired him to get into his next book and movie franchise.
"My sister-in-law bought me the 'Harry Potter' books," Van Peursem said. "I'm finally reading through those. Those I'm going through quite quickly because those are good too, but nothing like 'Lord of the Rings.'"