ORANGE CITY—A 2-year-old cat belonging to Orange City residents Lynne and Kevin McMahan has not exhausted its nine lives even after being shot in late April.
The McMahans' black-and-white tabby cat, Moochie, had shown up at their door Sunday, April 26, limping on three of its legs. His right hind leg, meanwhile, was injured and useless.
"We thought he'd been hit by a car because he was limping, and he was obviously in pain," Lynne said.
She and Kevin called their veterinarian at Pipestone Veterinary Services of Orange City, who recommended they take Moochie up to All City Pet Care Veterinary Emergency Hospital in Sioux Falls, SD.
They loaded Moochie into their car and made the drive northwest. At the emergency hospital, the McMahans learned the truth: Moochie had not been hit by a vehicle but was shot with a gun.
One of the McMahans' neighbors later told them she had heard a gunshot the morning Moochie was shot. The Orange City Police Department identified the bullet that hit Moochie came from a .22-caliber gun.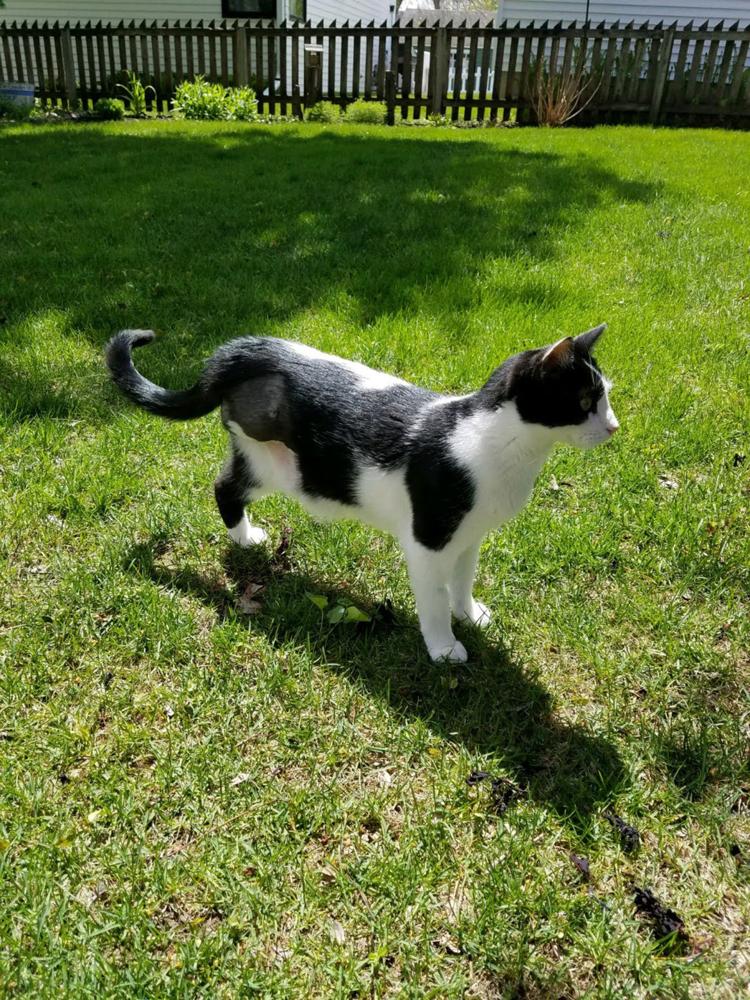 The veterinarians at the Sioux Falls animal hospital gave the McMahans three care options: Attempt to fix the injury; amputate the leg; or put Moochie down.
The hospital workers said cats still are able to do well with three legs and that the operation to have the injury fixed could lead to infection afterward.
After consulting with their sons, Kory and Trevor — who live in Seattle and Los Angeles, respectively, and have a soft spot for Moochie — the McMahans decided to have the leg amputated.
"It was pretty emotional to think about putting him down for all of us," Lynne said.
They left Moochie at the animal hospital overnight, and the amputation was done the next day, April 27.
When Moochie was able to return home, it did not take long until he became his usual active self.
"Within three days, he was climbing his cat tower. I couldn't believe it," Lynne said. "It was absolutely heartbreaking when we brought him home and got him out of his crate because he wasn't used to trying to walk on three legs."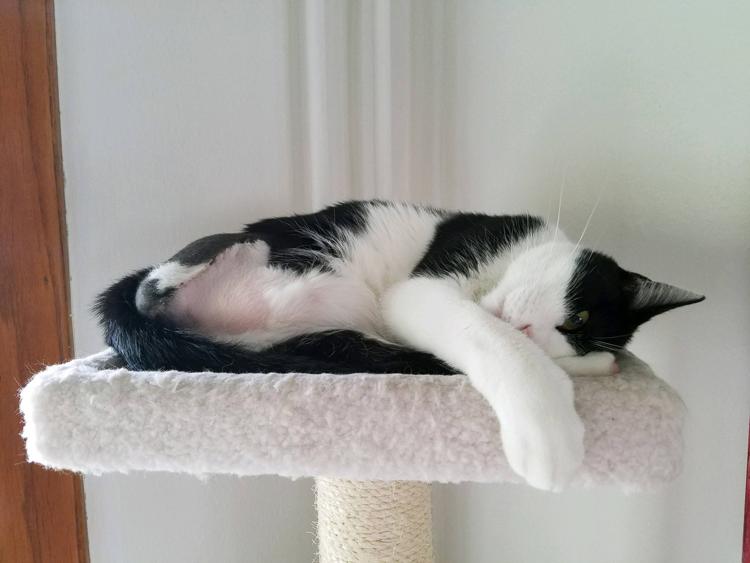 The McMahans have another cat, a 4-year-old ginger named Winry, who usually gets along with Moochie. But when Moochie came home after losing his leg, Lynne said Winry has been keeping him at bay.
"She has wanted nothing to do with him since we got back," Lynne said. "I think partly because he smelled like the hospital at first. But even now, she hisses at him whenever he comes around her. But they used to sleep together and give each other baths and chase and wrestle all around the house. That's probably been one of the harder things. That was one of the other reasons we opted to keep him alive was for her."
The McMahans normally let their cats outside in their backyard during the day and then bring them inside at night. Since Moochie got shot, however, they have been thinking of ways to keep him from roaming around the neighborhood.
"They love being out, so I guess we're going to have to figure out an invisible fence or something to try to contain them in the yard," Lynne said.
She also acknowledged Orange City has an ordinance that prohibits pets from roaming at large in city limits. On the other hand, she hopes Moochie's story will make people in town think twice about firing a gun at another resident's pet, which likewise violates city ordinance.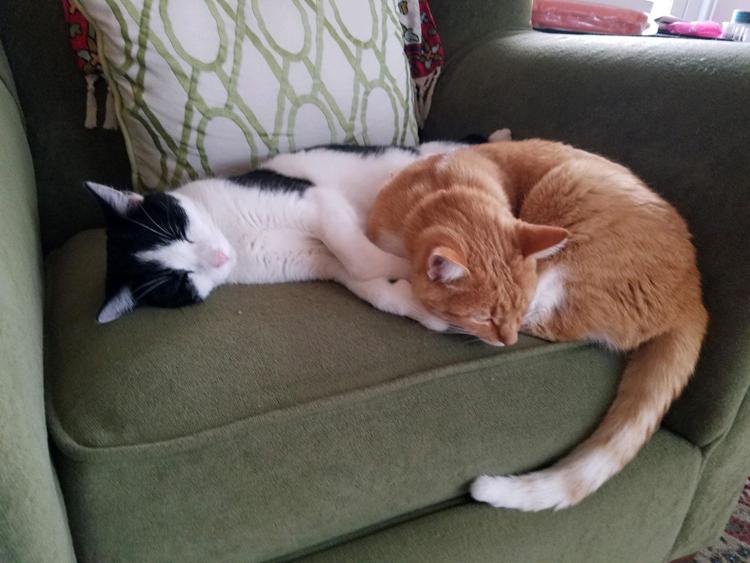 Moochie was tagged, so Lynne said someone with a concern about him being loose in the city could have called the McMahans and arranged for them to pick him up.
Lynne also hopes Moochie's ordeal will make more pet owners in the city aware there is someone in town with a gun who has no qualms about shooting animals.
"Anytime an animal is needlessly harmed, it's sickening," she said.