ORANGE CITY—Twelve-year-old Orin Doughan wants to be Orange City's Scooper Hero.
Orin, who is a sixth-grader at MOC-Floyd Valley Middle School in Alton, recently started a poop-scooping business called Scooper Heroes to help raise money for an eighth-grade trip to Washington, D.C., and New York City.
He quickly had customers hounding him to get their yards cleaned.
Orin got the idea for Scooper Heroes while brainstorming with his parents, Katie and Ryan, for a new way to raise funds for the trip over the summer.
Last fall he fundraised by selling Pampered Chef and Butter Braids, which were organized and facilitated with help from the school. However, he found himself selling to the same group of people every time and decided to branch out by trying something different.
"We thought of mowing, but there were already a lot of people who did mowing in the area," Orin said. "Then we thought of poop scooping and there weren't very many people, or any really, who poop scoop."
From there, a whole business unfolded. Scooper Heroes offers a one-time spring cleanup for $35 as well as weekly, biweekly and once a month poop scooper services.
Orin put up flyers around Orange City March 6 advertising the business. His parents also shared it in Facebook groups and within 15 minutes, Orin had his first call. Customers have been coming in steadily ever since.
Orin has done one spring cleanup per day this week, working them in after school. He has 20 people signed up for the weeks ahead and more who have said they are interested. The level of interest in his poop-scooping service surprised Orin.
"I expected to get a few people say like, 'Hey, can you come down every other week or something?'" he said. "But I did not expect there to be 20 people signed up for spring cleanup."
With the volume of customers, he's had to hire his 9-year-old brother, Kiptyn, to help him. They split the profits.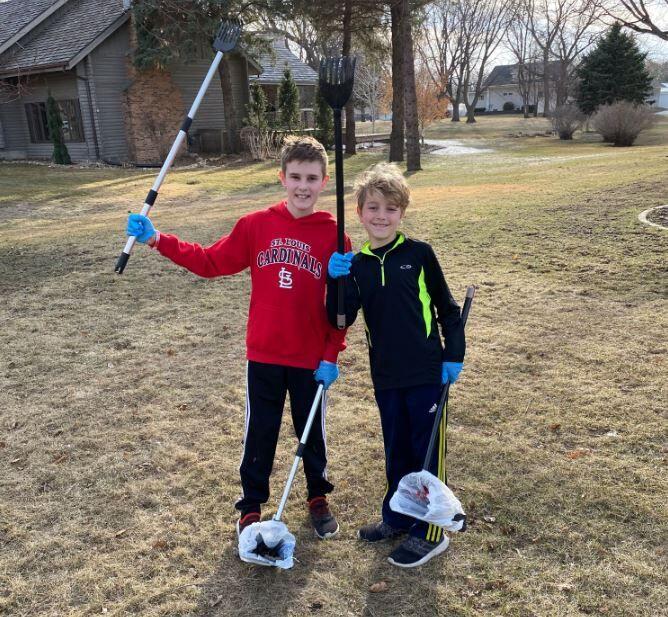 Another side effect of the Scooper Heroes' unexpected popularity is that Orin has customers calling from outside Orange City.
The original business plan was for Orin to travel to customers on his bicycle, which would have limited him to customers in town and possibly in Alton. However, when his parents shared his flyer on Facebook groups, customers from Sheldon, Sioux Center and Ireton picked up the phone to ask for his services.
"It's a lot wider spread than we thought originally," Ryan said.
His parents are still trying to decide just how far Orin will travel, but Ryan said it will likely stay within a 20-mile radius of Orange City.
If the Scooper Heroes have a customer in town, Orin and Kiptyn break out their bikes after school. They load a small bike trailer with poop scoopers, buckets, trash bags and gloves, and then hit the streets and get to work.
Orin said he doesn't mind cleaning up dog poop.
"It's not really the cleanest kind of job, but I don't really mind," he said.
Orin gives out a goodie bag with dog treats and a business card to every customer. If customers would like him to come back for a repeat visit, he'll also write down the date he'll be back so they remember.
"I plan to do it the whole summer basically," Orin said.
He's hoping that some of his early customers will turn into regulars, especially if he does a good job. He and Kiptyn are very thorough in their poop scooping.
Running Scooper Heroes is also giving Orin experience with business, customer service and money management. His parents are fairly hands off and let him take charge of running the business.
People interested in hiring Orin can call 712-360-1151, where they will reach Orin directly. He coordinates scheduling and after he's finished cleaning a yard, he sends customers an e-mail with a link to Yardbook, a piece of business software that lets people pay him online with a credit or debit card. The money goes straight into a bank account his parents helped him open in his name.
"We're really hoping to use it as a learning tool for him to be able to learn some of the money managements that don't just come naturally and aren't really part of the school curriculum," Ryan said.
Orin's fundraising goal is $2,500, which is what he needs for his trip. With two years to work toward it and a lot of interest in Scooper Heroes, he said he's pretty confident he'll be able to make that goal.