GRANVILLE—A soon-to-be open seat in the Iowa Legislature has its first contender as Zach Dieken tossed his state trooper hat into the ring for House of Representatives District 5, which includes Osceola and O'Brien counties.
"I would say I'm a genuine conservative, not a moderate. I think that we live in an area that's genuinely conservative and not moderate. We bleed red up here, not mixes of red and blue. We're pretty red up here," Dieken said.
The Republican candidate is from rural Granville, east of town. While the city limits are inside the next district over, he lives past the county line, making him eligible to represent the Osceola-O'Brien district that also stretches south to encompass parts of Cherokee and Buena Vista counties.
He announced his campaign Nov. 15.
It is part of the new map that Gov. Kim Reynolds signed into law Nov. 4 and will be first contested next November. Because of how the incumbents were reshuffled, no current lawmaker lives in the boundaries of the upcoming House District 5.
Dieken is a lifelong N'West Iowa resident. Originally from George, he briefly lived in Storm Lake before attending Northwestern College in Orange City. After graduation, he moved to Sheldon and then the acreage outside of Granville in 2017.
The 31-year-old is a trooper in the Iowa State Patrol and works part-time as a substitute teacher in the Sheldon and MMCRU school districts.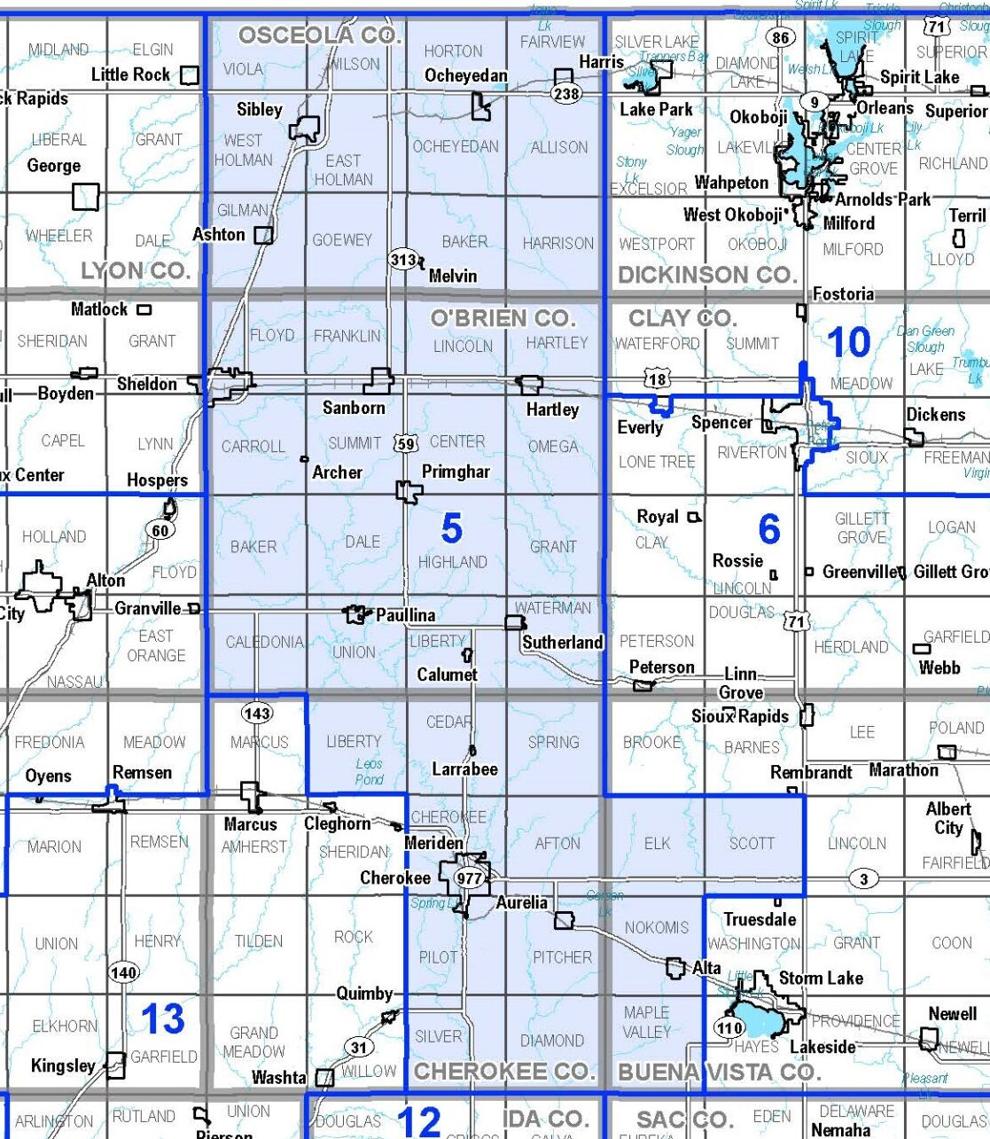 He said the interpersonal nature of his jobs make him a qualified candidate to represent the area's views in the state house. In announcing his campaign he listed his top positions as anti-abortion, pro-gun and anti-"radical indoctrination" — a GOP talking point expressing fear over discussions of racism, especially in education.
Dieken said he decided to jump into the race a year before the 2022 general election because he sees the Republican primary on June 7 as the true decider of who will represent House District 5 in Des Moines.
"Anything can happen. I'm not trying to predict the future or anything, but I'm guessing there's not going to be a Democratic person coming on the ticket," he said.
The young Republican said he does not have any formal electoral or organizing experience, but he said that encouragement from like-minded friends and family gave him the confidence to run.
He reiterated his campaign's main selling point that he could do as the office's title implies and represent his portion of rural Iowa on a state level.
"What would set me apart — at least someone running in this area — as someone who grew up in the area, I understand this area to be very genuinely conservative. I would match the cultural dynamic," Dieken said.
He is also active with Christian groups for college students at Northwestern, Dordt University in Sioux Center and Northwest Iowa Community College in Sheldon.
Dieken was quick to add that he has "never done this before" but thought an open seat was the ideal time to enter politics.
"There was going to be a new district up here essentially with nobody in it," he said. "After chatting with friends and family, and definitely a lot of prayer and consideration, we just decided to go for it."