OCHEYEDAN—Like many entrepreneurs, Emma Boeke could not find the product she wanted so she decided to make it herself.
The difference between Emma and most other people who start their own business is the fact that Emma is just 9 years old.
"I have really sensitive ears and it was hard to find age-appropriate earrings," said Emma, a third-grader at Sibley-Ocheyedan Elementary in Sibley.
So she began her own business, emma b., a little over a year ago making earrings in an office room at her home in Ocheyedan.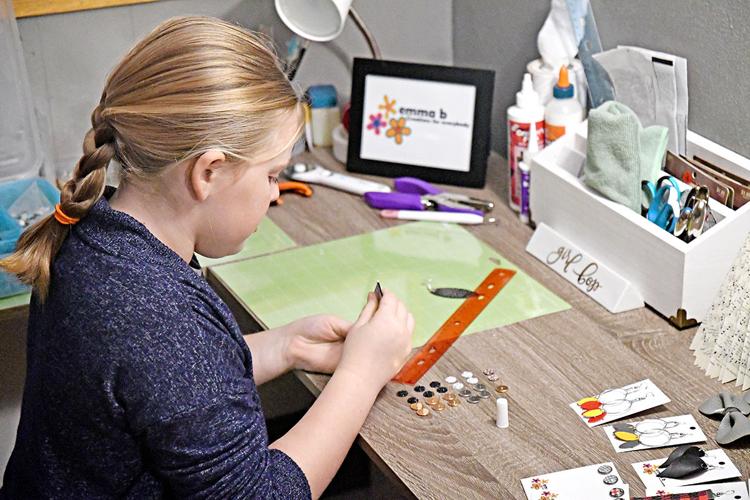 "It was hard to find age-appropriate earrings that were good for her ears and were quality earrings," said Emma's mother Jill Boeke. "We kind of started looking into different ideas. I thought it would be fun for her to start making her own earrings."
Emma ran into an issue early on while making her earrings.
"There are different kinds of glue," Emma said. "When you use it, it puts a gloss on top of the earrings."
Jill said it was one of the first batches of earrings they made and the earrings had a film called super glue residue all over them.
"We didn't know what the deal was so we thought we were going to have to throw the entire batch away," Jill said. "I did some research and we figured out we could just take it off with just a little bit of oil. Now we clean all the earrings good before we put them on cards."
Emma sells stud and dangle earrings to all age ranges through vendors in Sibley thanks in part to a couple of inside connections.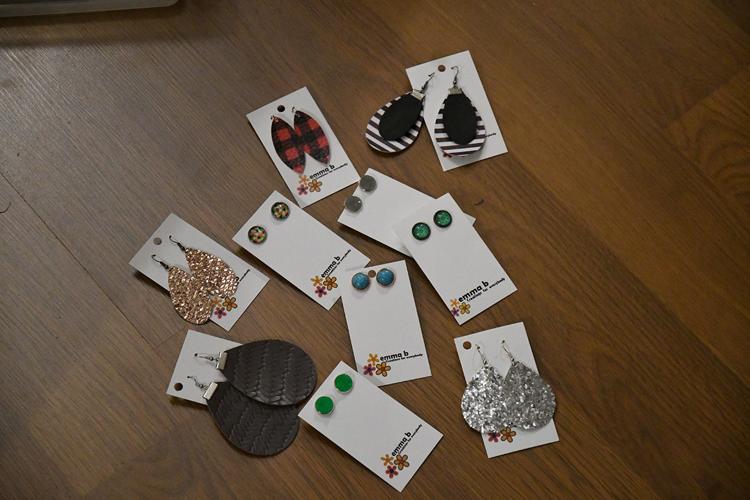 "My grandma owns The Porch on Main and my mom works at Essentials Salon," Emma said.
Jill noted they have had booths at various vendor shows around the area too.
"At our last vendor show, I bet we sold probably over 50 earrings," Jill said. "That's both dangle and stud earrings."
Emma said the stud earrings sell more often.
"The stud ones are more age appropriate for certain kids," Jill said.
Emma said her mom helps her a lot with the business.
"I do all the ordering and obviously the Facebook posts are from me," Jill said. "Most of the earrings are her."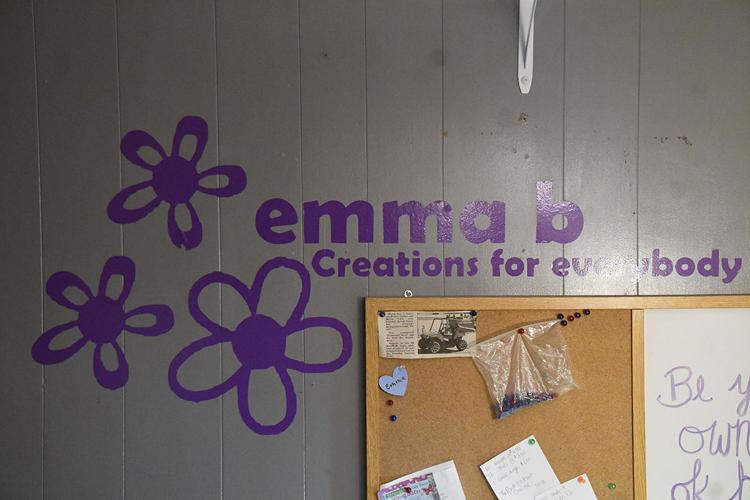 Emma said her mom assists her in making the dangle earrings.
"We have some earrings that are a little harder for her to do so I help her with those," Jill said. "For the most part, all the studs she does."
The money that Emma makes goes to a specific place.
"To my savings account," Emma said.
Jill said occasionally they use some of the money for supplies but the rest goes in the account.
"We're not letting her spend it until she's a little older," Jill said. "It'll go for probably a car or college eventually."
For Christmas this year, the creative pair also made personalized glass ornaments.
"You can put words on like 'Merry,' 'Bright,' 'Christmas' or names," Emma said.
Jill said they were popular.
"We did over 100 of those this year and sold those within the last month," Jill said. "We made a lot of those and were very busy with those. They're glass ornaments that are white with black writing that have maybe a Christmas phrase. We did personalize them for a lot of people with their kids' names or grandparents' names as Christmas gifts this year for people."
Last Christmas, the pair used pages from old hymnals to make Christmas trees.
"We folded the papers," Jill said. "Those took a long time. We folded the pages to look like a Christmas tree. The profits from those we donated to the local Christmas parade in Sibley."
Of all the things Emma has made through emma b., she said she did not have a favorite.
"I like all of them," Emma said.
"They're all unique," Jill added.