PRIMGHAR—Ella has been the professional crime-fighting sidekick of O'Brien County Sheriff's Office deputy Lee Reuvers for the past eight years, but the sharp-nosed black Labrador retriever entered her retirement Tuesday, July 27.
"I would say Ella's had a pretty successful career," Reuvers said. "I mean, her largest find was 18 ounces of meth — that's over a pound of meth."
Reuvers looked to reboot the department's K-9 unit program in 2012. The last time the sheriff's office had employed a K-9 was a little more than a decade before that.
The office fundraised to relaunch the program and found Ella shortly thereafter. She was a 1 ½-year-old rescue dog at the time after her owner had been sent to prison on a drug charge.
Reuvers and Ella completed a K-9 training course at Midwest Canine Alternatives in Long Prairie, MN, before Ella officially joined the O'Brien County Sheriff's Office team in fall 2013.
Ella was specially trained to sniff out drugs such as methamphetamine, cocaine and marijuana, as well as to track missing people and hunt down articles of other evidence in cases.
During her eight years of service, Ella also regularly accompanied Reuvers, her handler, while he'd be out on patrol in his squad car. The back seat of the vehicle is outfitted with a special compartment in which Ella can lounge.
Reuvers didn't have an exact count of how many calls she's responded to over the years but said it's been many. He noted Ella hasn't just assisted the sheriff's office on cases; city police departments across the county have also relied on her expertise on cases.
"Whether it be searching a car that we've towed or just different things like that, different tracks on suspects that have run from us," he said. "She's been useful the last eight years that we've had her."
Over the years, Ella has also shone at the annual Midwest Canine Alternatives trials at Camp Ripley near Little Falls, MN. She and Reuvers have attended the competitive training event each year since 2014, except for 2020.
"Her niche was evidence tracking. She was a speed freak when it came to that. Her best time was four seconds one year," Reuvers said.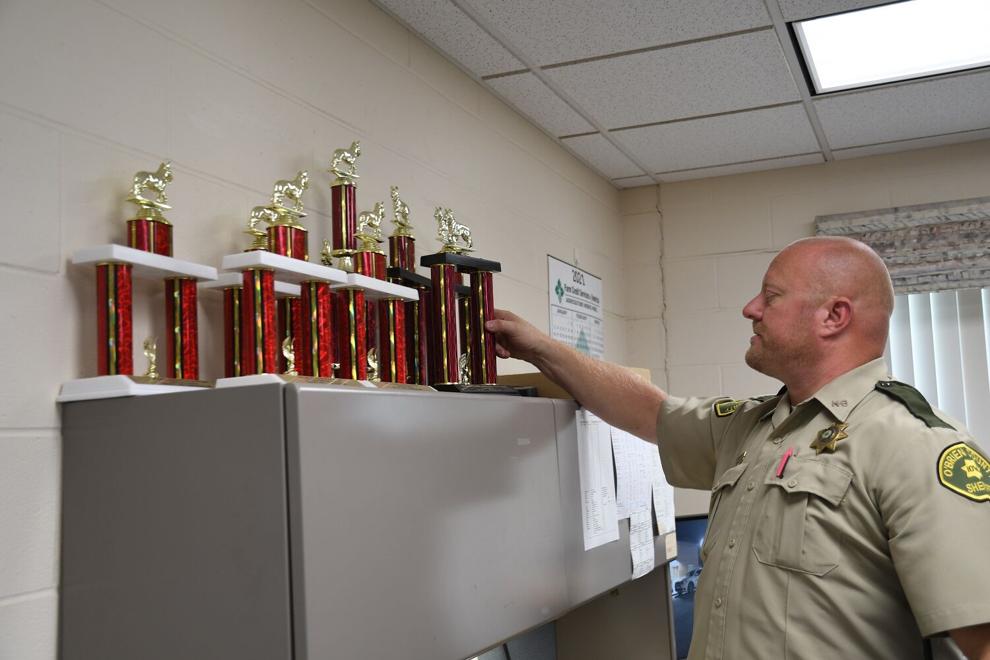 Ella was named "Top Dog" at the 2019 trials and has amassed first-place wins in categories such as evidence, narcotics and tracking, along with some second- and third-place trophies.
But for Reuvers, one of the most enjoyable job duties for him and Ella was leading periodic presentations at the libraries in O'Brien County where children and their families could learn about the K-9 program. Ella also would demonstrate her tracking skills and interact with the audience members afterward.
Reuvers and Ella also would visit South O'Brien Elementary School each year for a similar presentation for third-graders. They did not do so last academic year, however, due to the coronavirus pandemic.
Ella hasn't just been a steadfast companion to Reuvers; he said she's also been a welcome presence to other employees in the sheriff's office building in Primghar.
"She provided a lot of relief for the people in the office when I brought her in. People like talking to her, petting her. It's just a little change for maybe some horrible days that we get around here with different things," Reuvers said.
When the department hired Ella, Reuvers tentatively planned on working with her for eight years or however long her health would hold up. That time frame expires this year, and Reuvers pointed out Ella's hips have been weakening recently.
That's why he and sheriff Bruce Devereaux submitted Ella's request for retirement to the county board of supervisors at its July 27 meeting. Devereaux also recommended ownership of Ella be transferred from the county to Reuvers and thereby allow her to continue living with Reuvers at his Sheldon home for her retirement.
"I'd appreciate the opportunity to keep her," Reuvers told the supervisors. "Obviously my family — especially two little girls — love her probably more than I do."
The supervisors granted the request.
Devereaux said his office doesn't plan to hire another K-9 unit in the near future, especially as the Sheldon Police Department recently started its own K-9 program and would be able to use it to assist the sheriff's office.
Balin, a 1 ½-year-old German shepherd, joined the Sheldon force with his handler, officer Eric Meinecke, earlier this month.
When supervisor board chair Nancy McDowell asked if Reuvers felt Ella was ready to retire, Reuvers said no. He joked that "she's going to drive my wife and family nuts" being home all day while he's out on duty.
"I'm sure my wife will call me midshift and go, 'Can you please take her for a ride?'"