REGIONAL—Generating wind energy is a breeze in O'Brien County.
The American Wind Energy Association recognized the county for its wind-generating capacity by awarding it the highest honor in the organization's inaugural Wind County Seal program during a virtual meeting Wednesday, Aug. 12.
O'Brien County was one of seven in the state which received the gold seal, which recognizes counties that either generate at least 500 megawatts of power from wind, have created 100 or more permanent jobs in the wind industry or graduated 20 or more technicians in the field.
"In Iowa there is such leadership, yes at the governor's level, but also at the local leader and community levels and we want to be able to recognize those local leaders in their communities," said Tom Kiernan, chief executive officer of the American Wind Energy Association.
The ceremony was hosted by Power Up Iowa, which is "a statewide coalition of renewable energy supporters advocating for local, state and federal policies and initiatives that enhance Iowa's wind energy investment," according to the organization's website.
Nancy McDowell, vice chair of the O'Brien County Board of Supervisors, accepted the honor on behalf of the county. She spoke about the economic benefits the county has seen through its wind-energy infrastructure.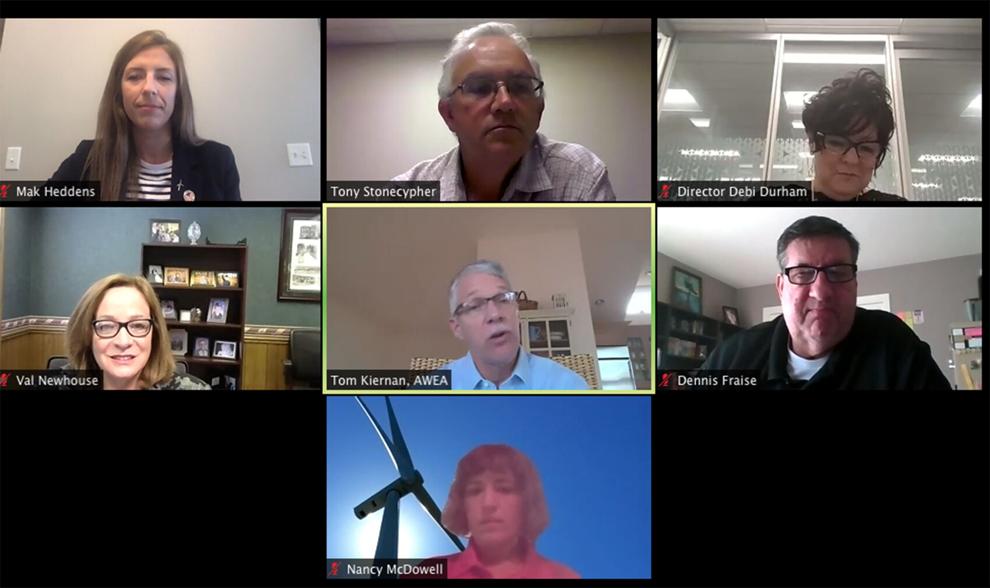 "Turbines and associated infrastructure have provided increased tax revenues, land valuations and have broadened our tax base. As a result, we have been able to lower tax levy at a time when many farmers and residents are struggling with a sluggish ag economy," McDowell said.
"Additionally, the turbines have allowed a lot of farmers and landowners to generate alternative income, which then circulates through our community businesses and Main Streets. MidAmerican has also provided many high-quality jobs during and after construction."
O'Brien County has two wind farms, each owned by MidAmerican Energy. The first farm has 214 turbines and is located throughout the southern and central portions of the county. The second farm has 104 turbines and is in the northern portion of the county between Hartley and Sanborn.
Combined, the turbines in O'Brien County are capable of producing about 752 megawatts of power.
Debi Durham, director of the Iowa Economic Development Authority, also spoke during the ceremony and highlighted the importance of wind energy in Iowa.
"Iowa is indeed a proud renewable energy leader, with 42 percent of our state electricity coming from wind power. But it's not just the geographic location, regulatory environment and leadership that makes Iowa a success story," Durham said. "Many counties across the state have harnessed the power of wind energy as an opportunity to educate future generations, to create jobs, to support farmers, grow their tax base and stimulate their local economies."
The virtual awards ceremony also coincided with the fourth annual observation of American Wind Week, which celebrates, "all of the ways wind power has created opportunity in the past and the ways wind energy will power an economic recovery and help us build a cleaner, healthier and more resilient future," according to Clean Power for America.