PRIMGHAR—Two medical directors who cover multiple emergency medical services agencies in O'Brien County are set to leave their posts later this year.
County emergency management agency coordinator Jared Johnson informed the board of supervisors Tuesday, July 19, of the coming vacancies and of a possible remedy to the hiring dilemma.
That solution would involve hiring one countywide medical director who would cover all the EMS agencies.
"I have put it out there to the services to see — just knowing that there's going to be some changes within the next six months — if there's interest in going toward that," Johnson said.
The medical director who covers the EMS agencies in Hartley, Primghar and Sutherland, Dr. Soe Nyunt of MercyOne Hartley Family Medicine, is moving next month. A medical director for another EMS agency plans on retiring at the end of the year. That person has not announced that publicly yet, Johnson said.
Since a countywide medical director would have additional responsibilities, Johnson said it would be nice to pay that person for the job and that his department still has some unused funds in its joint disaster services account.
If the agencies decided to switch to a countywide director, Johnson suggested the person be hired as an independent contractor for the county rather than a full-time county employee. The supervisors agreed that would be the best hiring arrangement.
Johnson will continue to gather input from the EMS agencies in the county to see if they would favor one countywide medical director.
He also spoke with the supervisors about EMS staffing needs around the county. Johnson noted that Sanborn's full-time emergency medical technician is out on leave and that nearby EMS teams have had to cover calls for that city.
Board chair Dennis Vanden Hull said he saw the EMS agency has a sign out advertising a hiring bonus and asked if there are other ways the county could incentivize people to join the ambulance team.
Johnson said Sanborn had been allocated $20,000 from the county's EMS system development funds for fiscal year 2022-23 to go toward the full-time EMT position. However, since that person is on leave, those funds are not being used and could be reallocated.
"They don't have anyone for EMT, and they're not doing coverage — the funds just kind of stay there. If they don't use them, they could go to someone else via supervisor approval," Johnson said.
He also reminded the county that Sutherland's EMS team did not apply for system development funds, which means there is an additional $20,000 in that account that is not being used.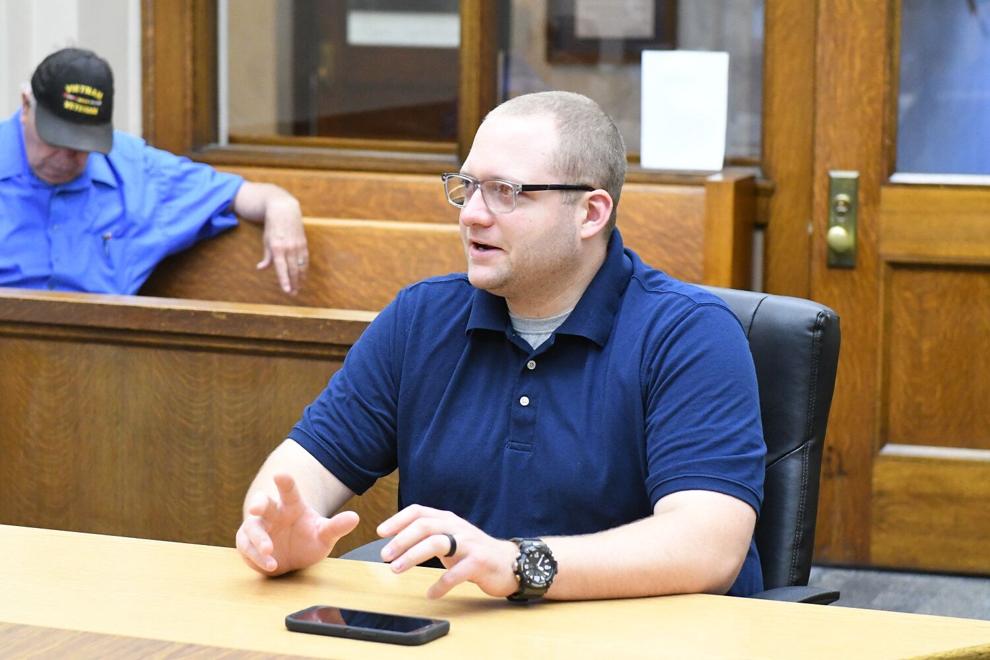 Other options Johnson mentioned that Sanborn was looking at were hiring nurses as EMTs — since they would not need much additional training — and recruiting community members to enroll in upcoming EMT training courses at Northwest Iowa Community College in Sheldon. Two types of classes are offered for the training: An online hybrid course that goes August-December and an in-person course that goes August-March.
However, Johnson acknowledged that attracting new EMT recruits is not easy, since people are often busy with work and are not always willing to be on call during weekends.
"The overall pool of people that want to be in that profession — it's becoming smaller," Johnson said.
Besides discussing EMS needs, Johnson told the supervisors that O'Brien County is one of 12 counties in the state in which small, nonfarm businesses are eligible to apply for low-interest federal disaster loans to offset economic losses caused by drought conditions.
The loan program is through the U.S. Small Business Administration and offers loans of up to $2 million to meet financial obligations and operating expenses which could have been met if not for the drought conditions. The deadline to apply for the program is March 13, 2023.
Johnson also told the supervisors of the potential for rolling power outages across the country due to increased electricity use amid the prolonged heat wave.
"What I've been told is it looks like the system overall, the whole electrical grid, is getting overloaded. They may have to do one- to two-hour outages to prevent a collapse of the system. We'll try to give warning if possible, but there could be a chance there's little to no notice," Johnson said.
He wanted county residents to be informed about the possibility of power outages and encouraged households to have a preparedness plan in place.