REGIONAL—Tom Clark will be missing his mom's pumpkin pie this year.
Clark, who lives in Sioux Center with his wife and three kids, normally travels to southwest Minnesota to spend Thanksgiving with extended family. This year he and his family are choosing to stay home, hoping to help prevent the spread of coronavirus as Iowa and other states experience a surge in cases that threatens to overwhelm hospitals.
"It's really sad about not getting to see family," Clark said. "Our kids will be missing the grandparents and seeing all the cousins."
Thanksgiving traditions are strong in his family — his mom sets out the same foods in special dishes every year. It's something to look forward to.
This year they're breaking from that tradition. Instead of traveling, the Clarks will be making their own turkey, potatoes and pumpkin pie at home.
"It's the right thing to do, it's the safe thing to do, but it's kind of sad," Clark said. "There's a lot of things we'd like to do that we can't do."
Little room for error
Health-care officials are urging everyone to similarly downsize gatherings and reduce traveling this Thanksgiving.
In a joint statement released Wednesday, Sioux Center Health, the city of Sioux Center and the Sioux Center Chamber of Commerce asked residents to follow Centers for Disease Control and Prevention guidelines and new mitigation measures announced Monday by Gov. Kim Reynolds.
The measures, which took effect Tuesday and continue through Dec. 10, include restrictions of indoor social and community gatherings to 15 people and outdoor gatherings of the same kind to 30.
"This has been a unique year and with the coronavirus continuing to spread, we are asking everyone to consider holiday celebrations that may be outside your usual traditions," said Sioux Center Health CEO Cory Nelson.
Nelson said the Sioux Center hospital is at 80 percent capacity, and many of those patients have COVID-19.
"That doesn't leave a lot of room for error with gatherings that could lead to potential spread of COVID," Nelson said.
As of Friday, Sioux County's 14-day positivity rate was 29.7 percent according to the Iowa Department of Public Health. There were 510 active cases and 22 deaths. A total of 3,406 cases have been reported within the county since the start of the pandemic. 
Lowering the spread
Steve Mahr of Orange City is keeping his family's Thanksgiving to a small bubble, with just four people besides him, his wife and four kids.
They're going to his mother-in-law's, who also lives in Orange City, to reduce travel and have only invited a few family members and a close friend who they still meet with for other activities and social events.
"This is how we've done birthdays and weekends and daily life since the beginning of the pandemic," Mahr said. "In our view, if we are to get out of this mess we have to make tough choices that help lower community spread."
Even with these tough choices, Dr. Ryan Becker, a family physician at Sanford Health in Sheldon, expects similar decisions will be necessary at Christmas.
"About a week or two after Thanksgiving we'll see how things play out," he said.
Becker said that as of Tuesday, there were 97 patients at Sanford USD Medical Center in Sioux Falls, SD, who were COVID-positive. A further 55 COVID-positive patients are in hospitals across the Sanford Health network.
"We're getting to a point where we are running short on staff and we just don't have the ability to care for everyone that's rolling in, especially with the recent outbreaks of nursing homes having resurgence," Becker said.
Outbreaks in O'Brien County have been reported at Sanford Health Sheldon Senior Care Center, Vista Prairie at Fieldcrest in Sheldon and Prairie View Campus in Sanborn. The county has recorded 26 deaths associated with COVID-19.
As of Friday, O'Brien County had a 14-day positivity rate of 22.8 percent and reported 1,154 cases, 193 of which were active.
Lyon and Osceola counties had 14-day positivity rates of 36.1 percent and 28.6 percent as of Friday. Lyon County's total case count since the start of the pandemic was 906, with 228 active cases. Osceola County has had 473 total cases, 112 of which are active.
Osceola County has not reported any deaths from COVID-19, but Lyon County has recorded eight as of Friday.
Providing a meal
Staying home for Thanksgiving does not mean missing out on turkey, at least not if Dianne Wolthuizen has anything to do with it.
She's making 200 pounds of turkey to give away during Sheldon First Reformed Church's annual free Thanksgiving dinner. The meal, which Wolthuizen has helped organize for 19 years, will be drive-thru only this year, but she's committed to make sure that people who choose to stay home won't miss out on a Thanksgiving dinner.
"If we can bless people with a great hot meal that either they can't prepare or don't want to prepare or don't have the means to do so, what a great thing we can do," she said.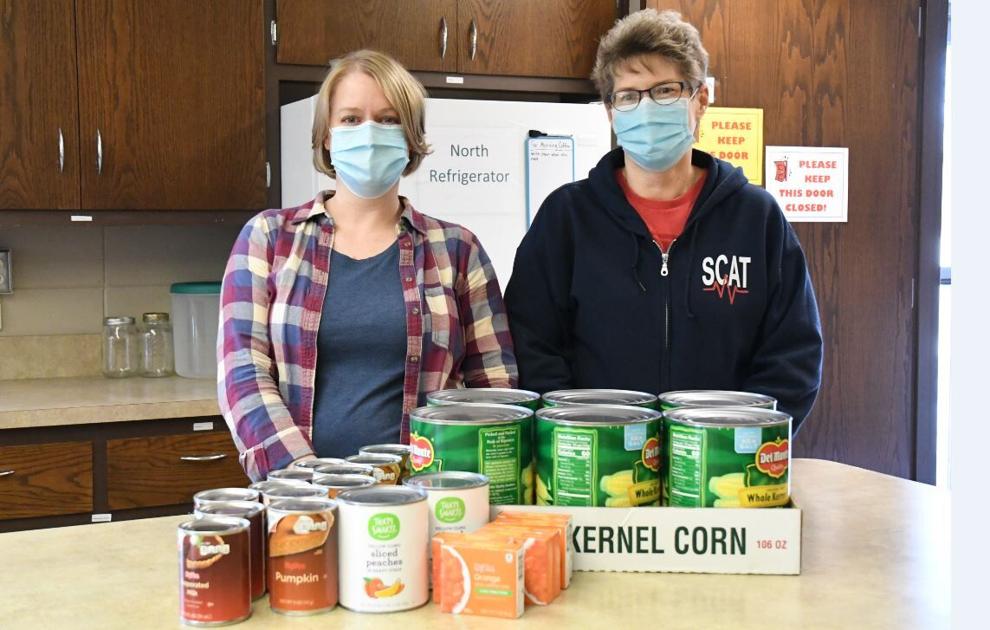 Wolthuizen expects to give away 150-200 Thanksgiving dinners over the noon hour on Thanksgiving Day, a record for the church. The deadline for calling to request a dinner was Friday, but Wolthuizen said they don't intend to turn anyone away if they call later.
Her own family Thanksgiving, which normally would be held on the weekend with her kids, has been canceled. They all plan to stay home.
The Rock Rapids First Reformed Church also is providing a free Thanksgiving dinner. The church accepted orders until Friday and will deliver hot meals to in-town and rural residents around noon on Thanksgiving Day.
"It seems like a lot of people wanted to have a Thanksgiving meal and to cook it yourself is not easy so this way they can still have it," said Nettie Roskam, who for the last 10 years has helped cook the meals with her cousin Leona Vanden Top and other volunteers.
Sibley Presbyterian Church and Living Water Community Church in Orange City usually offer free Thanksgiving dinners, but they have canceled the activity this year.
Growing closer
Back in Sioux Center, the Clarks will make their Thanksgiving meal as a family for the first time.
"It'll be different in that we'll do it, but we'll try to get our kids to participate in, 'OK, you can do the mashed potatoes, you can help with the turkey,' kind of make it an event for them to participate in and let them choose," Tom Clark said.
He was worried his kids, who are 9, 7 and 4, would take the change of holiday plans hard, but said they're excited to try a new celebration at home.
Calling his parents was harder, but Clark said his extended family accepted their decision. Some members of his extended family have made similar plans to skip any big gatherings.
"They just kind of understood. They get it. And we're trying to keep them safe," Clark said. "They're sort of more at risk than we are, just because they're older than us."
This isn't the first family event the Clarks have missed or downsized this year. Although it's been hard to miss so much family time, he said there have been unexpected blessings from spending so much time with a smaller circle.
"There's a lot of things where we're growing closer in our immediate family. Doing less things with friends, less things with extended family, more things with our own immediate family," Clark said.
"We're finding a blessing in that, but yeah, it would be nice to get my mom's pumpkin pie."