REGIONAL—N'West Iowa welcomed two babies into the world on New Year's Day.
The first was Erick Luis Lopez, who was born at 1:16 a.m. Friday, Jan. 1, at Sioux Center Health. Erick's parents are Eric Ruiz and Beatriz Lopez of Inwood. The New Year's newborn boy weighed 7 pounds and measured 19.5 inches long.
The first baby of the year at Orange City Area Health System was Malcolm Antonio, who was born 6:46 p.m. Jan. 1 to new parents Autumn Maras and José Anzua of LeMars. Malcolm weighed 7 pounds, 9 ounces, and was 21 inches long.
On Monday, Sanford Sheldon Medical Center welcomed its first baby of 2021. Ashley Belen Vasquez-Arreaga was born at 7:32 p.m. to parents Mayda Maribel Arreaga-Gutierrez and Sidoro Vasquez-Bravo of Orange City. Ashley weighed 7 pounds, 3 ounces, and measured 20.5 inches long.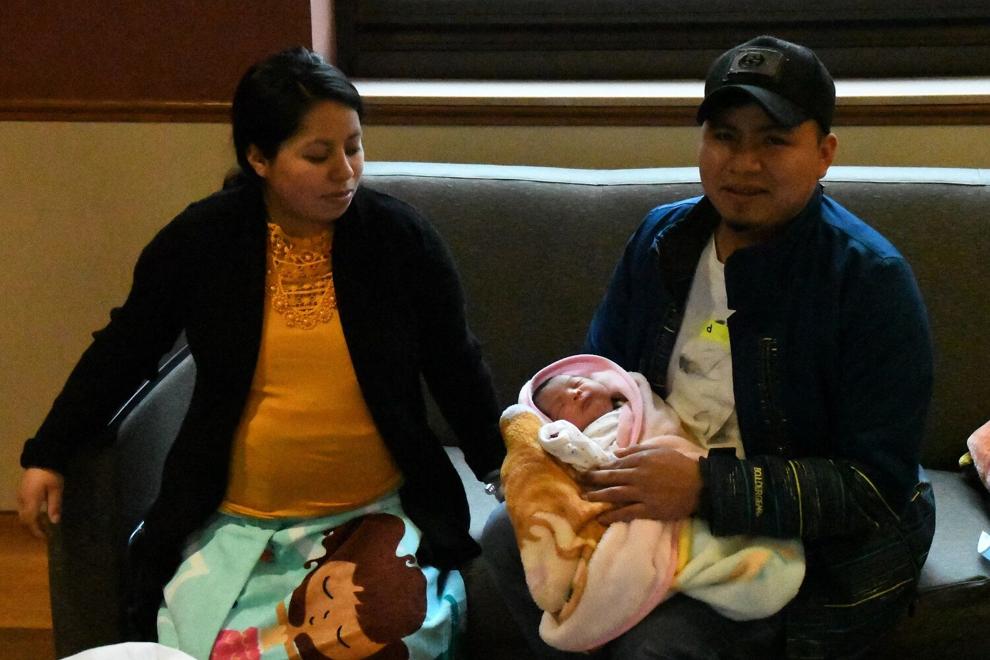 Those are the only three hospitals in N'West Iowa — which covers Lyon, O'Brien, Osceola and Sioux counties — that offer birthing services.
Hegg Health Center in Rock Valley quit providing birthing services as of Jan. 1, the same date its partnership with Sioux Center Health began to provide complete obstetric care for its patients. Expectant mothers who are patients at Hegg Health can have their babies delivered at the Sioux Center facility then continue receiving postpartum care and ongoing health services in Rock Valley.
N'WEST IOWA BABY FIRST NAMES OF 2020:
Here are many of the first names of 2020 babies born at the four N'West Iowa hospitals that offered birthing services that year:
Boys
Hegg Health Center in Rock Valley: Asher, Austen, Benjamin, Cade, Emmett, Griffin, Homer, Isaiah, Jase, Kaid, Landon, Lane, Layke, Matthew, Nathaniel, Sawyer, Thiago, Waylon, Wyatt.
Orange City Area Health System: Argyle, Asher, Barrett, Bennet, Bentley, Bergen, Brady, Brantlee, Brooks, Bryce, Clay, Clayton, Cohen, Cole, Cooper, Cru, Dacklen, Dallas, Dean, Denzel, Easton, Elias, Emiliano, Ezekiel, Finn, Flynn, Garrett, Gideon, Graham, Grayson, Griffin, Harrison, Hayes, Huckson, Isaiah, Jack, Jackson, Jase, Jettson, Josiah, Kolt, Koltin, Kyler, Lane, Lawton, Lee, Levi, Liam, Logan, Lucas, Maddox, Mason, Maverick, Milo, Nasher, Noah, Oliver, Riggs, Ruger, Ruston, Samuel, Sawyer, Sebastian, Theo, Titus, Tucker, Vincent, Wesley, William, Wyatt.
Sanford Sheldon Medical Center: Adam, Angel, Braden, Brantley, Braxton, Briggs, Brody, Bryan, Camden, Carson, Cash, Christian, Clayton, Cohen, Colton, Crosby, Damian, Danson, Declan, Derick, Dylan, Easton, Elijah, Elliot, Evan, Everett, Everson, Gael, Henry, Hunter, Huxley, Ian, Isaac, Jax, John, Karter, Kerry, Kevin, Kohen, Koltyn, Kruize, Kyler, Leo, Liam, Lincoln, Logan, Lorenzo, Luka, Marley, Mateo, Maverick, Mavrick, Milo, Nathan, Ronan, Santiago, Sawyer, Sebastian, Shadrack, Tate, Thomas, Todd, Tripp, Ulices, Whaylen, Wyatt, Yanis, Zayden.
Sioux Center Health: Abraham, Abram, Andrew, Austin, Bayne, Boaz, Brayden, Brecken, Byron, Carter, Crue, Daniel, Daxton, David, Dexter, Dominic, Dylan, Easton, Edvin, Elohim, Emmanuel, Emmett, Enzo, Ezra, Fabian, Franklin, Gael, Gavyn, Hajin, Hayes, Hector, Ian, Isaac, Isaias, Jack, Jackson, Jaxson, Jayden, Jhayro, Joanse, Johnny, Jonah, Jonathan, Josue, Juan, Kevin, Kleyton, Levi, Logan, Lonnie, Luis, Markus, Mason, Mateo, Maximiliano, Merritt, Michael, Milan, Milo, Nelson, Nicolas, Nolan, Peyton, Rees, Riley, Roberto, Rodolfo, Ruben, Santos, Saulo, Simon, Theodore, Thiago, Thijs, Tucker, Vaiden, Vladimir, Watson, Wells, Wesley, William and Yovani.
Girls
Hegg Health Center in Rock Valley: Alethea, Allison, Andrea, Athena Rose, Bethany, Brecklyn, Briseyda, Charlotte, Cora, Creightyn, Dahlia, Eduabt, Emely, Gracia, Griselda, Hadley, Hattie, Jacoba, Jacqueline, Johanna, Kamila, Kaylee, Kenzy, Madilyn, Marilyn, Sadue, Shelby, Shiloh, Stella, Sydnee, Tayah, Winnie, Zoey.
Orange City Area Health System: Aurora, Addyson, Adelyn, Amanda, Ashlyn, Aubrey, Aubrey, Avery, Braelyn, Brianna, Bridgette, Brixley, Brynn, Carlee, Caroline, Charlotte, Ellie, Emma, Emmalyn, Evora, Felicity, Georgia, Gracie, Gretta, Gwendolyn, Hadley, Hailey, Harper, Hazel, Holly, Huntleigh, Janelle, Jemmye, Jeymi, Jillian, Kaeda, Kalysa, Lila, Linkyn, Livian, Lucy, Luvella, Luxley, Lydia, Maelyn, Maliah, Mila, Montana, Myleigh, Naomi, Nathalia, Nevaeh, Noelle, Paola, Raylee, Selah, Sheylin, Sloan, Sophie, Westlyn, Willa, Winnifred, Wren.
Sanford Sheldon Medical Center: Adelyn, Alisson, Allie, Angela, Annie, Arda, Arya, Asia, Bailie, Blaire, Brea, Breklyn, Charlotte, Christine, December, Emersyn, Everleigh, Haley, Hayden, Hope, Hunter, Ingrid, Isabelle, Jeanette, Juno, Kolleen, Leah, Lena, Leniellysse, Leslie, Liliana, Lucy, Maelynn, Makayla, Maren, Nadia, Naomi, Paisley, Parker, Payslie, Peyton, Rebel, Selena, Serenity, Sky, Skylar, Tomasa, Victoria, Willa, Yatziri, Zaiylah.
Sioux Center Health: Abigail, Aida, Alaya, Aleah, Alerie, Aliza, Anna, Atlee, Aubreanna, Aurora, Ava, Betzabe, Bexley, Bianca, Bria, Brianna, Brooklyn, Brooklynn, Cambrea, Carla, Carlie, Carolina, Collins, Dafne, Daleney, Ellianna, Elliot, Eliza, Emaly, Emery, Emersyn, Emmalyn, Esmeralda, Evelyn, Everlee, Evey, Gaby, Genesis, Grecia, Haidyn, Halston, Harper, Hazel, Isabel, Ivy, Izabella, Jamie, Jeydelin, Karla, Kendra, Kimber, Kimberly, Kinley, Kiyah, Lennyx, Leslie, Lillian, Liz, Lucero, Macy, Maida, Mariska, Mia, Morgan, Natasha, Navi, Noemi, Oaklinn, Olivia, Raylenne, Rose, Scotlyn, Shaylee, Sofia, Vicenta, Violeta, Vivian and Yaretzy.