REGIONAL—N'West Iowa trucking companies have played an essential role in ensuring necessary goods are delivered during the coronavirus pandemic.
The trucking industry, like other sectors, experienced its own hurdles as the economy's supply chain went through a series of disruptions.
Vollink Trucking of Archer, Te Slaa Trucking of Hull and Bosma Poultry of Sibley each faced their own highs and lows the past year but kept trucking through it all.
Vollink Trucking
Business is better than it was about this time last year for Vollink Trucking of Archer, although owner Brian Vollink said it still is not quite where it was before the coronavirus pandemic started.
"It's definitely way better than last year," the 41-year-old said. "At this time last year, I was scrambling to find loads for everybody and it was tough. It was very tough."
Brian employs four full-time drivers as well as one driver who is an owner-operator. His father, Galen, and brother, Craig, also truck.
"My brother's got two trucks, and he runs under the Vollink Trucking name, so it's still kind of a family thing," Brian said.
The company mainly hauls feed ingredients such as dry distillers grain and wet feed from surrounding ethanol plants. It also hauls occasionally hauls fertilizer and milk.
The trucking business runs about a 250-mile radius outside Sheldon; however, the majority of its deliveries are within 20-30 miles of the O'Brien County community.
"We don't put on a ton of miles but we do haul quite a few loads in a day," Brian said. "We're a contract carrier for Farmers Co-op Society and for Kent Nutrition, Archer Co-op. We haul to a few dairies and a few feedlots also."
He recalled how he began the business in 2003 after he, his father and brother got a truck to use for farm use. In between farming seasons, Brian started hauling grain and livestock as a way to make extra money.
He purchased a second truck in 2004 as business picked up. Vollink Trucking quit hauling livestock about five or six years ago to instead focus on grain and feed.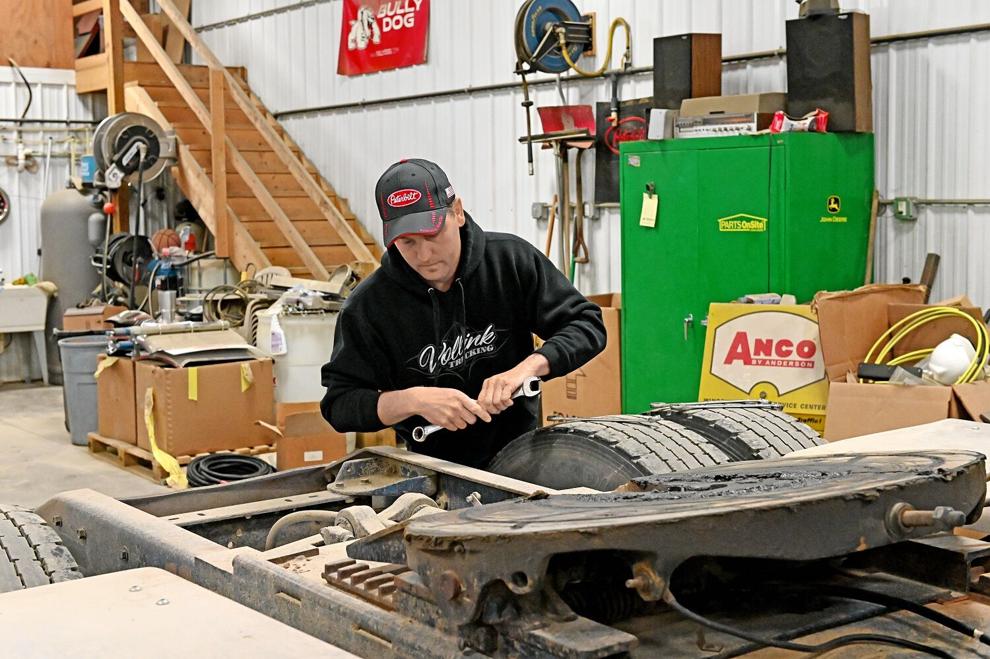 Brian spoke about the setbacks the trucking business has faced during the pandemic, with a main one being a limited number of feed loads to haul as a result of disruptions in the food supply chain. He mentioned the difficulty with which some hog producers are experiencing in getting feeder pigs.
"There's a lot of hog buildings that are sitting empty, so that's kind of limiting the amount of feed that's being made, which limits the amount of product I can haul into the feed mills," Brian said.
"Hopefully, we'll work through this and we can start getting on a normal cycle on livestock and get a normal flow."
For Vollink Trucking, that would mean being able to add more loads his drivers deliver in a given day or week and potentially hire another driver.
"We're not super slow. We're steady, but we're not quite where we used to be," Brian said. "I am down one employee right now than I used to be from a year ago. I just never had enough work to replace him yet."
Te Slaa Trucking
Dave Te Slaa remembers when the Hull Chamber of Commerce asked if any of his employees at Te Slaa Trucking should be considered the chamber's 2020 Employee of the Year.
His response was that every driver for the company was an Employee of the Year because of their dedication to continuing to work throughout the pandemic.
The chamber agreed and named the Hull trucking company its 2020 Business of the Year in late January.
Te Slaa spoke of how the drivers — who haul meat and ice cream products throughout the contiguous 48 states — faced restrictions on what they could do at certain stops along their routes due to some states implementing strict lockdown measures.
"The only thing they could get a lot of time was just fuel, and they won't let them into the buildings to use their bathroom or get anything to eat," Te Slaa said. "That was all pretty tough, knowing all these states were shut down. We were still moving."
As more places around the country have eased COVID-19 restrictions and businesses have opened up, Te Slaa said his trucking company has stayed busy. His drivers also have more freedom to enter businesses on their stops, although some masking requirements remain in place.
He noted some ongoing challenges, such as fuel prices increasing and orders for new truck parts being delayed.
Te Slaa also said his company is always looking for additional workers.
"That's an issue for about any business here in northwest Iowa."
Bosma Poultry
One of the nation's largest fleets specializing in transporting ready-to-lay pullets to layer farms is based right in Sibley.
With a fleet of 16 trucks and 22 full-time employees, Bosma Poultry is the largest pullet transportation contractor in Iowa and one of the largest in the entire Midwest, hauling more than 40 million pullets per year.
Most of the business is within a 250-mile radius of Sibley, but the company also does work as far west as California and occasionally up into Canada. Although Iowa is the nation's largest egg producer, few trucking companies specialize in transporting layers like Bosma Poultry.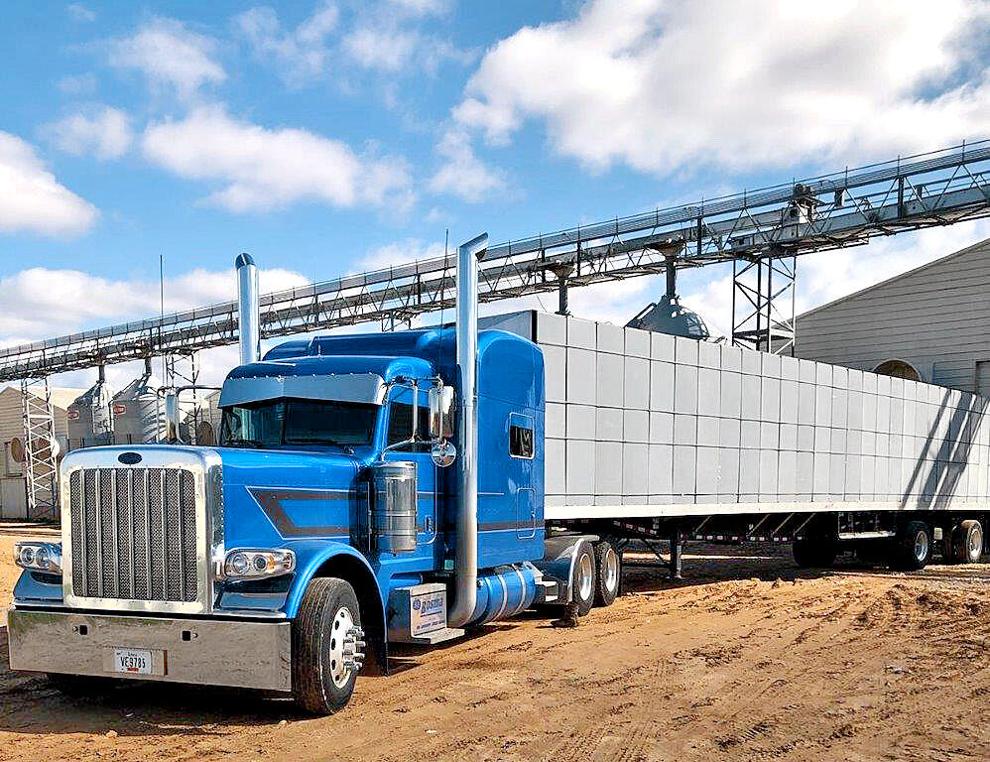 "There's not that many people in our business, and we're in the right area in Iowa," Bosma said.
The coronavirus pandemic created an upset in the egg industry which has impacted the company. With schools and other institutions closed, the demand for liquid egg plummeted and layer farms downsized their operations.
"That market went away so we were really busying hauling for the rendering plants," Bosma said. "After that it messed up all our pullet hauling. August, September, October, we were running about 50 percent for about three or four months. It never stopped, but it was really inconsistent."
A few drivers left during the slow period and others took vacation time, but things are beginning to normalize and return to usual levels of supply and demand.
"We had some challenges like everybody had, but overall it's pretty good," Bosma said.
Since 1983, Bosma Poultry has played an integral role in the egg industry, one that's about to get bigger as the business is absorbed by another poultry transportation company in Pennsylvania.
"I can't think of a better guy to sell to," said Loren Bosma, owner and president of Bosma Poultry. "There's opportunity coming up in the near future and he's more aggressive than me."
Bosma is selling to Melhorn Sales, Service & Trucking Co., another pullet transportation company based in Mount Joy, PA, with an additional facility in Maria Stein, OH.
Plans to sell have been in the works for at least five years and the two companies have partnered before which Bosma said will make the transition of ownership move smoothly.
"We've known each other since 2012 and about 2015 him and I started talking about if he was going to be interested in buying us," Bosma said. "It's been a good relationship since day one. It's pretty much a win-win."
"We have two of the largest fleets in the country that do this," said Astin Melhorn, president of Melhorn Sales, Service & Trucking. "It seemed like the right thing to acquire a company that's so similar to what we are."
Melhorn Sales, Service & Trucking handled 65 million layers in 2020. Combined with Bosma Poultry, the companies expect to be responsible for transporting nearly a third of the layers in the U.S. egg industry, which was more than 390,000 million in 2020.
"Between the two companies we should be somewhere between 25 and 30 percent of what's there," Melhorn said.