REGIONAL—N'West Iowa lockers have a bone to pick with the coronavirus pandemic.
Since April, they have been working full throttle to keep freezers stocked and meet demands for livestock slaughtering. Five months in, the work shows no signs of slackening off.
"For us it's been unbelievably busy," said Bryan Nelson, owner of Nelson's Locker in Hartley.
His mom-and-pop locker supplies beef, pork and other specialty products in addition to providing custom processing of livestock. This side of the business has grown astronomically since Gov. Kim Reynolds ordered nonessential business closures in mid-March.
"We're scheduling clear into the end of 2021," Nelson said. "It's just the goofiest thing I've ever seen."
Normally, livestock owners might schedule an animal for slaughter a month or two in advance. Nelson, who has been cutting meat since 1976, said this is different.
"Some of these animals haven't even been born yet," Nelson said. "It's weird. I grew up here, and I've never seen anything like it."
The long schedule is a mixed blessing. Nelson said he is grateful to have the customers but at his small locker, it is difficult to keep up.
Nelson's Locker is staffed by just three people: Nelson; his wife; Jody; and their daughter, Brooke. Since March, they have pulled long hours and done their best to help as many people as they can. But there are limits to what they can do.
"It's almost every day someone calls and we have to turn them down," Nelson said.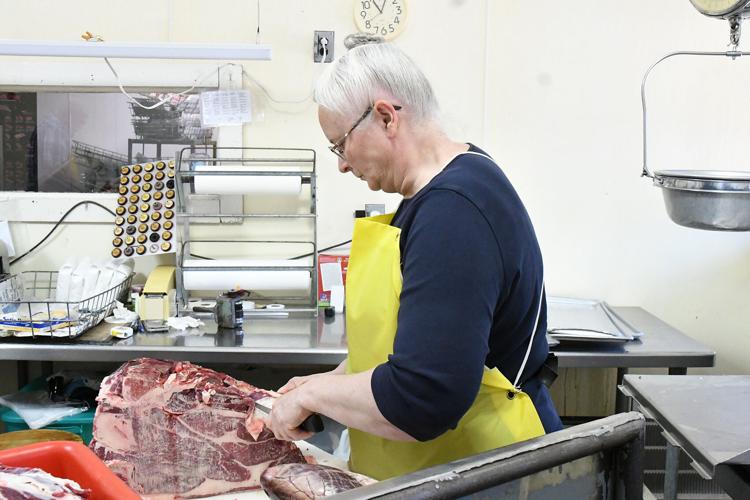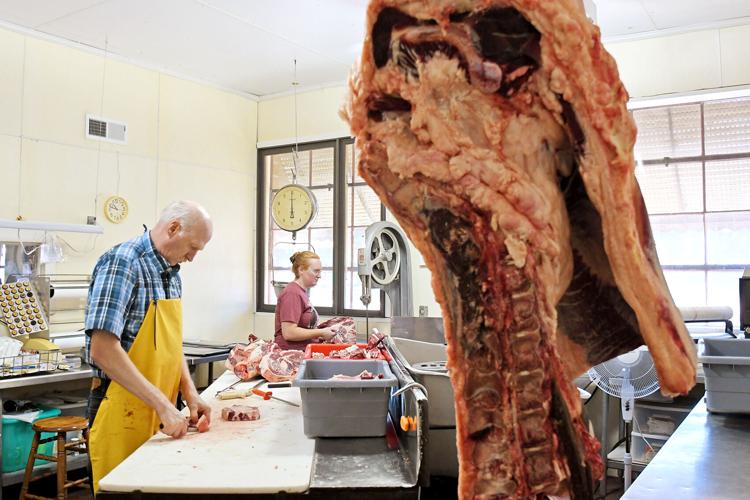 He said calls have come from all over N'West Iowa as well as other parts of the state and even Minnesota and South Dakota.
"It's been probably the busiest time of our lives," Nelson said. "Every year at deer season we get usually very busy, but this has been more than that and it doesn't go away."
Jake Noyes, owner of Jake's Meat Market in Sibley, faces a similar situation. His schedule stretches all the way into 2022, even with a staff of five full-time employees and three part-timers.
"You can only schedule so much, so you have to cut it off," Noyes said. "It's just going to be long. There's no end in sight were you can say 'We get through here, we get to January and we're good.'"
COVID-19 outbreaks at some Iowa meat-processing and packing plants triggered a surge in demand for meat products this spring.
Noyes and Nelson remember being flooded with calls about slaughtering hogs and struggling to keep ground beef and other products on shelves.
Although that shortage is nearly over, they say the uncertainty of COVID-19 has livestock owners planning further and further in advance, which fills their schedules.
"They know that they're going to have some ready, so it's not that they're going to be out of meat, they're just preplanning," Noyes said.
With only so many hours in a day and hands to do the work, Noyes said he has appreciated the patience of customers as Jake's Meat Market worked out the kinks of adjusting to a new reality.
In the midst of it all, Noyes and his wife have made sure to schedule a — much-needed — vacation. As essential workers, he said it is especially important they take care of themselves so they can continue serving customers.
"The biggest thing for me is, we need to get away because it's going to be a long road to hoe," he said. "You got to take care of yourself because if you aren't good then you're in a world of trouble."
In Hartley, Nelson has spaced out his slaughtering schedule to make sure he can keep commitments with livestock owners and continue to supply their other products without overworking himself and his family.
"There for a while it was just hit us like a big storm, but now we're scheduling some of this out so it's a little family friendly," he said.