REGIONAL—N'West Iowa hospitals faced a year like no other when the coronavirus pandemic broke out in early 2020.
The facilities continuously adapted to the curve balls of COVID-19 so they could keep providing health care to their patients.
Here is a snapshot of how some of N'West Iowa's hospitals have gotten along more than a year since the pandemic started.
Hegg Health Center
Glenn Zevenbergen remembers the sinking feeling he had last March when Hegg Health Center in Rock Valley made the decision to close its nursing home to families.
"That was a very, very clear moment," said the health center's chief executive officer. "Knowing that we were going to have to call all these families and let them know, 'Hey, you're not going to be able to come in to visit your family members, your loved ones."
However, he also remembers the sense of resolve that hospital staff exhibited when the first COVID-19 patient was admitted in late April.
After over a month of anticipating that first case, Zevenbergen said that first patient was almost anti-climactic as nursing staff realized that for many patients the treatment available right in Rock Valley would be sufficient to help them recover.
"The sense was, 'Oh we certainly can handle this.' Staff quickly understood, 'Oh, we can definitely take care of these and wear the right personal equipment to keep ourselves safe,'" Zevenbergen said. "That quickly became a reality so when the next patients started coming in some of the fear of the unknown was gone pretty fast."
That's continued to be the overarching feeling over the last 12 months.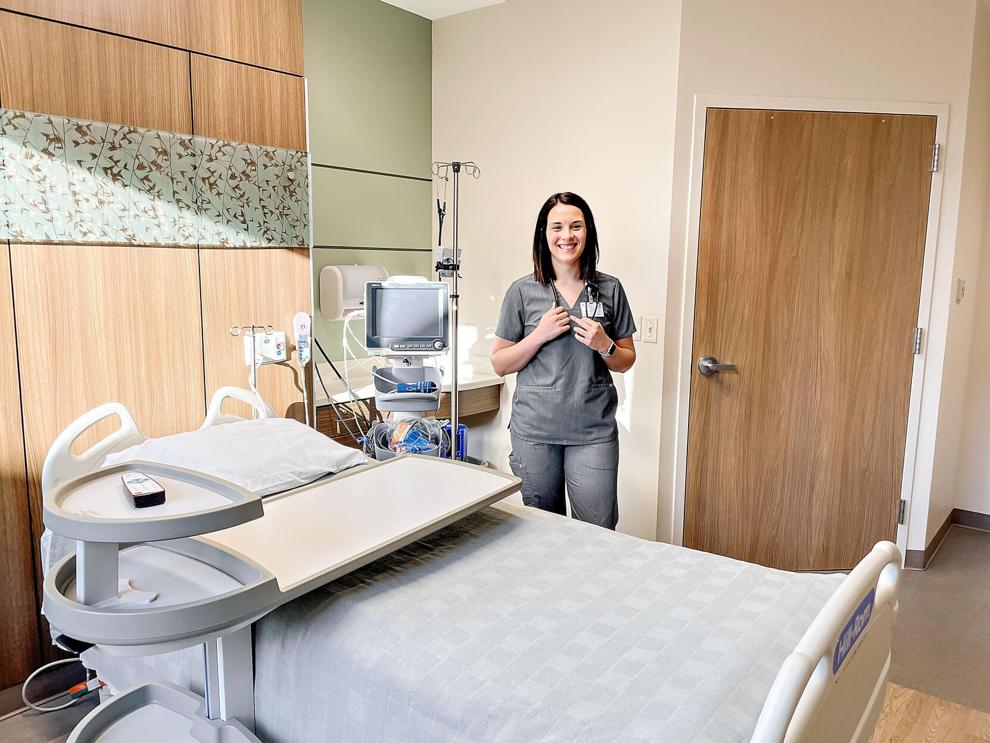 Zevenbergen said there was only a one-week period in November when the sheer number of people showing up in the emergency room or recovering at the hospital stretched Hegg Health past its capacity.
"We just didn't have enough available staff to be able to double-up patients in rooms," Zevenbergen said. "That was the limiting factor. When you run 24/7/365, there's only so many staff you have available."
Sioux County's positive cases have been trending slowly downward, but even after over a year, the coronavirus remains the top issue at hand for staff and administrators.
"Everything we've done for a year is COVID it feels like," Zevenbergen said. "That's what's maybe is so very different, you have that singular focus on this very same topic for an entire year where normally you don't have that. Normally, you have lots of things going on all the time."
MercyOne Primghar Medical Center
Misty Dulin is happy to report MercyOne Primghar Medical Center recently has seen a drop in the number of COVID-19 patients it has been treating.
The director of the facility, however, said staff are continuing to follow health safety measures at work such as masking and frequently washing hands. Patients also continue to be screened for coronavirus symptoms.
"We're still open 24/7," Dulin said. "We've remained the same. We're just making sure everybody's safe and taken care of."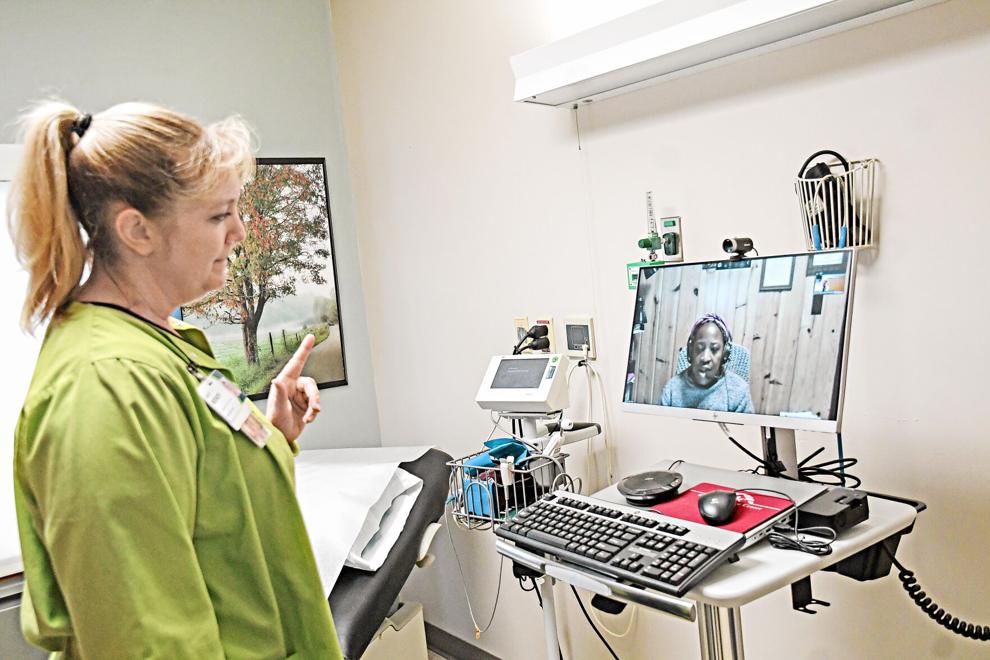 The medical center also oversees MercyOne clinics in Hartley, Paullina and Sutherland. Those three clinics temporarily had to shutter during the pandemic as patients were instead referred to the Primghar clinic.
The health-care system also expanded the use of its telemedicine offerings through MercyOne's Virtual Visit service that allows patients to have appointments remotely with their providers.
Dulin said the region is starting to see a light at the end of the tunnel when it comes to the pandemic but noted the importance of more people becoming vaccinated and continuing to follow health guidance to avoid spreading the virus.
She also commended the work her staff has done to keep working during the pandemic.
"The essential workers are the ones that really have taken the toll in working hard hours and long hours being in the front line," Dulin said.
Osceola Regional Health Center
This time last year, Osceola Regional Health Center in Sibley was braced for an anticipated deluge of COVID-19 patients needing critical care.
That wave did not come until mid-September, but the months of waiting did not catch hospital staff with their guard down.
"Everybody came together, all staff willing to help out any way they could, whether that was nights, evenings, weekends. They were all in," said CEO Ben Davis.
The biggest spike of positive cases came in October and November, with 10-15 patients staying at the hospital for extended periods during that time. Although the health center was able to care for all patients, surgeries were postponed for two weeks in November to free up surgery staff to work in the inpatient setting with coronavirus patients.
That's just one of the many adaptations hospital staff have made over the last year or more. Others have come and gone as staff came up with innovative ways to create safe care environments for every kind of patient during different stages of the pandemic.
For instance, early last spring the hospital added an outpatient services to help patients avoid having to crisscross the hospital for appointments.
Ordinarily, all patients are admitted through the main entrance before splitting off to the appropriate department or care area. With the onset of COVID-19 and heightened concern about exposure between patients, staff brainstormed temporary solutions that would allow everyone to access care and stay protected.
"Our staff got together and said, 'How do we make this work where chemotherapy patients don't have to walk through the whole hospital or surgery patients don't have to walk through the whole hospital?'" Davis said. "We put our heads together and created an outpatient services entrance specifically for those patients."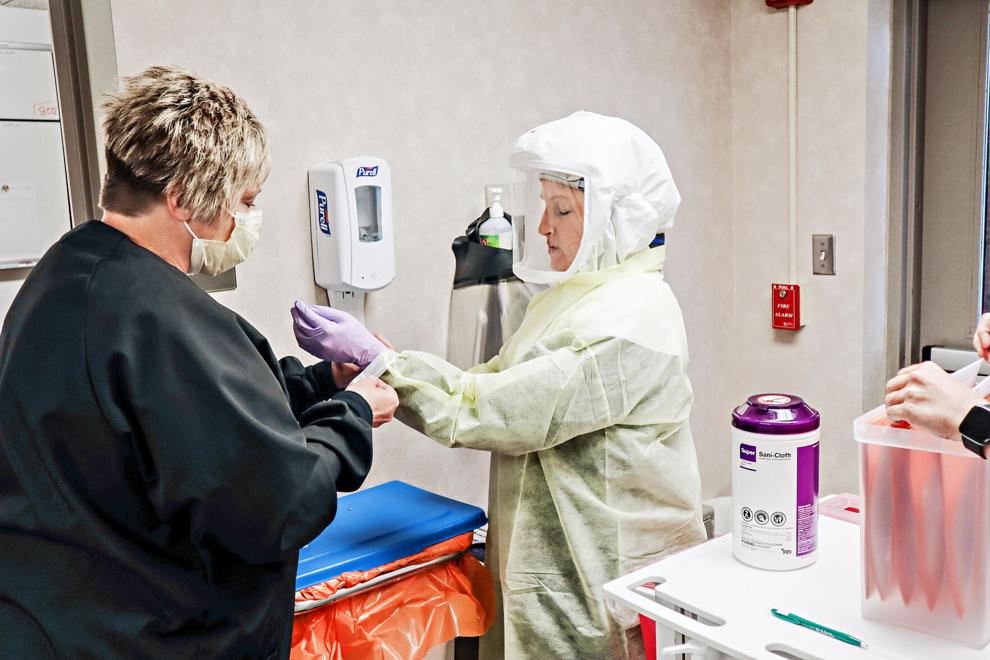 He noted the pandemic has emphasized the importance of local hospitals as the first line of defense against COVID-19 and in other medical crises.
"Even for heart attacks and for a stroke, those things are time sensitive," Davis said. "Being able to get to the closest facility as fast as you can is very important so we can make the correct diagnosis and give you the medication you need, provide the services you need so you have a good outcome."
Orange City Area Health System
Certain changes to Orange City Area Health System's facilities and operations originated in response to the pandemic but may become permanent even after the coronavirus is no longer considered a major public health issue.
Equipment purchased to improve disinfection and administer COVID-19 treatments has proved invaluable over the last year, but CEO Marty Guthmiller said their usefulness will not expire when the pandemic is over.
"It's things like the global air filtration systems in the hospital and nursing home," Guthmiller said. "Those not only assisted during the pandemic but will assist us for years to come in terms of just having a better environment."
The health system also invested in two ultraviolet cleaning systems and an electrostatic cleaning system to use throughout the facility to disinfect patient rooms and medical areas, tools that will be valuable outside a pandemic.
Other changes, such as converting the newly renovated medical building to a well clinic and utilizing the former Family Medicine Clinic for acute patients, also have proved effective enough to be made permanent.
"Most of these things will stay," Guthmiller said. "Obviously, some of our screening processes when patients come in we will continue to modify and probably loosen up as we go along."
He noted that although COVID-19 may have quieted down for the moment, it's not over. Instead, the hospital is adjusting to the idea that COVID-19 cases might continue for the foreseeable future, hopefully with less severity if herd immunity in the region and nation can be obtained.
"It's something that we're going to learn to live with, but we're really trying to get on with our lives and trying to figure out what exactly that new normal means," Guthmiller said. "The only way we're going to find out is start wading into that pool and see what temperature the water is. We are, we like to say, emerging from the tunnel."
He added that advancements in treatments for COVID-19 that have emerged since last March is a testament to that progress. If cases were to increase again, the hospital will be better prepared and better equipped to treat patients.
"Last September we didn't have a vaccine. This September we'll have a vaccine," Guthmiller said. "The various treatments have advanced as well. We won't be back to square one like we started out last year."
Sanford Sheldon Medical Center
To Rick Nordahl's knowledge, Sanford Sheldon Medical Center has not had anybody acquire a COVID-19 infection from within the walls of the facility.
The hospital's senior director credited the achievement to the facility's housekeeping staff, whom he called, "the forgotten heroes."
"They are the No. 1 infection preventionists in our facilities, and if they don't do a good job cleaning, we continue to spread the virus," Nordahl said.
He also spoke of the dedication Sanford Sheldon's nursing staff and other front-line workers have shown through COVID-19.
"It's been a tough year. It's had ups and downs as far as staffing goes and the amount of stress that is on each and every one of them because of the pandemic," he said.
The hospital has not let up on its cleaning and other mitigation strategies. All visitors to the building still are screened for COVID-19 symptoms upon arrival so that staff and patients are not exposed to the virus.
Restrictions on the number of visitors allowed in patients' rooms also remain in place, which Nordahl said was a smart move. He would like to see the hospital be able to open up more in the next few months, although he did not yet know how that would look.
"It all depends on what the numbers show and how many people are continuing to get vaccinated," Nordahl said.
One area of the facility, however, that has been able to slightly loosen visitor restrictions is Sanford Health Sheldon Senior Care Center. If visitors have been vaccinated, Nordahl said they are able to meet with their loved one in the latter's room without a mask. They still must wear a mask elsewhere in the facility.
Masking also is no longer necessary for residents of the senior-care center who have been vaccinated, although staff continue to wear them while working.
Nordahl encouraged anyone who has not yet received the COVID-19 vaccine to do so and said members of the public still should consider wearing face masks to curb further spread of COVID-19.
At the same time, he acknowledged people are weary of the disruption the pandemic has caused in their lives.
"People are tired of not seeing their friends and family on a regular basis and as much as they were before, so I think that's wearing on people so I think they get a little lax," he said. "That could cause us harm moving forward — I certainly hope not. I hope we're through the thick of it."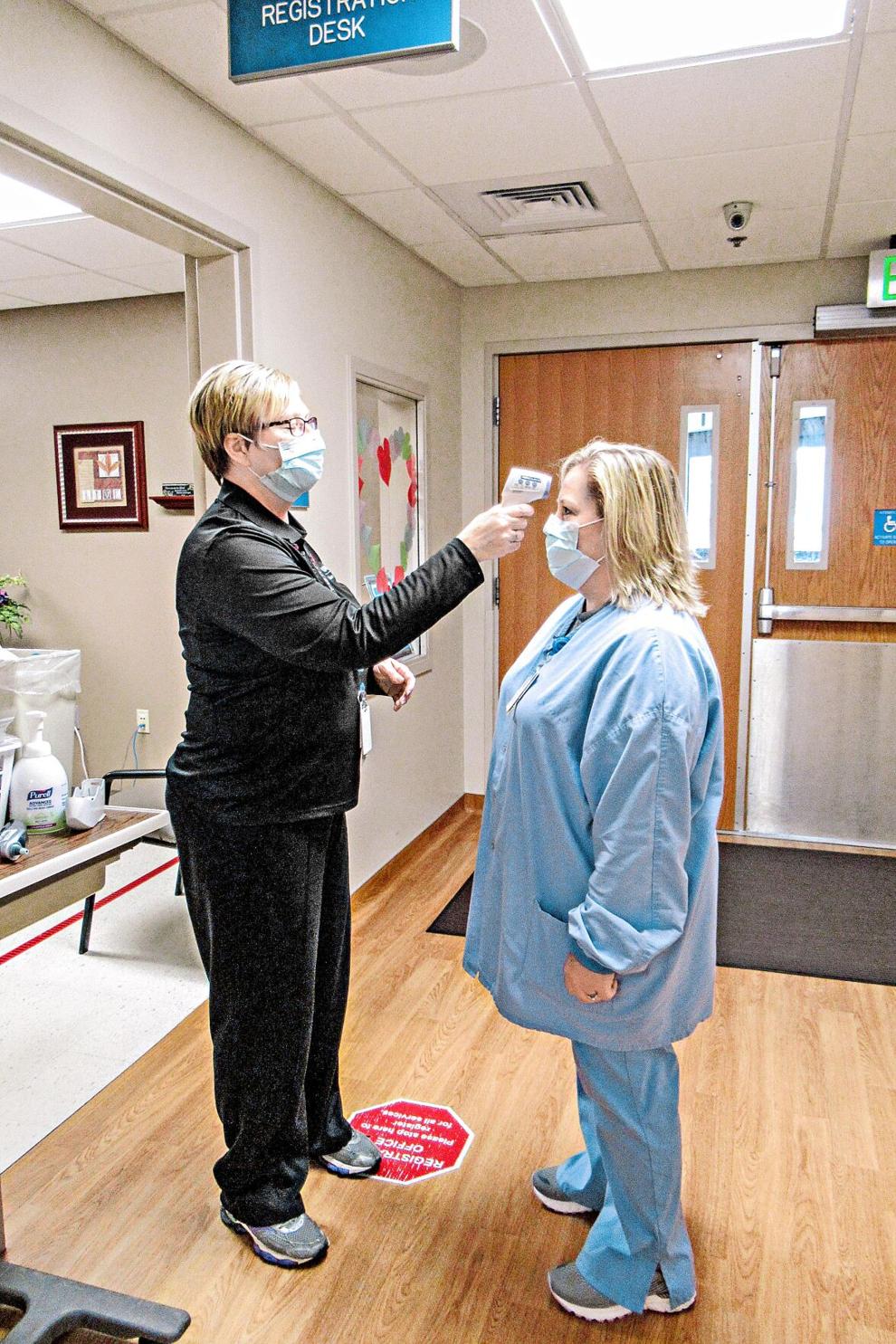 Avera Merrill Pioneer Hospital
Avera Merrill Pioneer Hospital in Rock Rapids is zoned in on the "Inspiring Hope through Healing" theme of National Hospital Week.
CEO Craig Hohn said his hospital is hoping to turn the corner as the region enters its second year of the pandemic.
"With the idea of hope and healing in mind, I'm immediately brought to hope around putting some of the craziness of COVID behind us," Hohn said. "With several vaccines available for individuals to get, I think there's a lot of hope for health care as an industry given how crazy things have been and how challenging things have been."
That virus-to-vaccine shift is at the administrator's top of mind as coronavirus cases begin to subside in N'West Iowa and more people get immunized. Avera Merrill Pioneer Hospital has the Moderna vaccine, the brand that makes up almost all shots available in Lyon County.
Hohn stressed the importance of getting vaccines to as many people as possible, calling them the keys to getting life back to "what we all call normal." However, he said he knows that maximizing coverage will be a process.
"The conversation has transitioned from COVID-19. Now, obviously, it's still here. It's still a challenge and something we need to pay attention to," Hohn said. "But I think a lot of focus has transitioned to vaccines, you know, really trying to get people to trust the robust process that the vaccines did go through."
The care expert repeated the facts about the development of the virus vanquishers. The basic technology has been developed over decades of research. Trials involved thousands of volunteers. Reviews were done by independent teams who strenuously tracked their effectiveness.
Hohn said he cannot force people to change their minds but education is crucial.
"We need everybody to want to get the vaccine so that we can really, truly get there," he said.
Hohn pointed to the chaos that has gripped the globe for over a year, saying it has been challenging to keep up with new protocols and best practices, but the end is starting to come into view. "Resilience" is his one-word description of health care at his hospital and around the world during the pandemic.
"We just had to build on the knowledge that came about through the science and the discover of what COVID-19 was, how to best manage it, treat it, and all those kinds of things," Hohn said.
The CEO summarized his outlook with gratefulness he feels toward his staff.
"I have to end the conversation with just a big thank you to all front-line health-care workers in Rock Rapids and beyond," Hohn said. "No one anywhere anticipated or wanted to go through anything like this and health-care workers showed up to work every day uncertain of what the day would bring in a very scary and uncertain time. It's just amazing and I think we all need to be grateful that so many people were willing to do that."