REGIONAL—Lucius Johnson said it was never a question of whether or not Last Call Saloon would comply with the COVID-19 restrictions Gov. Kim Reynolds announced Monday, Nov. 16.
"The question, if anything, was, 'How bad is this going to hurt?'" said Johnson, who manages the George bar and grill located at 120 N. Main St.
"It's going to be uncomfortable at best, but the customers have been very good."
The business is one of many in N'West Iowa grappling with the additional public-health measures that went into effect Tuesday, Nov. 17, and will last through Dec. 10. The measures are intended to reduce the number of coronavirus cases and hospitalizations in the state.
As of Friday, Nov. 20, only six of the 99 counties had 14-day average positivity rates lower than 15 percent. All four N'West Iowa counties recorded rates greater than 20 percent.
The rules require masks to be worn in indoor places open to the public in situations when people not of the same household cannot socially distance at least 6 feet for 15 minutes or longer.
Establishments such as restaurants and bars must quit serving food and beverages on site by 10 p.m. They also must limit groups to eight people except for households and ensure 6 feet of social distancing between each group.
"Yesterday was better than the day before by probably 50 percent," Johnson said Thursday. "And we were down 34 to 36 percent yesterday. The day before was terrible. Tuesday was absolutely horrible."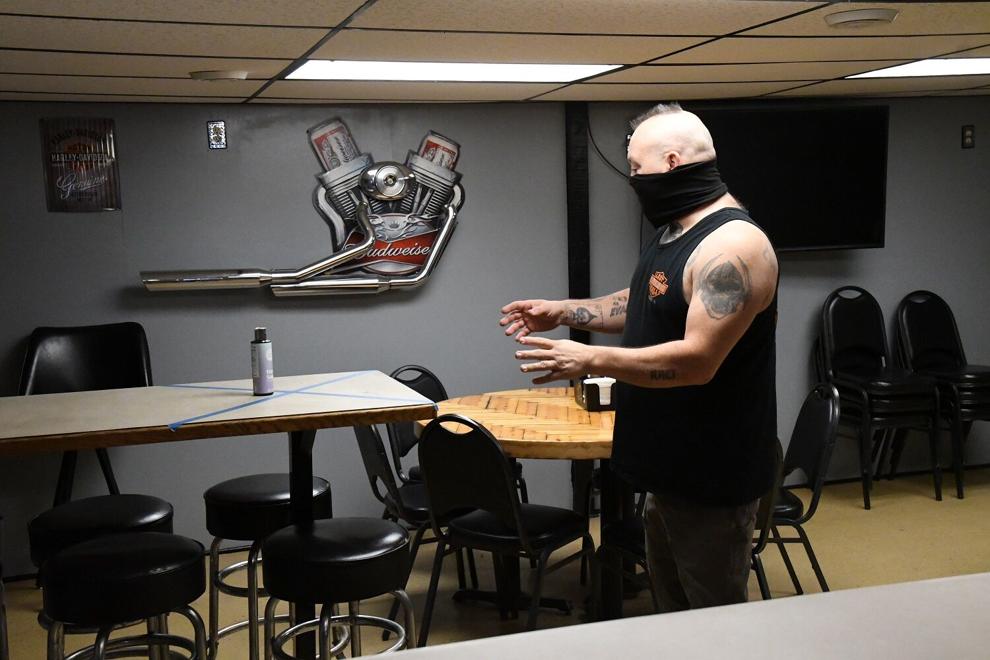 The social distancing restrictions mean bar seating at Last Call Saloon is no longer available. The establishment also reduced seating elsewhere in the building, meaning individual diners can quickly fill the restaurant's capacity.
"If I have six individual strangers come in and sit at each table, my bar's full and we can't sustain that," Johnson said. "They can't buy enough steaks and do enough shots of Patrón to make that work."
He also expressed frustration with the earlier closure time, noting how it's not uncommon for customers to order food later in the evening or even past midnight.
"The amount of food I've actually prepared after midnight is fairly surprising for a small-town George bar," Johnson said. "But nothing tastes better than cheeseballs at 1:45 a.m."
Although the restaurant is still able to serve to-go after 10 p.m., Johnson said such orders tend to be rare after that time and it wouldn't be worth it to have the kitchen equipment turned on waiting for calls to come in.
Johnson is friends with people who run bars in nearby communities — such as reBar Lounge & Lanes in Sibley, Rok's Bar & Grill in Boyden and Sporty's Bar & Grill in Rock Rapids.
He said they reached out to him to discuss the recent restrictions and compare notes on how each business is adapting to them.
Johnson also stressed the importance of investing in local businesses during the pandemic, mentioning how Last Call Saloon's food is purchased locally, the restaurant supports the George-Little Rock Mustangs Sports Booster Club and is part of the George Chamber of Commerce.
"We're doing what we can to be part of our community and we absolutely need to. We all need to work together. If I buy flowers, they're from across the street, if I buy groceries it's from across the street," Johnson said, referring to The Flower Box floral shop and Total Shop Food Store in George.
"Because if we don't, pretty soon there won't be a place across the street to buy those things from."
Gatherings limited
Reynolds' proclamation further restricts large social, community, business and leisure gatherings to 15 people indoors and 30 people outdoors for people who don't normally live or work together. Those limitations also apply to wedding receptions, family gatherings, conventions and other nonessential gatherings.
For Parkview Event Center in Rock Valley, the indoor capacity limitations have meant the cancellation or postponement of several events through November and into December.
"I had a pretty decent-size wedding that was supposed to take place that they ended up just canceling their reception part, but they're still getting married," said Parkview manager Jenna Heemstra. "I was glad to hear that but was kind of bummed because I never like to have clients cancel."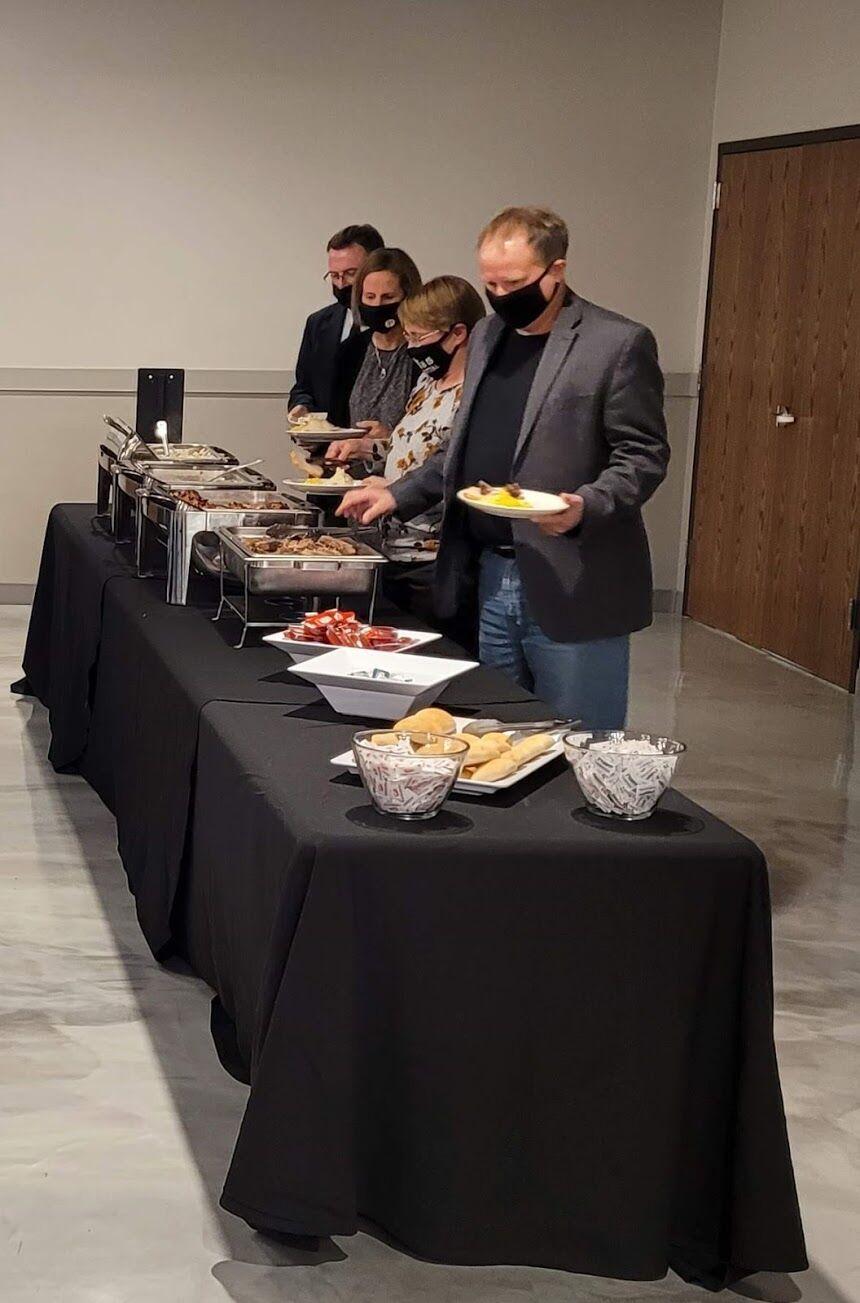 The venue also is reworking a holiday vendor fair that was set to take place there Dec. 9. Instead of happening in person, the fair will happen virtually on the center's "Virtual Holiday Vendor Fair" Facebook event page.
"We'll encourage vendors to post all their products that they were planning on bringing with them to the vendor fair, just to post on our pages, such as the quantities they have, prices, all this kind of stuff," Heemstra said.
"Then it'll basically kind of be like your normal Facebook marketplace or swap groups, where the shopper can comment on the picture of the item they want by saying 'sold' and then it will be up to the vendor to reach out to arrange for payment and pickup or shipping options."
The online shopping event will be available Dec. 1-9, which Heemstra said will allow people more time to browse the products available.
Athletics impacted
The new statewide COVID-19 restrictions also prohibit all youth and adult athletic gatherings — with the exception of high school, college and professional sports — during which 6 feet of social distancing cannot be achieved.
Shortly after Reynolds' announcement, the Sibley Parks & Recreation Department announced its youth winter activities were canceled until further notice.
That meant practices for fifth- and sixth-grade girls and boys basketball, which started Monday, Nov. 16, as well as kindergarten basketball have been put on hold. Third- and fourth-grade basketball practices were set to start after Thanksgiving and are likewise in limbo.
Sara Berndgen, director of the city's parks and recreation department, said the plan is to adjust the youth winter sports season accordingly depending on how long the restrictions last.
"We'll probably end up having a season unless it's several months that we're not able to have youth programs," Berndgen said.
The winter season typically goes through February, with first- and second-grade basketball starting in mid-January. Berndgen said about 150 kids in grades K-6 in the Sibley-Ocheyedan School District typically are involved in winter sports.
She said the department was able to hold other youth events earlier this year, including baseball, soccer, football and volleyball. It also was able to put on other fall activities such as a Halloween 5K/10K & Candy Dash.
"We've been more cautious with sanitizing equipment and hands and maintaining distance as much as we can," Berndgen said. "I'd say in general here in Sibley, the program numbers haven't really been affected too much. It seems like families still want activities for their kids."
Spectators limited
Spectators at sporting events that still are allowed must wear masks and are limited to two people for each high school athlete, performer or competitor. They also must maintain 6 feet of social distancing between each group of spectators.
The restrictions on spectator gatherings hit Johnson in multiple ways as he said seating limitations in Last Call Saloon will mean fewer people will be able to watch games on the restaurant's TVs.
"We would have had a huge crowd in here to watch Central Lyon/George-Little Rock. I know a lot of people that were taking Friday afternoon off so they could watch the game," Johnson said. "I know a lot of people that had already bought tickets and had plans to be in the Dome. And all those plans have changed, obviously."
Johnson himself traveled to the UNI-Dome in Cedar Falls to watch his son, junior Dorian Johnson, play in the Class 2A football state championship Friday, Nov. 20, against Waukon. However, he pointed out the gathering restrictions mean some families aren't all able to see their kids play in person.
"I have a good friend that is a single mother of three children," Johnson said. "Well, she can't bring both kids to the game now. They haven't missed a game all year. So the proclamation and the restrictions all hit us differently."
Methodists shuttering
The new measures regarding mask usage do not apply to churches or other religious or spiritual gatherings, which still can take place. However, places of worship or religious gatherings are to implement reasonable measures to ensure social distancing and increased hygiene practices to curb the spread of COVID-19.
The Rev. Kevin Gingerich of Sheldon United Methodist Church, however, announced Thursday, Nov. 19, the congregation will suspend in-person worship services through Jan. 10. Instead, it will livestream its 8:30 a.m. and 11 a.m. Sunday services.
The move is in accordance with a mandate from Laurie Haller, resident bishop of the Iowa Area of the United Methodist Church, and the appointive cabinet which said all United Methodist churches were to cease in-person worship through Jan. 10.
"This decision was out of my control, and I am very conflicted right now, so I request your prayers for me, for each other and for our church," Gingerich said in a video posted Thursday to the Sheldon church's Facebook page. "I miss true worship where we did not have to be so afraid of 'the spread.'"
Dordt closing campus
Also on Thursday, Nov. 19, Dordt University in Sioux Center announced it was closing its campus to the public Wednesday, Nov. 25-Tuesday, Jan. 12. The move is intended to curb potential spread of the coronavirus as students and staff continue working through the fall semester, according to the announcement.
The campus closure includes prohibiting visitors from going to the recreation center, the Hulst Library and the campus store. Some music and athletic events will still allow reduced numbers of visitors. Masks and 6 feet of social distancing will be required for Great Plains Athletic Conference events at Dordt.