REGIONAL—After milk prices nearly halved last spring, N'West Iowa producers say the dairy market has largely rebounded from the coronavirus pandemic, although other hiccups remain.
At Stensland Family Farms, located eight miles southwest of Larchwood, the biggest impact of COVID-19 was temporary loss of customers.
"We were going along really well and we hit that and it dropped off unbelievably overnight," said Doug Stensland, one of many owners of the fifth-generation family farm. "It backed us up six or seven months from where we'd been before that."
Stensland Family Farms milks almost 200 Holstein cows using an automated robotic system. The farm produces about 1,600 gallons of milk per day, which is turned into ice cream, cheese and other dairy products at an on-site processing plant.
Products are sold from a store on the farm and at locations in Sioux Falls, SD, or shipped directly to restaurants and other customers who use or carry Stensland products.
When COVID-19 hit, many of those customers reduced their orders and other marketing efforts stalled as businesses waited to see what would happen.
Stensland said the lull lasted about three months before demand began to build again.
At this time last year, the dairy operation was still selling off a few hundred gallons of milk per day that was not needed at the plant. Since December, all milk produced on the farm goes straight to the creamery.
"We would have been using all our own milk seven months sooner, but for the pandemic," Stensland said. "That was definitely something we wanted to work toward, but it took a few years to finally get to that point."
Stensland Family Farms continues to navigate shortages attributed to aftereffects of the pandemic, mainly in reliably restocking packaging or particular ingredients used in products such as plastic jugs for milk to ice cream flavorings to an ingredient in breading for cheese curds.
"It's not a crazy percentage of things, but all it has to be is one ingredient in your product line," Stensland said. "You think you've got plenty of supply and the next thing you know you can't get it. You might be able to get it down the road, but right now you can't get it."
Creativity in research and development to find workarounds has been necessary to adapt to what are hopefully short-term shortages. Stensland said so far the plant has not had to discontinue products due to lack of ingredients, but it remains an ongoing challenge.
The dairy operation continues to practice increased cleaning and sanitizing and workers wear masks in close settings. Stensland said he is looking into making sure workers have access to vaccines.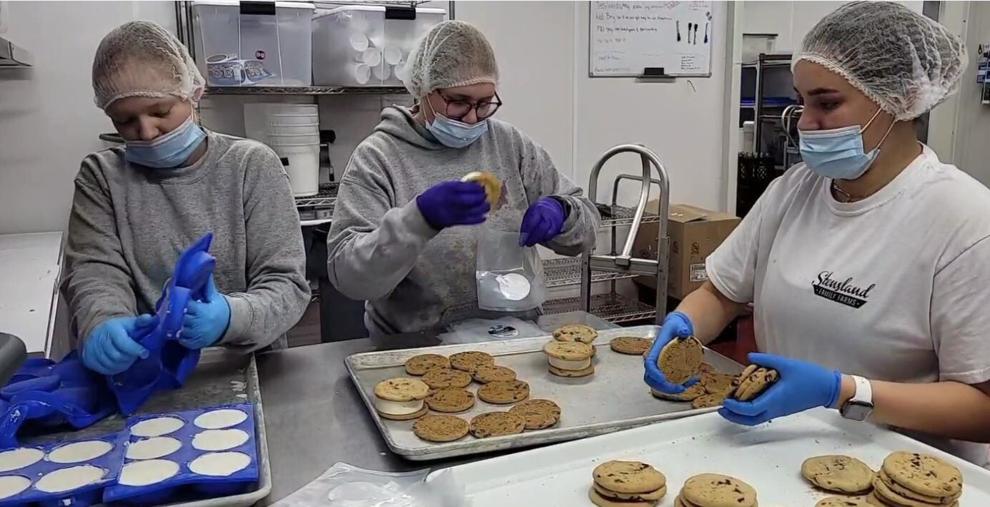 Farm tours also resumed earlier this month after being on hold for almost a year due to the pandemic.
Stensland said Payroll Protection Program loans and other grants and assistance from the government helped the business navigate the most difficult moments. He is optimistic for the year to come.
"We had a lot of positive things in 2020 and then COVID came in, but now going into 2021 we feel like we've had a lot of good things happen," Stensland said.
Art Vander Waal agrees that the dairy industry is "pretty much back to normal," but other market fluctuations mean profits for dairy farmers have not caught up.
Art owns Rolling View Farms northeast of Orange City along with his father and brother, Walt Vander Waal Sr. and Jr. Their dairy operation milks 2,500 cows, both Jerseys and Holsteins, and employs 25 people,
The farm produces about 20,000 gallons of fluid milk per day, which goes to Associated Milk Producers Inc.'s cheese-producing plant in Sanborn.
Rolling View Farms did not have to dump any of its milk as some producers did last spring when supply exceeded demand, but Art remembers the price the farm was fetching for milk dropping sharply in April.
"Last year in January and February before COVID came, we had a pretty good milk price," he said. "Milk was around $18 [per 100 pounds] and the year looked pretty promising.
"We were good through March but April, May and June, they sucked. That was probably some of the lowest we'd seen."
He remembers it falling to nearly $10 per 100 pounds of fluid milk. Although the price has since recovered to almost pre-pandemic levels, other unexpected price swings have made the last 12 months "unpredictable," Art said.
The biggest of these is rising grain prices, which isn't unusual but makes feed at least 50 percent more expensive. That's been good for grain farmers, but livestock producers like the Vander Waals have watched that chew into their bottom line after a tight spring and summer.
"It's a pretty big swing," Art said. "When your feed cost is about 40 percent of your input costs, that's a pretty big change and I don't know if anybody saw that coming a year later."