REGIONAL—N'West Iowa health-care clinics have logged into the virtual realm to continue to serve clients during the coronavirus pandemic.
Clinics associated with regional health systems — such as Avera, Sanford Health and MercyOne — expanded their offerings for telemedicine appointments earlier this month in an effort to keep patients at home and curb the spread of the virus.
Setting up video appointments with providers often is as simple as downloading a mobile app and following instructions.
"They can just call into the clinic like normal. They will be required to download the AveraNow app from the App Store and then create an account, but otherwise our front desk can help you through all of it," said Kate Nagel, clinic manager at Avera Medical Group Rock Rapids located on the campus of Avera Merrill Pioneer Hospital.
"Then once we schedule it, you'll get an invitation on how to join the video."
The visits can be arranged for a variety of purposes, whether the patient is not feeling well and wants medical guidance or if they need to speak with their provider for a routine appointment.
"Pretty much anything, unless the provider deems it necessary that you come in to be seen for, say you need an X-ray or something like that," Nagel said.
Other N'West Iowa facilities partnered with Avera — such as Hegg Medical Clinic in Rock Valley and Avera Group Sibley at Osceola Regional Health Center — also are offering virtual visits using the AveraNow app.
In southern O'Brien County, MercyOne Primghar Medical Center also has been offering patients the option to meet virtually for appointments if they don't want to leave their homes.
"MercyOne Primghar providers and their patients have embraced the change with these uncertain times. It is crucially important that patients stay well and manage any chronic conditions. This includes maintaining wellness appointments with their provider," said Misty Dulin, director of the Primghar clinic.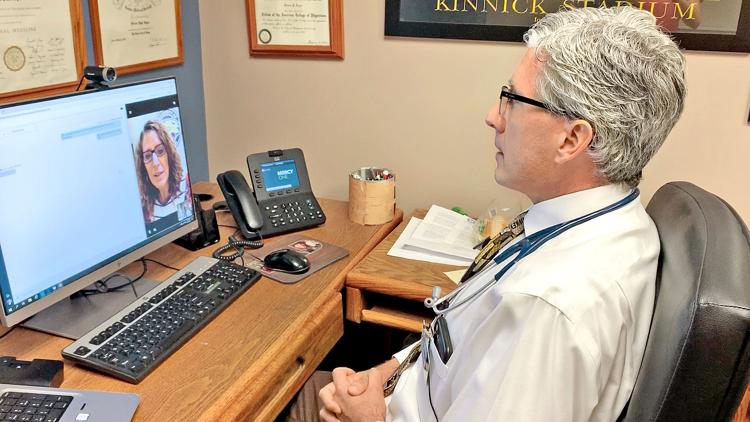 Patients wanting to set up a virtual visit can call MercyOne Primghar to schedule a time that works for them.
Once a time is set, the clinic will send a text message or e-mail to the patients with a link that will open the video program. It can be accessed on a smartphone, tablet or computer with a built-in camera.
The clinic has been averaging about 60 virtual visits a week.
It also still is offering face-to-face appointments for patients during the clinic's regular hours. To accommodate such visits, the clinic has adopted increased safety measures such wearing masks, requiring more frequent hand-washing and social distancing.
Sanford Health clinics also have been encouraging patients to use video visits as an alternate means of receiving care.
Patients can schedule visits by calling their clinic, which then can set the appointment up using the health-care system's online program, MyChart.
"It's pretty slick with MyChart," said Justin Hummelgard, director of Sanford Sheldon Clinic.
"You just check in online through MyChart and then after the check-in process is complete, then the provider gets a notification that the patient is waiting for them. Then the provider signs on their device and gets connected with the patient."
The Sheldon clinic has held 54 video visits since April 1.
Although the virtual communication method is new to providers, they have adapted quickly to it.
"They have all said, 'Wow, this is actually pretty easy and worked really well,'" Hummelgard said. "They're pretty excited for this different opportunity for the patients to keep everybody safe during this time."
Stacie Ver Steeg, whose child recently had a virtual visit with Dr. Ryan Becker of Sanford Sheldon, also is a fan of the video appointments.
"Having a video visit with Dr. Becker was easy," Ver Steeg said. "This was only my second video visit, and I feel they go smoothly and are a convenient way at this time to hopefully meet your child's needs without potentially exposing them to something if the issue can be taken care of over a video visit."