SUTHERLAND—Sutherland has a police force again after going more than half a year without law enforcement in town.
Twenty-four-year-old Derek Nixon is the city's new police officer and he has plans for rebuilding the department.
"I just want to make it be top-notch," he said. "I don't want it to be like 'Oh, Sutherland? Pshh.' I want it 'They got it going over there. That got a good guy over there. They got their stuff figured out.' I want this to be a good department."
And there are quite a few things to figure out. Nixon was sworn in on Sept. 20, but the city still is in the process of an overhaul of its policing procedures and policies. The department also is behind on a bounty of updates including firearms, vehicle equipment and new software.
Brian Flikeid has been assisting the city through the transition period. As the police chief of Aurelia and Marcus, he has the expertise necessary to organize a small-town department. Sutherland mayor Kay Gifford called Flikeid "invaluable" and his help "a rare gift."
The trio of Nixon, Flikeid and Gifford are putting together a new set of policies modeled after departments in similarly sized communities. Multiple council members have voiced support for the work, saying Nixon's hire provides a timely opportunity to hit the reset button and address long-standing needs.
Flikeid accompanied Nixon to the Oct. 4 council meeting and listed some of the department's lacking resources.
"We don't have a body camera right now. I still put it in there because that's something you're going to have to have," Flikeid said as an example. "That should be somewhere near the top of your priority list. In today's world, I think it's necessary. We have some stuff that's in there that doesn't match the city of Sutherland right now, but will in the future."
Nixon said he knows it's a long journey ahead, but he's excited to take on the challenge.
"This could be my calling," Nixon said. "This is what I want to do. This is what I've always wanted to do. And now I'm here."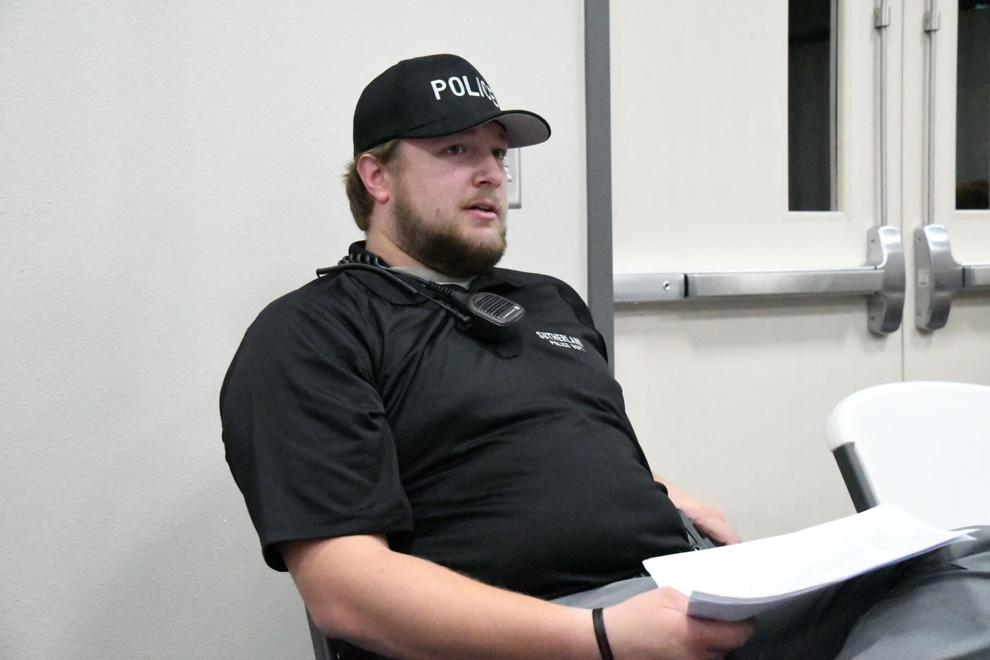 The day of the council meeting also was his first patrolling the streets in the police vehicle.
"You could definitely tell people in the community hadn't seen a cop car going around town in six months. A lot of people outside breaking their necks — 'What's that?' — something they haven't seen in a while," Nixon said.
He said he wanted to be in law enforcement since childhood. Before taking the job, he worked as a firefighter and 911 dispatcher in his hometown of Cherokee. He's set to graduate in December from Grand View University in Des Moines with a bachelor's in law enforcement and human services.
His application to Sutherland was for a school assignment and — after encouragement from his wife, Lauren, and review from Flikeid — the class resulted in a career.
"I'll put my best foot forward and try to get this department back to being a top-notch department," he said. "It's not a top-notch department right now. I'm going to try my best to get it back to the top with a little bit of guidance from Brian. And, hopefully, I can get a relationship with O'Brien County."
During the police vacancy, there were multiple flare-ups between Sutherland officials and the O'Brien County Sheriff's Office on covering the area in and around town. Nixon said he's aware of the history and repairing the partnership is at the top of mind as he restarts his department.
"I know there's kind of a little bit there, but I want to put that in the past. It's past, I'm new, this is me," he said. "Essentially, at the end of the day, if there's something and we're in a crisis, we got to be a team and depend on each other."