SHELDON— Dr. John Michels could see his optometry practice needed more room.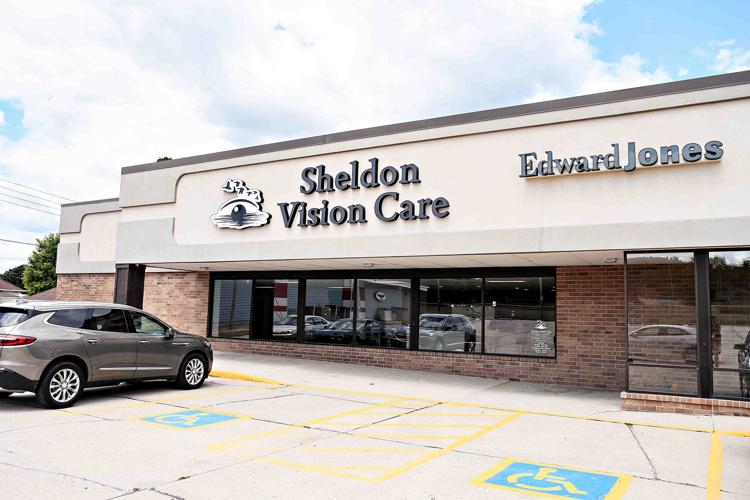 He acquired the former Sheldon Hy-Vee store at 115 Fifth Ave. in June 2019 and Monday, Aug. 3, he welcomed patients to the new and improved Sheldon Vision Care.
Michels relocated the practice from its downtown Sheldon where it had operated since opening in 1982. Michels joined the practice in 2010 and became the sole owner in 2013.
Sheldon Vision Care occupies the lion's share of the former grocery store. The building also houses an AT&T retail store and an Edward Jones office.
Michels said after developing a vision for the new space, work began in February and the eight-person staff officially moved in during the last week of July.
"It's been an awesome project," Michels said. "Obviously, it's a lot bigger and newer than our old space and the biggest thing that drew us to it is just the accessibility."
The new Sheldon Vision Care has plenty of parking right in front of the store and Michels wanted to make access easier for patients who have mobility issues.
"We've got a enough people in walkers and wheelchairs and everything else that it was a miracle that we were able to get as many people into our downtown space as we were," he said.
"This has been and will be a lot more accessible to patients."
A unique feature of the new practice is that one of the examination rooms is exclusively for people who use wheelchairs.
The clinic occupies about 6,500 square feet of space in the old Hy-Vee building and sports a contemporary look throughout with ocular-themed artwork and black fixtures throughout.
"Our previous office was nice, but it was time for a change," Michels said. "This is more modern, kind of a city feel."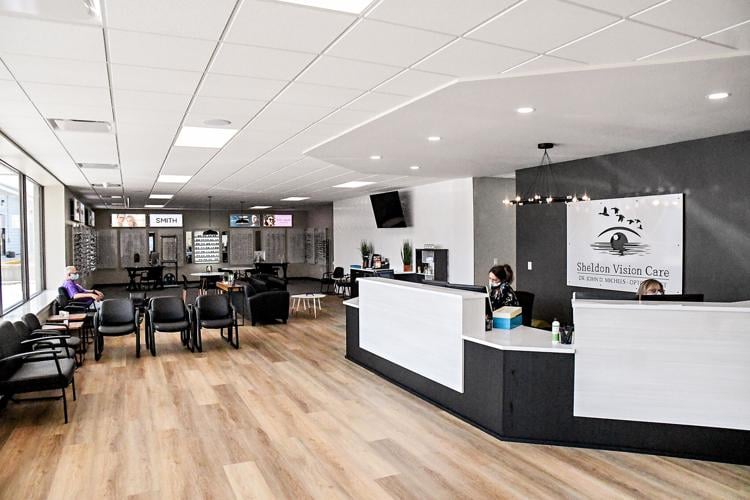 'Remember her'
Another reason Sheldon Vision Care needed more space is Michels added a partner, Dr. Madelyn Mullally.
The LeMars native found the opening at Sheldon Vision Care through the Iowa Optometric Association and both agree it has been a good fit.
In May, the 26-year-old graduated from the Southern College of Optometry in Memphis, TN, also Michels' alma mater, and started work in June.
Michels quipped the only good thing about the coronavirus pandemic was it allowed him time to meet with Mullally without having to travel to Memphis since she was sent home early.
In addition to sharing optometry schools, the pair of eye doctors also share a Feb. 4 birthday.
"Optometry is a great profession for doing your job but also having a family so that drew me in," Mullally said.
"I wanted to give 100 percent to my profession but I also wanted to give 100 percent to my family and I feel like optometry is great way to do that."
Mullally also likes how interactive optometry is and she has honed her people skills since a young age.
She spent time helping out at her grandparents' restaurant in LeMars — Lally's Eastside, the home of Sheldon's former broasted chicken statue — and learned the value of good customer service early.
Michels noted Mullally's communication skills stood out to him during the interview process.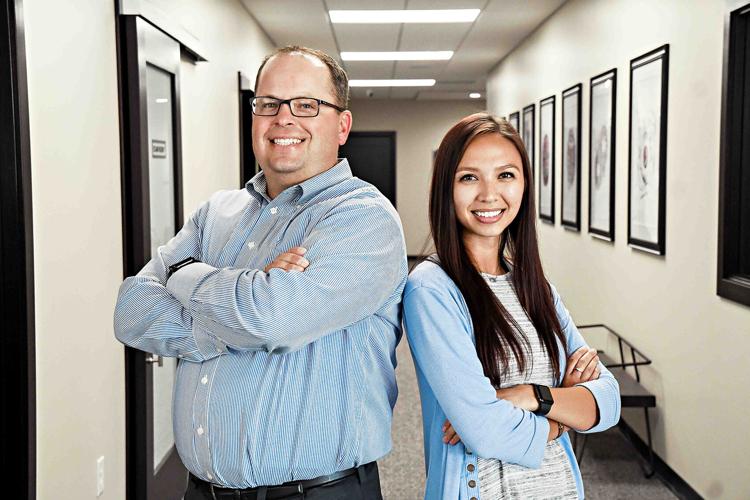 "When people come in and see her, they are going to remember her and they are going to come in and connect with her," Michels said.
"Early on in optometry, you think it's all about the science and all that, but at the end of the day we are in the people business."
The newcomer has her sights set on being a staple in Sheldon, much like the statue that once stood outside of Sheldon's former A&W Drive-in.
"Growing as an optometrist, getting to know my patients and not just seeing them one time but for many years to come," she said. "That's what I'm looking forward to."